The Perfect Veneto & Venice Itinerary
Visiting Venice and want to explore a little of the wonderful Veneto region in which Venice is located? Then our Veneto and Venice itinerary is just what you need. You'll discover scenery that will leave you speechless, see little towns considered to be some of the loveliest in Italy, and of course you'll eat and drink and be very merry too.
The itinerary covers a two-week period, but you can adjust as needed, make it shorter by simply leaving out a town or two, spending less time in each place,. Alternatively, lengthen the itinerary if you have more time. One could easily spend a week exploring a city like Venice, and the same goes for Verona and attractions like Lake Garda.
You'll need a car to complete the entire itinerary. I'd recommend booking before you leave with someone like Discover Car Hire - the rates are normally better when you book in advance. Veneto is the best place in Italy to drive; there are wide modern roads between all the towns, and people in Veneto drive very well, by Italian standards.
Should you really not want to drive, you can still do most of the itinerary by train, with the exception of the Dolomites region and towns like Asolo, Marostica and Bassano del Grappa. Another option is to take a tour from Venice that includes towns like Asolo, here are the details. 

Day 1 to Day 4

Postpone renting the car until after Venice; that will save you a bit of money, as obviously a car won't be needed while in Venice.
I'd suggest at least four days in Venice, which will give you enough time to see the main sights and some of the less well-known ones too. For some good restaurants in Venice, and elsewhere in the Veneto, click here. 

ALL THE TOP-SIGHTS IN ONE TRIP
🚩 Stroll across the Rialto Bridge, take a ride on a traditional gondola along the Grand Canal, see St. Mark's Basilica, Doge's Palace and other magnificent places in just a day!
Book herе
Day 4 to Day 7

Leave Venice early and spend a day (although two days are better) in Padua (Padova in Italian), then head to Asolo for three nights exploring nearby Bassano del Grappa, Marostica, and Breganze.
The area around Cison di Valmarino, known as the Prosecco Route, is one of Italy's loveliest wine routes, and it is here that you will discover one of the most incredible drives in all of Italy. I highly recommend you experience this; it is fabulous. Here are the details you need.
MUST-VISIT IN ASOLO
🍷 Take your time to visit a historic estate in the Alpine foothills and taste the famous wines of the region
Book the tour herе
Day 7 to Day 10
To explore the Dolomites, base yourselves in Belluno and visit Cortina d'Ampezzo and the lovely little town of Alleghe. Don't miss a visit to the Val di Funes and some of the gorgeous lakes we feature in our Dolomites Guide.
Val di Funes
Day 10 to Day 13
The next stop is the city of Romeo and Juliet, the city of Verona for three nights - perhaps stopping to visit Vicenza along the way.
Verona is an absolute must-see on your travel list. A sense of history lingers in every cobblestone and in architectural masterpieces, like the Arena di Verona, a breathtaking Roman amphitheater that hosts spectacular operatic performances under the stars.
Verona's authenticity and warmth make it a city that invites you to slow down, savor the moment, and fall in love with life's simple pleasures. Whether you're exploring the bustling marketplaces or simply enjoying an espresso at a quaint café, Verona's charm will captivate you at every turn.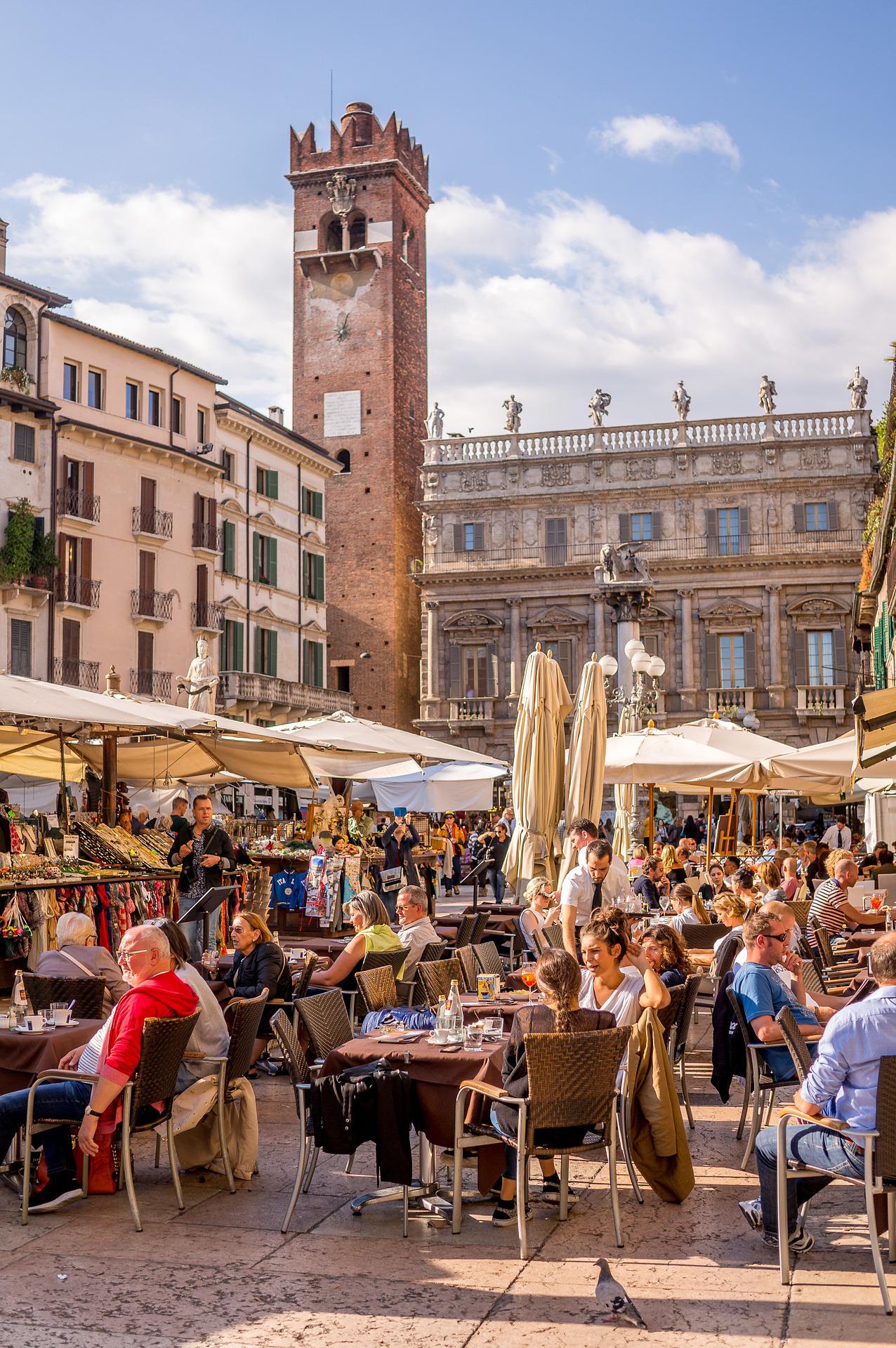 Verona
From Verona,  take a trip out to the Madonna della Coronna. It is one of the most incredible sights I have ever seen and something that still leaves me open-mouthed in awe despite having seen it dozens of times. I bet you'll be asking yourself how they ever managed to build a church in such a location.
If you'd like to combine your time in Verona with a wine tour then visit Soave and explore the surrounding wine country on your own or take a tour like this one.
Day 13 to Day 15

Base yourself either in Peschiera or Sirmione. Peschiera is the better choice with young children, while Sirmione (just across the Veneto border in Brescia) is the more romantic option. Whichever one you choose to stay in, make sure you visit charming little Borghetto sul Mincio while you are there. Borghetto sul Mincio was voted one of Italy's loveliest little towns. It truly is something special. It is very near both Sirmione and Peschiera; from Peschiera, there is a splendid cycle path that leads through gorgeous countryside all the way to Borghetto sul Mincio.
Please Book with Us... Maria here, if you enjoy my site I'd love your support.
Simply book your next trip anywhere (not only to Italy) via the link below or with any of the hotel links on the website.
You'll get the best deal available and the income I receive helps me to remain independent and to keep bringing you more of beautiful Italy.