Venice Italy Beach Guide
I don't know about you, but come summer, I can only take so much history and museums before I need a beach.
That's what the Venice, Italy, Beach Guide is all about—discovering the best beaches near Venice.
My family are THE professional beach explorers. William, my son, is in charge of sandcastles and sand quality; my husband does the snorkeling and swimming; and I, the signora of the family, am in charge of snoozing and suntanning.
So after years of exploring and snoozing away in the sun, we have the answers. If you love beaches, read on...
The beaches here are not quite up to the standard of the best beaches in Italy (see my review of these here), but they are still lovely and among the best beaches in the north of Italy.
All the beaches are near Venice, but if you aren't sure where they are, visit our Best Beach Map.
The Venice Italy Beach Guide Top Five
Sottomarina
This beach is at the top of my list. I simply love Sottomarina, and it has become a regular summer getaway for us. I normally take my mamma with us as it is only an hour from her house and she loves being by the sea.
We love the huge, sandy, and spotlessly clean beach, while the warm and shallow waters are just perfect for children or those, like me and my mamma, who aren't strong swimmers.
Most of the beach is private; don't worry though; simply book a beach front hotel and you'll have your own spot on the beach included. The hotel we always choose is the Hotel Mediterraneo. They have a lovely section of beach right across the road from the hotel where you have all the facilities you could possibly dream of and two deckchairs and a beach umbrella reserved 24 hours a day, just for you. The hotel also provides bikes to allow you to explore, and there is a cycle path that starts right outside the hotel's door. 
When you're tired of beaches, you've got one of Italy's best kept secrets only ten minutes away; a fabulous mini-Venice called Chioggia.
The quickest way to get to Sottomarina from Venice is to take the ACTV number 80E bus;  they leave every 30 minutes from Piazzale Roma, which is to the right as you walk out of Venice Santa Lucia station. The journey takes around 70 minutes.
Where to Stay
As mentioned previously - we always stay at the Hotel Mediterraneo.
Caorle
Caorle (click to read our guide) 
is one of my favorite beach destinations. It's a splendid little town that simply has it all. If it's not the beaches that get you excited, it's the cycling trails, and if not the cycling trails, the beautiful old town with its rich history.
Caorle has a lot to offer, but the beaches are its main attraction. The two beaches, the Spiaggia di Levante in the east and the Spiaggia di Ponte on the west, are both of "blue flag" quality, consist of endless soft, white sand, and most importantly, have the lovely warm water that the Mediterranean is renowned for.
Both beaches are just a stone's throw away from the town and have free and paid sections, so you will always find a spot. The majority of the pay sections are set aside for hotels, which will provide you with a beautiful stretch of sand as well as a private changing room, reserved deck chairs, and beach umbrellas.
On the free sections, you'll find toilet facilities and lovely golden sand but not much else—but then, who really needs more than a great beach?
Where to stay
If you are interested in indulging in the luxurious pay section of the beaches, why not stay at the Hotel Astoria, which is also right on the water. For something a bit more affordable, I wholeheartedly recommend staying at Hotel Angelo, a family favorite that always offers great value and a warm welcome. It's also only a short walk from the beach.
Alberoni
Alberoni is the last Lido beach. Venice Lido has quite a few beaches, but this is a great choice. Not anything spectacular, but definitely a pleasant enough beach and free as well.
Surprisingly, it does not look quite as much like an umbrella landing zone as so many of the beaches around the north of Italy do, and frankly, I am not much into regimented rows of deck chairs and umbrellas.
One problem with this beach in August is trying to swim a little further than just dipping your toes into the water. Many boats and jet skis seem to think that the water is for them only and come very close to the beach with apparent impunity.
The beach is set in a nature reserve and really does seem a world away from the hustle and bustle of Venice. A great idea if you feel energetic is to hire a bike and explore the island.
For those who would like a good game of golf in Venice, the Circolo Golf Venezia course near here is excellent, and the course is an ideal place to view some Venice Sunsets that are as good as sunsets get in Italy.
To get to Alberoni, you can take a ferry from Venice, which takes forty minutes. For more on the ferry, a map of where the Lido is, and timetables visit the ferry operators site.
Alberoni is an excellent option if you want somewhere cheaper and quieter to stay, great for families, and still near enough to Venice to spend the day in the city.
Where to stay in Alberoni
The Hotel Villa Orio (view details) is considered by Italians as the place to stay – I haven't personally stayed here though on a few visits, while writing the Venice Italy Beach Guide, I was impressed and friends of ours who have stayed here speak highly of the hotel.
Bibione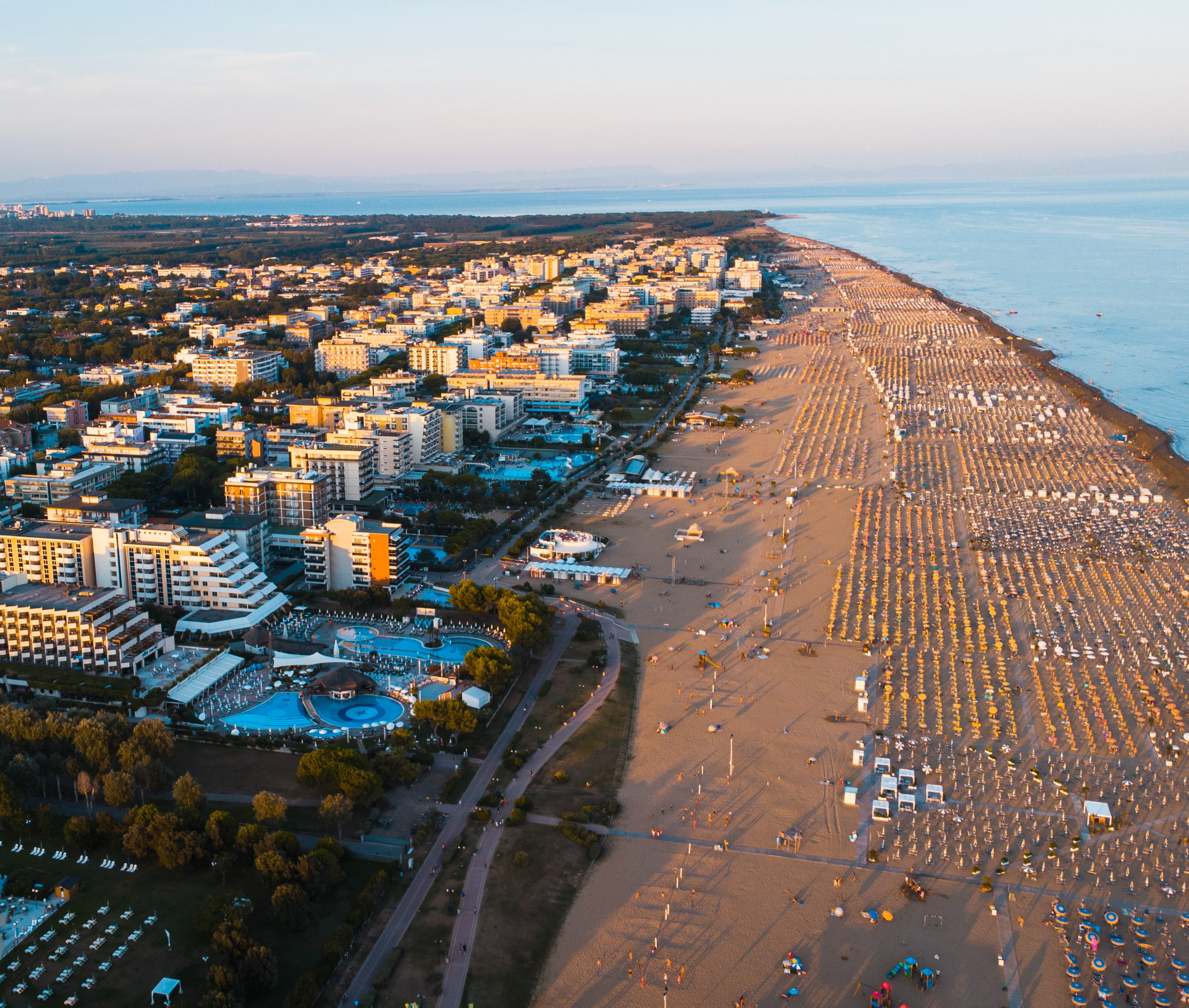 We had never been to this beach, but while preparing the "Venice Italy Beach Guide", some Italian friends suggested we spend a week at a great hotel in Bibione, a place where they often stayed. We did, and I must say we all had a splendid time. Despite the beach appearing a little too regimented for my tastes at first sight, I ended up liking the place.
I found it to be a delightful little town and a superb spa resort (more on this on our spas page). Despite the umbrella rows the beach was spotless, the sea too was pristine.
The resort is surrounded by a fragrant pine forest, which really relaxes me and gets me ready to laze around on the beach in no time.
Bibione is also not that far from Venice and easily reached by train or car. If you go by train, get off at Portogruaro station, and catch the regular bus into town.
| Tip
When you spend the day on the beach, don't miss a chance to hire kayak and SUP. You can do it here
Where to Stay in Bibione

I would suggest you stay at the Hotel Bellevue. It's a 4 star hotel with its own private beach. Recently refurbished I was very pleased with everything about the hotel.
I also like the fact that they offer a full English breakfast which I hardly ever get in Italy and it does make a nice change to my usual first love of the day - cappuccino and croissant.

Rosolina Beach
Rosolina and the next beach, Albarella, are around sixty kilometers from Venice, just south of Chioggia, and easily reached from Venice Marco Polo Airport by bus.
This beach is over 8 kilometers long and has clean, fine sand. Because of the size of the beach, it is rarely overcrowded, except for August and on weekends in July. Not only is this a long beach, but it is over 100 meters wide.
You will need to put up with the regimented rows of umbrellas, but because of the size of the beach, it is bearable. There is also plenty to do, with most hotels offering swimming pools and tennis courts. I would suggest hiring bicycles and exploring a little as well. This is just the sort of place I like cycling in—nice and flat.
Where to Stay in Rosolina

I have never stayed overnight in Rosolina but normally visit while staying in Albarella. My advice is to stay in the great place I mention under the Albarella beach section and perhaps spend a day in Rosolina.
Albarella Beach
The next beach in the Venice, Italy, Beach guide is just along the road from Rosolina.
Albarella is the prettiest of the beaches in the Venice, Italy, Beach Guide. The beach is on a private island that falls within a nature reserve.
Albarella Island is only about five kilometers long by two kilometers wide and is famous for having around two million trees. The name Albarella means poplar tree.
The island is private; only guests staying here are allowed in, and this place is really paradise if you have kids. If the kids have had enough of all the history in Venice, and that usually happens by lunch on the first day, then this is a great place to escape for a while and make them happy.
The benefits are numerous for a great family holiday. Some of the best points are:
• Virtually car free: you need to walk, cycle, or catch the little island train to get around, which makes this island a fabulous place to explore, and the kids can run free.
• Great concerts, shows, and live entertainment in the summer.
• A superb choice of sports, including a great golf course and Europe's biggest saltwater swimming pool.
• Nearly every type of water sport, from sailing to deep sea diving.
• A great kids club that managed the difficult task of keeping my son busy from morning to night.
Where to Stay in Albarella

The Albarella Golf Hotel is the only choice. Apart from being in a stunning location (see picture at top of page) the hotel offers lots of extras from free bicycle hire, tennis, horse riding, fishing and golf at the nearby course.
FAQ About Beaches Around Venice
The most popular beach in Venice is the Lido di Venezia, commonly known as the Lido. It is a long, sandy island that stretches along the Adriatic Sea and offers a range of beach resorts and facilities. Alberoni: which we write about further up the page is my pick of the Lido beaches. Some of the other Venice Lido beaches are: 

Lido di Venezia Beach: The main beach on the Lido, offering a long stretch of sandy shoreline and various beach clubs and resorts.

Blue Moon Beach: A well-known beach establishment on the Lido, providing beach facilities, sun loungers, and umbrellas for visitors.

San Nicolò Beach: Located on the eastern end of the Lido, this beach offers a quieter atmosphere and beautiful views of the Adriatic Sea.

Excelsior Beach: A luxurious beach resort on the Lido, known for its exclusive facilities, private cabins, and elegant beachfront dining options.

Des Bains Beach: Another iconic beach club on the Lido, offering a blend of traditional elegance and modern amenities, including restaurants, bars, and swimming pools.
Yes, you can swim on the beaches of Venice, including the Lido. The beaches are well maintained and provide designated swimming areas. Don't swim in the canals of the city of Venice itself, though; it is illegal to do so, the water is polluted, you may get sick, and you will be arrested.
The nearest beach to Venice is, again, the Lido di Venezia. It is located just a short boat ride away from the historic center of Venice.
Looking for more beaches in Italy? Then search below...
Please subscribe to my free monthly newsletter. It let's you know what information I have added and provides you with even more insider advice on my Italy. Click here to subscribe.

Please Book with Us... Maria here, if you enjoy my site I'd love your support.
Simply book your next trip anywhere (not only to Italy) via the link below or with any of the hotel links on the website.
You'll get the best deal available and the income I receive helps me to remain independent and to keep bringing you more of beautiful Italy.