Wineries near Venice Italy

Many people find it hard to believe that some of Italy's premier wineries are near Venice. Most people still think of Tuscany when it comes to premier wines, but that is not true any longer and perhaps never was. Some of the best wines in Italy come from Veneto and regions like Piedmont.
Within a short distance of Venice, you can uncover a world of vineyards and cellars, where generations of winemakers have perfected their craft.
From the rolling hills of the Prosecco region to the terraced vineyards of Valpolicella, the allure of these wineries near Venice is a testament to the diverse and exceptional wine culture that Italy has to offer. We've discovered many of the finest Italian wine estates near Venice and throughout the other wine regions of Italy. To discover these estates and their wines, visit Best-Italian-Wines.com site.
For more about the wines and wine routes near Venice read on…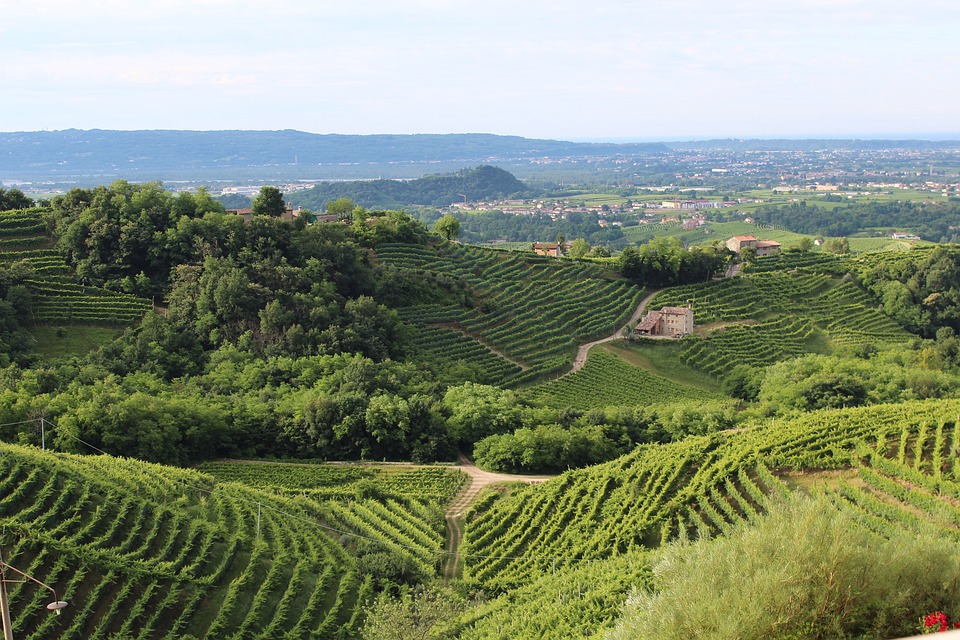 Veneto is slowly becoming famous throughout the world for its wines; names like Pinot Grigio, Soave, and Prosecco are loved from London to Los Angeles. All of these wines are produced within a few hours drive from Venice.
So, if you are visiting Venice or Verona, then enjoying good wine, great scenery, and exceptional food on a wine tour should most certainly be included in your itinerary.
You can do this in two ways: either with a guided tour or on your own. I would suggest doing it on your own if you have a car it is easily done - click for the latest deals out of Venice.
Wineries near Venice
Contratto Winery is one of the oldest wineries in the country and produces a range of different wines, from whites to reds. Founded in 1871, this winery is sure to impress with its range of quality wines.
Tenuta Sant'Antonio Winery was founded in 1978 and uses traditional methods to produce some of the best wines in the region, including a crisp and refreshing Prosecco. The winery also offers wines from around the world, making it a great place to explore different varieties.
Venissa Winery is located on the island of Mazzorbo, just off Venice, and produces some of the most unique wines in the area, as well as a signature Venissa Bianco wine. With a focus on sustainability and organic production, this winery is sure to provide a one-of-a-kind experience.
La Montecchia Winery is located in the Colli Euganei hills and produces some of the best organic wines in the region, such as a Cabernet Sauvignon and a Sauvignon Blanc. With more than 25 years of experience in winemaking, this winery is sure to provide a unique and unforgettable experience.
A Small Group Winery Tour from Venice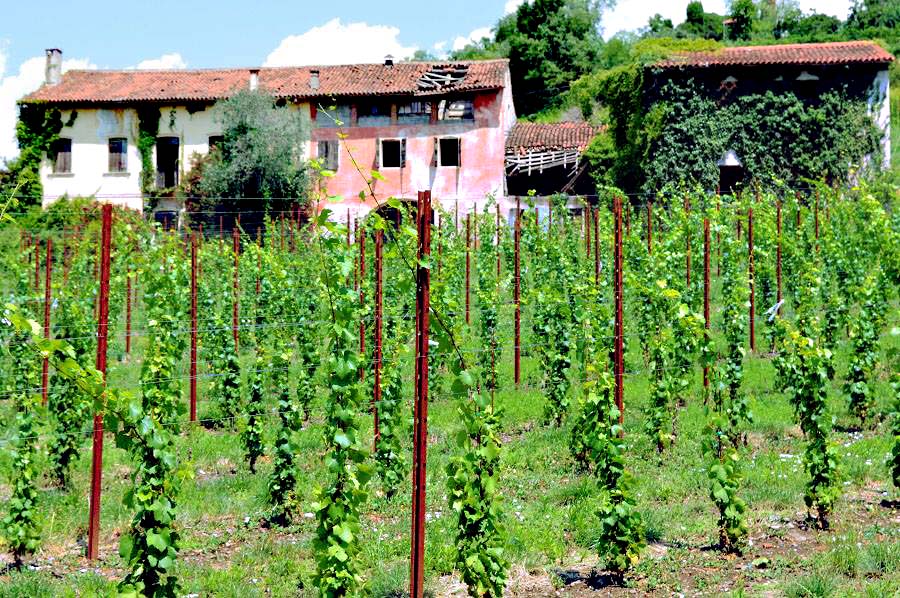 A small group wine tour from Venice offers a unique opportunity to explore the wineries near Venice and taste some of the best wines in Italy. From the rolling hills of the Veneto region to the picturesque vineyards of Friuli-Venezia Giulia, this tour will provide an unforgettable experience.
Along the way, you'll have the chance to visit some of the most renowned wineries in the country, learn about the history and production methods of their wines, and sample some of the finest Italian wines.
Plus, you'll be able to take in the breathtaking scenery of the Veneto countryside and get an up-close view of the traditional winemaking process. Whether you're a connoisseur or simply want to savor the unique atmosphere of this historic region, a small group wine tour from Venice is the perfect way to discover the secrets of Italian winemaking.
Places are very limited and demand is great so don't miss out...click for details.

The Wine Routes
Valpolicella
Not far from Verona and Lake Garda exists a gentle world of vineyards shadowed by the mountains of the Dolomites. This is the land of Valpolicella (click for more), which has been producing great wines for over five centuries.
The region is famous for producing a range of remarkable red wines, with the renowned Amarone della Valpolicella taking center stage.
Valpolicella's unique terroir, characterized by its hilly landscape, clay and limestone soils, and a favorable microclimate influenced by the nearby Lake Garda, provides an ideal environment for grape cultivation. The indigenous grape varieties, including Corvina, Rondinella, and Molinara, flourish here, contributing to the distinctive character of Valpolicella wines.
Visit some of the smaller estates for an authentic taste of what this region is all about. To explore this region and the nearby Soave wine route I would suggest staying at the delightful Monte Tondo.
Prosecco
Oldest of all Italian wine routes, the Prosecco route is an easy day trip from Venice. Personally though, I'd suggest you rather stay somewhere in the heart of this region and explore the many wonderful estates and villages of this part of the Veneto a little more thoroughly. In terms of where to stay, the Agriturismo Vedova is our recommendation.
You will discover the Prosecco territory to be a land in which the traditions of centuries past are still very much alive in the food and the wines as well as in the families, who for generations have cultivated these vines with a love and passion.
With its rolling hills, lush vineyards, and charming villages, the Prosecco region is a must-visit destination for wine lovers and explorers alike. Here, you can immerse yourself in the art of winemaking, indulge in tastings of exquisite Prosecco wines, and witness the breathtaking beauty of the vine-covered landscape.
Venice's proximity to Prosecco allows visitors to easily embark on day trips or guided tours to discover the region's vinicultural treasures. From the scenic hills of Conegliano Valdobbiadene to the charming town of Asolo, every corner of the Prosecco area holds unique surprises waiting to be explored.
To make the most of your Prosecco adventure, here are four top vineyards you should consider visiting:
Villa Sandi: Located in the heart of the Prosecco region, Villa Sandi is a historic estate known for its elegant wines and breathtaking surroundings. Explore the underground cellars, stroll through the enchanting gardens, and enjoy a tasting of their exceptional Prosecco offerings.
Nino Franco: With a legacy dating back to 1919, Nino Franco is renowned for producing top-quality Prosecco. Take a guided tour of their vineyards, learn about the traditional winemaking techniques, and sample their acclaimed range of sparkling wines.
Bisol: Set amidst the stunning landscape of Valdobbiadene, Bisol is a family-owned winery that epitomizes Prosecco excellence. Join a guided tour to gain insights into their sustainable viticulture practices, taste their exquisite Prosecco crus, and savor the panoramic views from their terrace.
Ruggeri: Situated in the charming town of Valdobbiadene, Ruggeri is a boutique winery known for its artisanal approach to winemaking. Discover their vineyards, enjoy a guided tasting of their handcrafted Prosecco, and witness the passion that goes into every bottle.
Strada del Soave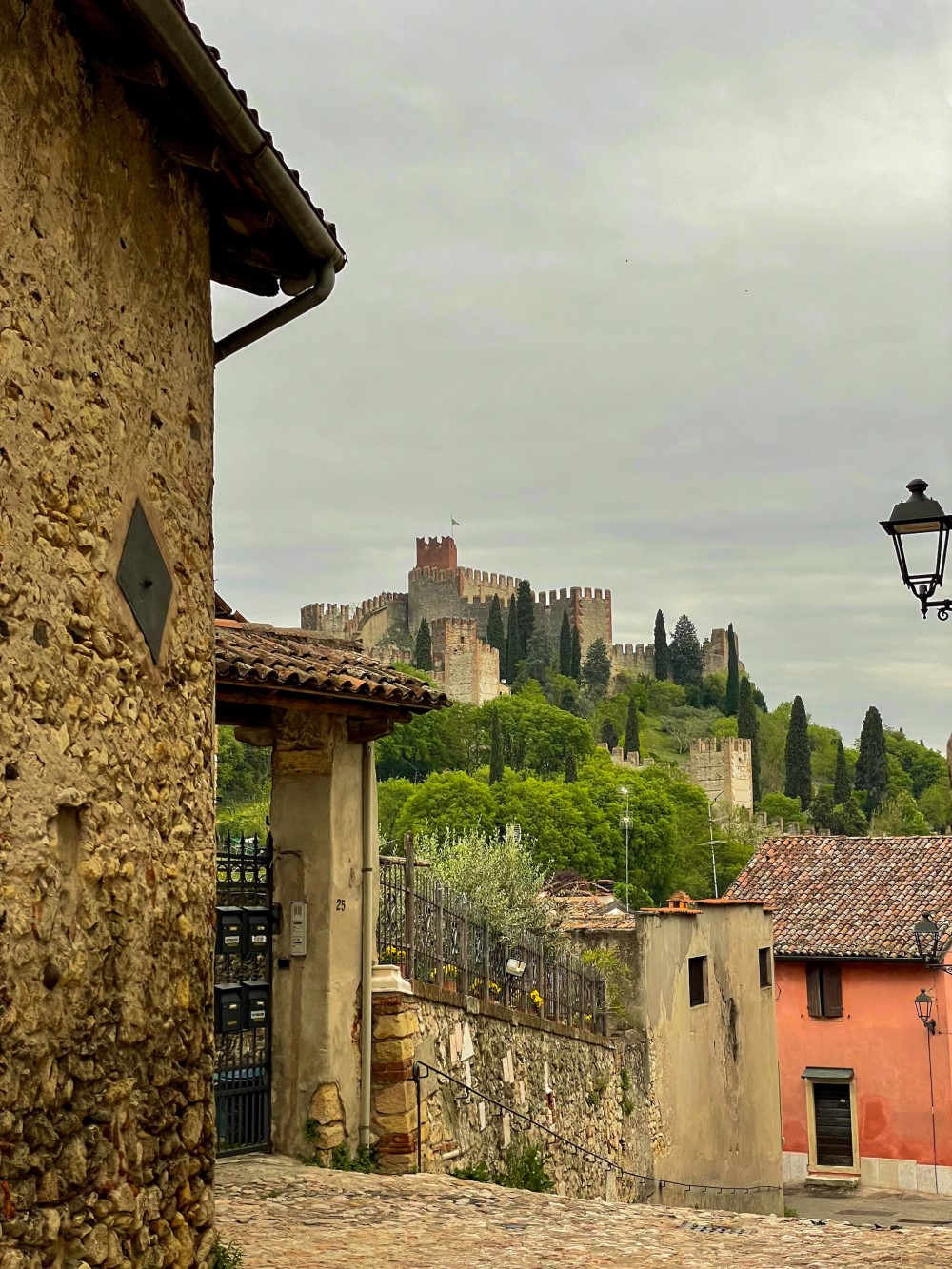 The town of Soave, recently voted the loveliest small town in Italy
Thirteen communities make up Soave Doc territory. The area extends from the town of Soave through to Monteforte d'Alpoe.
While the Soave name was once synonymous with mass-produced wines, recent years have witnessed a remarkable shift, with numerous estates dedicating themselves to producing truly exceptional and refined wines.
The Garganega grape, the undisputed star of Soave, thrives in the region's volcanic soils and benefits from the mild Mediterranean climate. It is known for its ability to express the terroir, offering a unique combination of vibrant acidity, delicate aromatics, and a captivating mineral character that captivates the senses.
The dedication and passion of the winemakers in the Soave region have propelled the appellation to new heights. With a renewed focus on quality, sustainability, and innovation, these estates have elevated Soave wines to a level of excellence that demands attention.
By embracing modern viticultural practices, such as reduced yields, careful vineyard management, and selective harvesting, these wineries have brought out the full potential of the Garganega grape, resulting in wines that showcase the varietal's elegance, depth, and complexity.
Take a journey through the Soave countryside, where vine-covered hills and medieval villages create a picturesque backdrop.
Visit renowned wineries such as Pieropan, Inama, and Suavia, where you can experience firsthand the craftsmanship and passion that go into creating their extraordinary Soave wines. Enjoy guided tastings, cellar tours, and conversations with the winemakers themselves, gaining insights into their winemaking philosophies and the unique characteristics of their wines.
Soave has reinvented itself, shedding its outdated reputation and emerging as a region capable of producing world-class white wines. The commitment to quality and the pursuit of excellence have propelled Soave into the realm of truly fine wines, captivating the palates of wine enthusiasts worldwide.
Other Wine Regions of Italy

FranciaCorta
This is Italy's champagne valley, a cork-popping celebration of superb wines on the shores of one of Italy's most beautiful lakes. Discover the Franciacorta wine route here.
Tuscany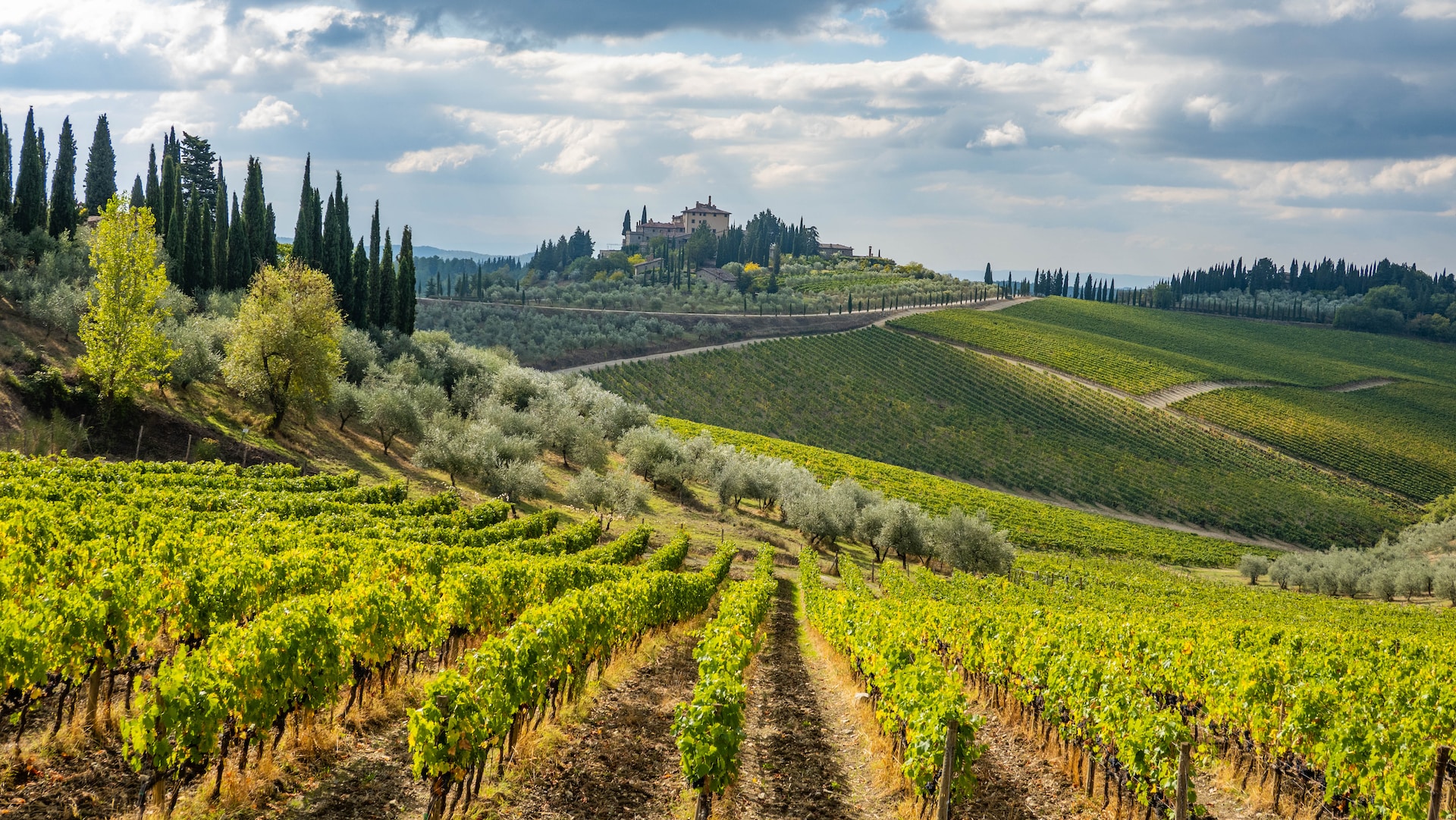 In Tuscany I particularly enjoy the wine from Badia a Coltibuono, The winery is something wonderful indeed, a restored thousand year old monastery. Even better news is that you can stay in this amazing place.

If you are in Florence and want to do a quick winery tour while there click here for some options.

Piedmont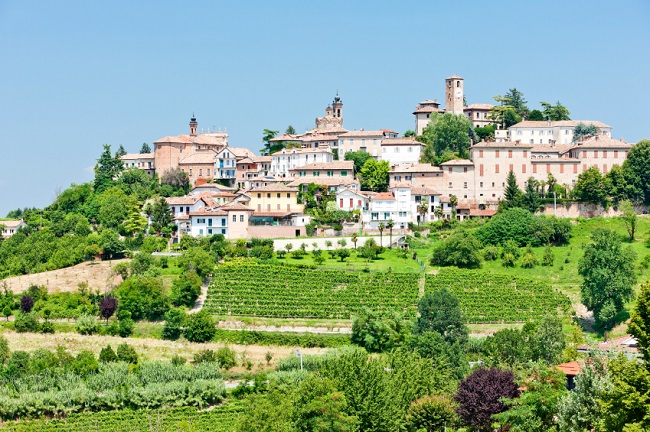 Having lived in Piedmont for nearly ten years there are a lot of wine estates in the region that I am particularly fond of, you can read about these on my Italian wine site.
Please Book with Us... Maria here, if you enjoy my site I'd love your support.
Simply book your next trip anywhere (not only to Italy) via the link below or with any of the hotel links on the website.
You'll get the best deal available and the income I receive helps me to remain independent and to keep bringing you more of beautiful Italy.