Valpolicella Wine & Region
Not far from Verona and Lake Garda exists a gentle world of vineyards shadowed by the mountains of the Dolomites. This is the land of Valpolicella wine...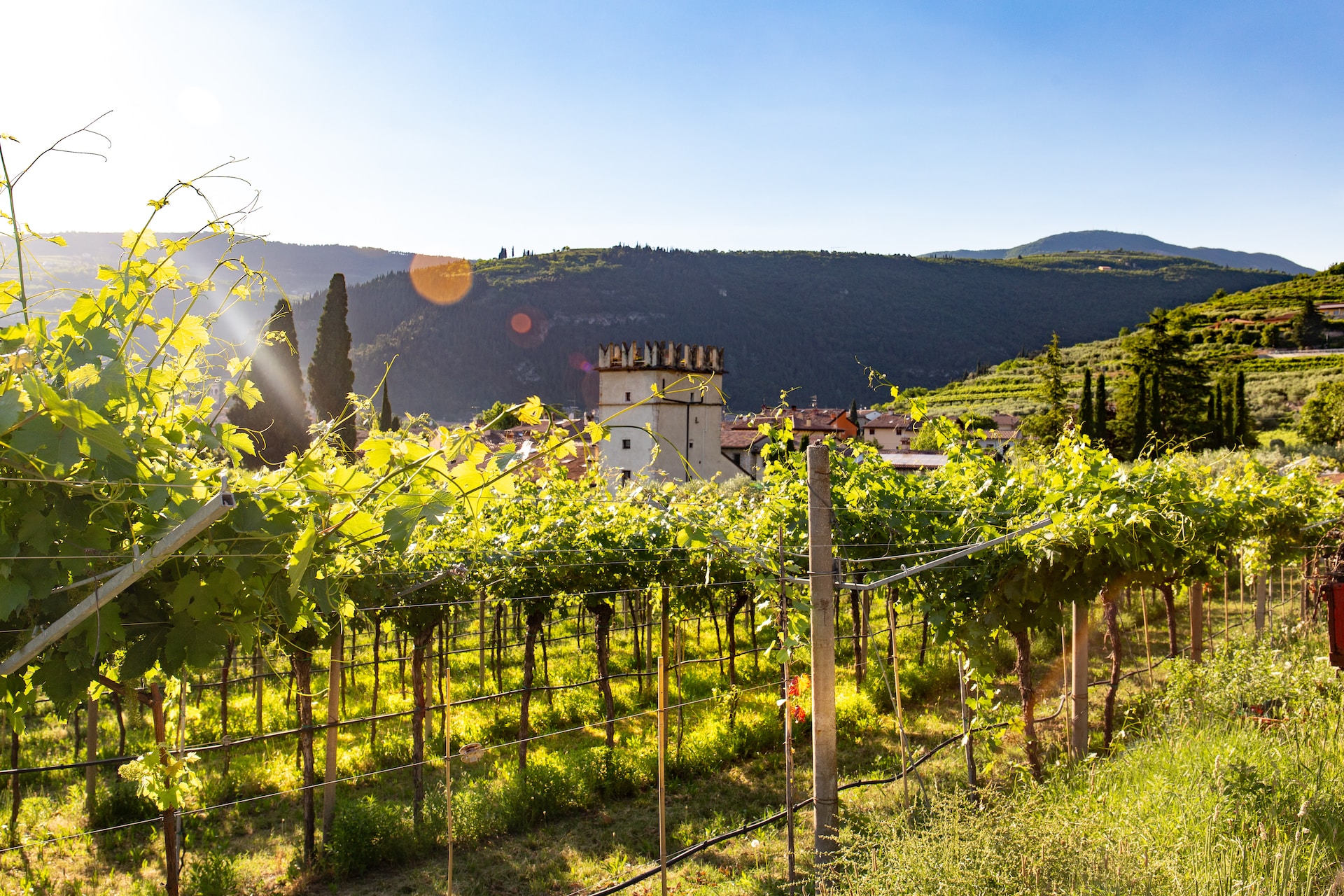 Valpolicella is a symphony of vineyards, producing some of Italy's most esteemed wines. Its signature red wines—Amarone, Valpolicella Classico, and Recioto—have earned international acclaim for their robust flavors and exquisite craftsmanship. But Valpolicella is more than just a wine; it is a beautiful destination of rolling hills and awe-inspiring landscapes that touches the soul.
Where to Stay
Without a doubt, try to stay at the Monte Tondo, the place is quite a legend, and you will need to book early, but, if you are lucky enough to get in, you won't regret it. The Monte Tondo is a perfect base for exploring not only the Valpolicella wine route but also the Soave wine route, Lake Garda, and nearby towns like Verona. You will need a car, though. I recommend reading our car rental guide to ensure you get the best deal.

Valpolicella: A Terroir of Diversity and Character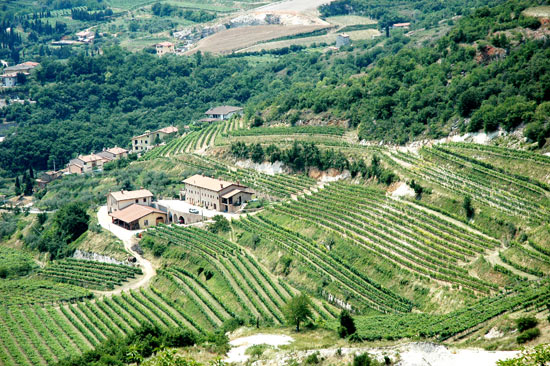 Boscaini
Valpolicella wine country lies at the lower foothills of the majestic Dolomites, where vineyards thrive in the embrace of nature's grandeur. Most vineyards are around 200 meters above sea level; however, as you venture along the northern and eastern borders of the territory, you'll witness vineyards ascending to nearly 500 meters, showcasing the versatility of this captivating terroir.

The wines themselves are crafted from a harmonious blend of indigenous grape varieties: Rondinella, Corvina, and Molinara. Among these varieties, Rondinella is the dominant player, lending its distinct character to the wine's exquisite profile.
Renowned for their medium-bodied structure, gentle tannins, and vibrant acidity, they go perfectly with local dishes and many traditional Italian oven-baked dishes, whether it's a velvety lasagna, a flavorful ragu, or a comforting risotto.
Valpolicella's wines also serve as the perfect aperitif, especially when paired with the region's renowned local salami. The delicate balance of fruit and spice in the wines effortlessly enhances the savory notes of the salami, tantalizing the taste buds with every sip and bite.
Estates to Visit
Boscaini
A lovely winery – the photo further up the page is taken from the surrounding hills looking down towards the farmhouse.
Masi
Masi is a pioneer of modern winemaking in Valpolicella, with a commitment to preserving the region's heritage while embracing innovation. Their innovative appassimento technique and commitment to using indigenous grape varieties have set them apart as trailblazers in the industry. A visit to Masi's cellars unveils the artistry behind their Amarone and Recioto wines, as well as their renowned Campofiorin and Costasera wines. The Masi experience is a fusion of tradition and progress, offering a taste of Valpolicella's evolution.
Vini San Michele
Charming, family-run estate in the heart of the Valpolicella Classico wine region, the Righetti family's love for this ancient land and for its bounty is obvious in everything they do. For generations, the family has been producing excellent "boutique wines," long before the term became fashionable. Their Amarone and Valpolicella wines offer a harmonious fusion of classic flavors and contemporary finesse. A visit to Vini San Michele is an exploration of how the past harmonizes with the present to create wines that captivate both the palate and the heart.
Tommasi
For nearly a century, the Tommasi family has cultivated their love for winemaking, creating a legacy of excellence in Valpolicella. Their commitment to producing exceptional wines is evident in every bottle. A visit to the Tommasi winery provides an intimate encounter with their extensive wine collection, where Amarone and Valpolicella Classico take center stage.for more on the estate and their wines click here 
Viviani
Nestled in the heart of the Valpolicella Classico region, Viviani is a small jewel of a winery that epitomizes the spirit of family winemaking. The Viviani family's meticulous care and attention to detail are reflected in their exceptional Amarone and Valpolicella wines. A visit to Viviani offers an intimate and personalized wine-tasting experience, allowing you to savor the fruits of their labor and gain insight into their winemaking philosophy. I loved my visit here and can't wait to return.
Quintarelli
Quintarelli is synonymous with excellence in the Valpolicella wine region, a winery that has achieved legendary status. Known as the "Master of the Veneto," Giuseppe Quintarelli's vision and dedication to winemaking continue to inspire future generations. Quintarelli's Amarone and Valpolicella wines are a testament to the timeless art of winemaking, characterized by unparalleled depth and complexity. A visit to Quintarelli is an opportunity to savor the elixir of Valpolicella and witness the legacy of a true wine maestro.
Essential Tips: Navigating Valpolicella with Ease
Before you set off on your Valpolicella adventure, here are some essential tips to enhance your experience:
Seasonal Magic
Visit during the grape harvest season, from September to October, to witness the winemaking process in full swing and partake in the festivities. The vineyards turn gold and russet in late October—truly beautiful to see.
Plan Ahead
Many wineries, especially the smaller ones, require reservations for tastings, so book in advance to secure your spot. Often your hotel can help with this or take one of the organized guided tours of the wineries.
Explore Villages
Beyond the vineyards and wineries, a world of enchantment awaits in the charming villages of Fumane, Negrar, and Sant'Ambrogio di Valpolicella.
Fumane: A Tranquil Haven
Fumane is a paradise for nature enthusiasts, offering picturesque trails that wind through vineyards and olive groves, leading to panoramic viewpoints where breathtaking vistas of the valley unfold. The village's warm hospitality extends to its traditional osterias, where you can savor authentic local dishes and pair them with the finest Valpolicella wines.
Negrar: A Tapestry of History and Tradition
Negrar is a village steeped in history, where centuries-old landmarks bear witness to the passage of time. The striking façade of the Church of Santa Maria draws visitors with its intricate details and fascinating history. Stroll through the lively piazzas, where locals gather to share stories and laughter, and immerse yourself in the village's vibrant community spirit. Negrar's winding alleys lead to hidden corners filled with artisan workshops. Embrace the rhythm of daily life as you savor a leisurely coffee at a quaint café or indulge in the simple pleasure of people-watching.
Sant'Ambrogio di Valpolicella: A Tale of Elegance
The village's charming streets are adorned with ornate fountains and quaint artisan shops, where you can find exquisite handmade treasures. Sant'Ambrogio di Valpolicella's refined character extends to its celebrated culinary scene, where Michelin-starred restaurants and intimate trattorias present a symphony of flavors, which are of course complemented by the finest local wines.
 discover Valpolicella's hidden gems
Trek to the ancient parish church of San Giorgio Ingannapoltron, perched atop a hill with panoramic views of the region.
Wander through the quaint streets of San Pietro in Cariano, where time seems to stand still.
Seek solace at the beautiful garden of Villa Rizzardi, an idyllic spot to savor a glass of Amarone while immersed in nature's embrace.
Please Book with Us... Maria here, if you enjoy my site I'd love your support.
Simply book your next trip anywhere (not only to Italy) via the link below or with any of the hotel links on the website.
You'll get the best deal available and the income I receive helps me to remain independent and to keep bringing you more of beautiful Italy.