Valpolicella Wine & Region
Not far from Verona and Lake Garda exists a gentle world of vineyards shadowed by the mountains of the Dolomites. This is the land of Valpolicella wine...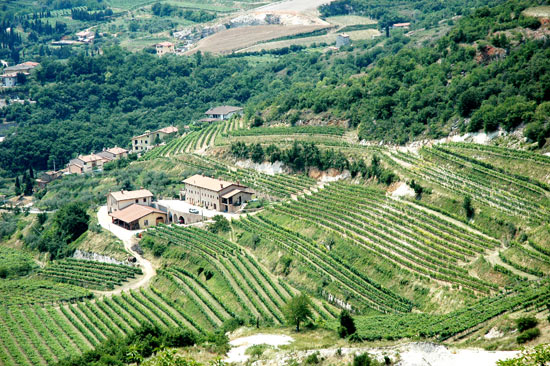 The classic Valpolicella wine is only produced in a small part of the territory. The original area stretches from Negrar in the east through to Sant'Ambrogio in the west.
In this evocative landscape, of rolling hills and verdant valleys, is a land that has been producing wine dating back to the 5th century. It is here that your visit should focus.
Where to Stay
Without a doubt try to stay at the Monte Tondo, the place is quite a legend and you will need to book early but, if you are lucky enough to get in, you won't regret it. The Monte Tondo is a perfect base for exploring not only the Valpolicella wine route but also the Soave wine route, Lake Garda and nearby towns like Verona.
The Wines
Cultivation is mainly at lower altitudes on the lower foothills of the dolomites. Most vineyards are at around 200metres above sea level although this can rise to nearly 500 meters along the northern and eastern borders of the territory.
Valpolicella is made from a blend of Rondinella, Corvina and Molinara grapes with Rondinella being the dominant variety. The wine itself is a strong ruby red with a nose that often recalls almonds and cherries. It is an ideal wine to drink with pasta or as an aperitif with the local salami.
Estates to Visit
Three of the estates to tour in the "classic" part of the Valpolicella region are Boscaini Carlo Tommasi and Vini San Michele.
Boscaini
A lovely winery – the photo at the top of the page is taken from the surrounding hills looking down towards the farmhouse.
Vini San Michele
Charming, family run estate, the Righetti family's love for this ancient land and for its bounty is obvious in everything they do. For generations the family have been producing excellent "boutique wines" long before the term became fashionable.
Tommasi
A firm favorite of mine producing a superb Amarone Valpolicella, for more on the estate and their wines click here

Please Book with Us... Maria here, if you enjoy my site I'd love your support.
Simply book your next trip anywhere (not only to Italy) via the link below or with any of the hotel links on the website.
You'll get the best deal available and the income I receive helps me to remain independent and to keep bringing you more of beautiful Italy.