The Best Beaches near Amalfi
A few months back I wrote an article about the hotels I love on the Amalfi coast and it got a great response.
Particularly loved was the stunningly beautiful and absolutely amazing Hotel Santa Caterina (see photo above).

Since then a lot of people have asked me about the best beaches near Amalfi.
Seeing as much of this site and my Sardinian beach site, is devoted to beaches, I thought it really was about time that I shared my Amalfi beach discoveries too.
The Amalfi Coast beaches may not be quite like those of Sardinia, at least when it comes to size, but you can't get much better than the setting. Most of the beaches are sandwiched between towering cliffs and aquamarine seas - meaning you are in for a visual treat.
Here then are...
The Most Beautiful Amalfi Coast Beaches
Duoglio Beach

One of the loveliest sandy beaches on the Amalfi coast It is one kilometer (about half a mile) from Amalfi and a little past the village of Lone.
Then you have to get there by going down some stairs...
Getting down is very easy.
Getting up at the end of a long day in the sun... ah, that is another story!
Great beach, though, and the sea is crystal clear.
I nearly forgot. If you don't feel like the long walk, there's good news! You can get a boat from Amalfi to the beach; they leave every half hour, and the view of the coastline from out at sea is unforgettable. Just ask your hotel for information.
Marina Grande di Amalfi
I think everybody who has visited Amalfi knows this beach, which is the main Amalfi town beach. It is the biggest Amalfi beach too, both longer and wider than the others.
Things get very busy here on weekends and during the summer vacation time of July and August, so if you can, try to visit in May, June, or even early September. The one advantage of visiting in July or August is the atmosphere—the classic Italian beach scene.
Furore Beach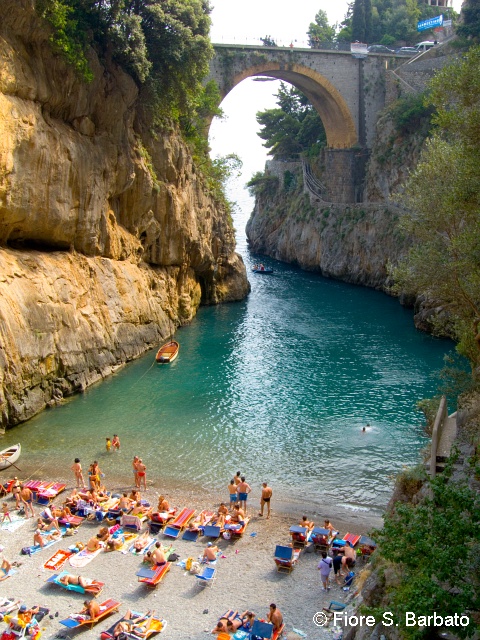 Furore Beach by Fiore S. Barbato
A definite bucket list beach this one. I don't think a beach quite like it exists anywhere else on earth.
It is at the end of one of Italy's only Fjords and the setting is awe-inspiring. You've got a bridge up above and the old part of Furore, with its restored fishermen's cottages, just behind.
Furore is located between Positano and Amalfi and getting to the beach is best done on the SITA bus. Ask the driver to drop you by the Furore bridge, you'll need to be up to a bit of a walk though. Next to the bridge is a never-ending flight of stairs which lead all the way down to the beach.

La Marinella
If you'd like a tiny yet beautiful beach that is spotlessly clean, often quieter than the other Amalfi Coast beaches, and has few tourists, then this is the beach you should visit.
Don't wait too long though, as the beach is shrinking with each passing year and may vanish altogether in the next five years or so.
You'll find the beach about 400 yards past Santa Croce, and it adjoins the La Marinella Restaurant.
Make sure you visit in the morning; the beach loses its luster by early afternoon.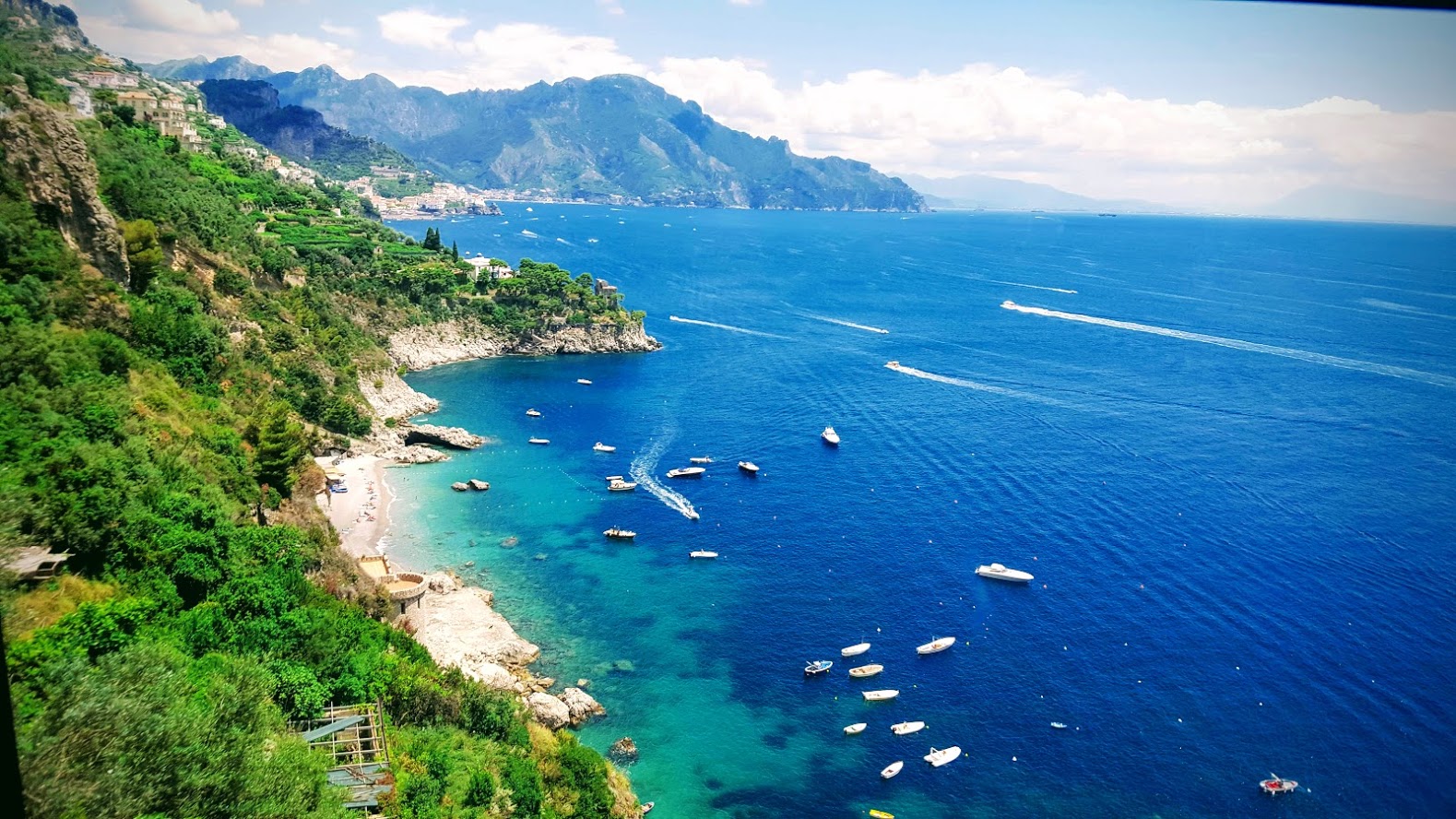 Conca dei Marini
Head on through Borgo Marinaro and take the stairs down to the beach.
The beach is a stunning half-moon, and unlike Marinella, it has bars, restaurants, and all the other things Italian beaches are famous for. The sun goes down behind the cliffs quite early in the afternoon, so the morning would be the best time to visit.
Conca dei Marini is also famous for the sfogliatella Santa Rosa pastry. One of these delicious things is never enough. So be warned.
Positano
Spiaggia Grande in Positano
In Positano the main beach, called Spiaggia Grande, is great. Okay, it can get a little crowded in July and August, but this is Italian beach life at its best—colorful and full of character.
When you're tired of people watching, the gorgeous setting will keep you satisfied forever.
To the left of the main beach, as you look out to sea, is Fiumicello Beach - a small secluded cove located just a few minutes' walk from Spiaggia Grande. It's normally empty and difficult to reach unless you go by boat.
Arienzo
What a joy it is getting to this beach. The view will leave you breathless, and if the view doesn't, the walk will.
A little under three hundred steps are all you need to climb down to get here, but for your efforts, you'll enjoy some of the most incredible views on the whole Amalfi coast.
The Amalfi sun shines on this little corner of paradise all day long. One of the loveliest of the Positano beaches, it is located just outside of Positano itself, in the village of Arienzo.
Visited Amalfi?
If you've visited the Amalfi coast share your experiences, tips and photos.
What Other Visitors Have Said
Click below to see contributions from other visitors to this page...


Enchanting Amalfi Coast and Sorrento: A Riviera Escape of Sun-Kissed Splendor Not rated yet
My first trip to Italy was in 1972 with my grandmother to her hometown of Satriano in the province of Calabria. I went back to Italy in 2006 with my friends …
Please Book with Us... Maria here, if you enjoy my site I'd love your support.
Simply book your next trip anywhere (not only to Italy) via the link below or with any of the hotel links on the website.
You'll get the best deal available and the income I receive helps me to remain independent and to keep bringing you more of beautiful Italy.