6 Places to See near Venice - Updated for 2023
Visiting Venice this year? Then there are 6 places close to Venice that you'll not want to miss out on.
There's a map at the bottom of the page to show you where they are but even the farthest is an easy 2 hour drive from Venice and the first one is a short boat ride away. So rent yourself a car - try Discover Cars for the best deals - and head out  on the trip of a lifetime.
We'll start with those nearest to Venice and move on to those farther away...

1) Burano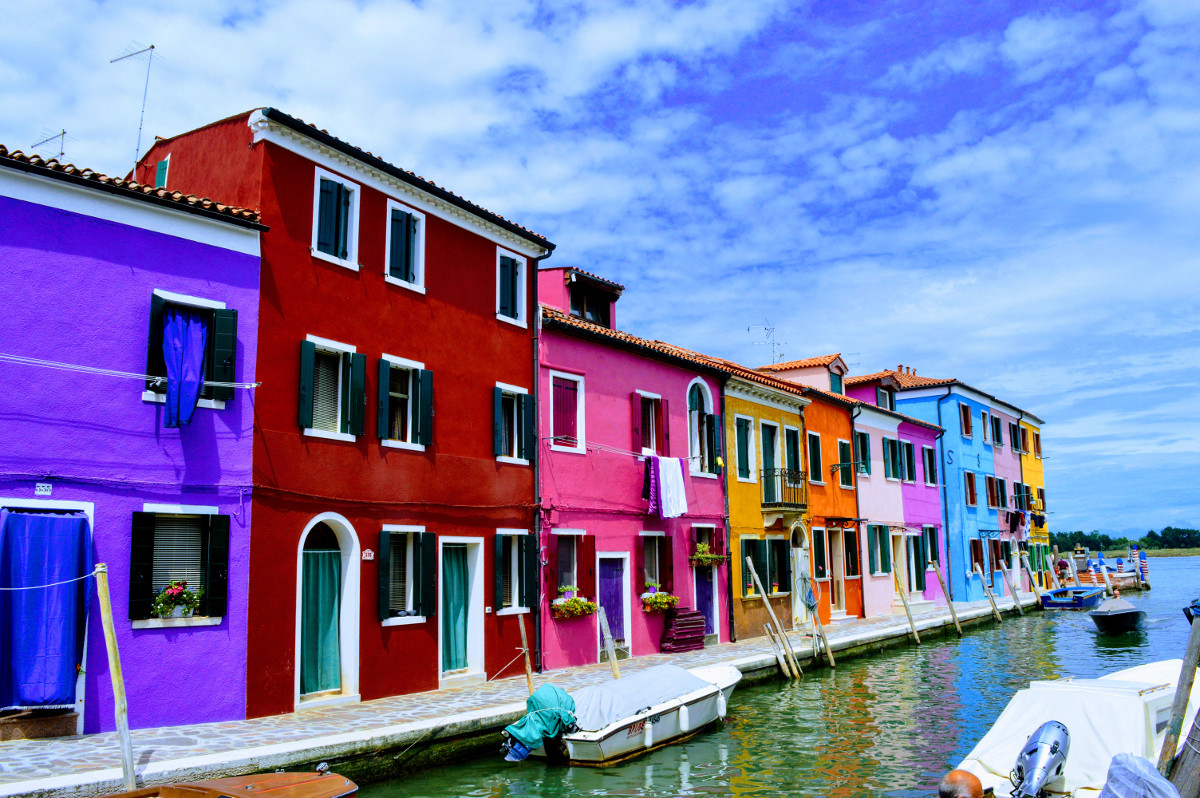 A short boat ride from Venice is the enchanting and vibrant fishing village of Burano, where time seems to stand still. Stepping foot on this picturesque island is like stepping into a fairytale world. In the past, the village's men would embark on their daring seafaring adventures while the women would remain behind, skillfully crafting some of the world's most exquisite lace. To this day, this beautiful tradition still lives on as women continue to devote themselves to the art of lace-making, preserving the rich heritage of Burano.
Beyond its lace-making legacy, Burano offers a true escape from the hustle and bustle of city life. The peaceful atmosphere and idyllic scenery make it a haven of tranquility. Don't forget to savor the island's culinary delights, as the local seafood dishes are known to tantalize the taste buds with their freshness and flavor.
You can easily get to Burano by boat from Venice, but if you don't feel like figuring out boat timetables etc. then here's a good tour to see all the highlights in a morning or afternoon.
Prefer to really get to know this enchanting island: filled with fascinating people, incredible stories, and secret corners? Read our guide to the real Burano.
2) Padua
Padua, or Padova as it is called in Italian, is a city bursting with life and youthful vigor. It's like Italy's own version of Cambridge, with a bustling student population zipping around on their bicycles (there are way more bicycles than cars here).and lovely squares where the old folks gather to gossip and market sellers convince you to buy the deal of a lifetime.
What makes Padua truly special is it is still relatively unspoiled by the masses of tourists. It proudly showcases its majestic cathedrals, adorned with awe-inspiring artwork that tells tales of bygone eras. Every step you take in Padua is like unearthing fragments of its illustrious history, from ancient Roman remnants to the grandeur of medieval palaces.
It is easy to get here from Venice too, from Venice's Santa Lucia train station to Padua's main train station, Padova Centrale takes only around 30 minutes,
Like the next town on our list, Asolo, this too it is a town where tourists haven't yet arrived in numbers - despite the fabulous cathedrals, great art works, beautiful parks, thousands of years of history... I could go on and on but rather discover more for yourself.
3) Asolo
Considered to be one of Italy's loveliest small towns,  and certainly the loveliest small town near Venice, Asolo really is something super special - artists and writers having been drawn here for centuries.
Its picturesque streets, adorned with colorful houses and flower-laden balconies, create an idyllic ambiance that feels straight out of a storybook. The town's rich history and cultural heritage are evident at every turn, with ancient ruins, magnificent palaces, and a splendid castle crowning the hilltop.
The most convenient way to travel is by renting a car and driving. The journey takes approximately 1 hour and follows the A27 highway towards Belluno. Take the exit at Treviso Nord and follow the signs to Asolo. The scenic drive through the Veneto countryside adds to the charm of the trip.
Asolo is truly one of my happy places, a tranquil haven that encapsulates the essence of Italy's timeless beauty. One of my favorites in all of Italy. Read more about it here. 
MUST-VISIT IN ASOLO
🍷 Take your time to visit a historic estate in the Alpine foothills and taste the famous wines of the region
Book the tour herе
4) Madonna della Corona
On a cliff-side and seeming to touch the clouds, while far far below lie the fields and forests of the Veneto; this is the Madonna della Corona. How did they get it up here and why? Answers and more here.
5) Verona
From the legendary tale of Romeo and Juliet set in Verona to its stunning Roman ruins and the iconic Roman Arena, Verona is a treasure trove of cultural riches.
Steeped in history, the city proudly showcases its Roman heritage through well-preserved sites such as the Verona Arena, an impressive amphitheater that hosts world-class opera performances. As
Verona's charm extends beyond its historical landmarks. Nestled amidst rolling hills and bordered by the Adige River, the city boasts a picturesque setting that captivates visitors. Its cobbled streets are lined with charming cafes, boutique shops, and vibrant piazzas where locals and visitors alike gather to savor the city's lively atmosphere.
Beyond its tourist attractions, Verona offers a high quality of life that makes it a desirable place to call home. With its excellent infrastructure, renowned universities, and thriving arts and cultural scene, Verona provides a balanced blend of modern amenities and old-world charm. Whether it's strolling along the riverbanks, exploring the vibrant neighborhoods, or indulging in the city's culinary delights, Verona offers a lifestyle that effortlessly combines tradition with contemporary living.
Indeed, Verona holds a special place in the hearts of those who have experienced its magic. Its captivating blend of history, natural beauty, and vibrant atmosphere make it a city that resonates with both residents and visitors, making it undoubtedly one of Italy's loveliest cities and a top contender for the title of the best city in Italy to live in.
Getting to Verona from Venice is a straightforward and convenient journey too. The most popular way to travel from Venice to Verona is by train. Trains depart frequently from Venezia Santa Lucia station and arrive at Verona Porta Nuova station. The journey takes approximately 1 to 1.5 hours, depending on the train type.
If you prefer driving, you can rent a car and travel from Venice to Verona by road. The distance between the two cities is approximately 120 kilometers, and the journey typically takes about 1.5 to 2 hours, depending on traffic. Keep in mind that parking in Verona's city center can be limited and expensive, so it's advisable to research parking options in advance.
6) Sirmione
Ancient cobblestone lanes over which centuries of history have passed. Cottages covered with flowers and all summer long the fragrance of jasmine hangs in the air.
With its idyllic location, Sirmione is an oasis of tranquility, offering respite from the bustling city life. Immerse yourself in the warm embrace of this charming town, where every corner holds the promise of a new discovery. Indulge in delectable local cuisine at waterfront restaurants, sip on a glass of exquisite wine while overlooking the glistening lake, or simply lose yourself in the labyrinthine streets, where surprises await at every turn.
Sirmione, with its enchanting ambiance and undeniable charm, invites you to create timeless memories in its embrace. Discover Sirmione here.
Map - 6 Places to See Near Venice
Please Book with Us... Maria here, if you enjoy my site I'd love your support.
Simply book your next trip anywhere (not only to Italy) via the link below or with any of the hotel links on the website.
You'll get the best deal available and the income I receive helps me to remain independent and to keep bringing you more of beautiful Italy.