The Good Lake Garda Hotel Guide

Lake Garda, with its picturesque landscapes and tranquil atmosphere, deserves to be paired with accommodations that complement its beauty. We have carefully handpicked these Lake Garda hotels based on their exceptional quality, outstanding service, and ability to create a truly memorable stay. Each property has its own unique charm and offers a range of amenities to cater to different preferences and budgets.

Whether you seek a luxurious retreat, a charming boutique hotel, or a cozy family-run establishment, our selection has something to suit every taste. From lakeside resorts boasting breathtaking views of the shimmering waters to hidden gems nestled amidst the verdant hills, these hotels have been chosen for their ability to enhance your Lake Garda experience.
If you prefer a more authentic and immersive experience, consider the smaller, family-run establishments that dot the landscape. These charming hotels offer a glimpse into the local way of life, with warm hospitality and a genuine sense of community. Wake up to the aroma of freshly brewed coffee, savor homemade delicacies for breakfast, and receive personalized recommendations from the knowledgeable staff who treat you like family.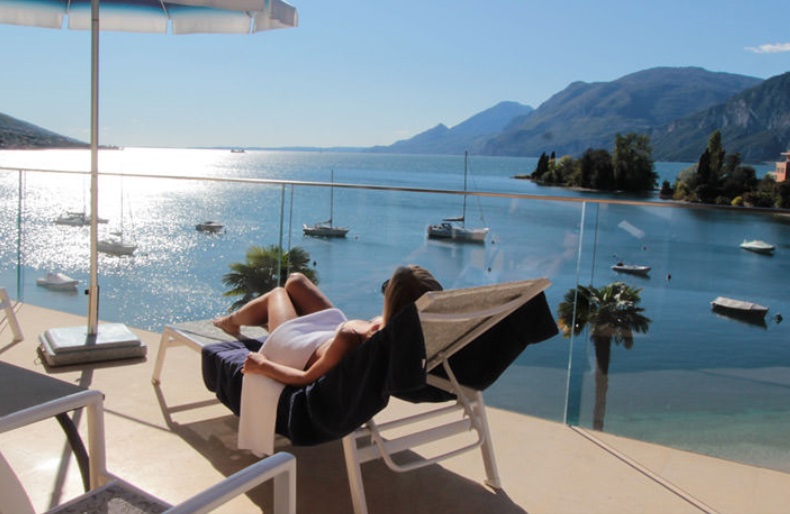 Hotel Val Di Sogno, is a Lake Garda Hotel that offers a haven of tranquility and relaxation nestled on the shores of Lake Garda. This charming boutique hotel caters exclusively to adult guests, providing a serene and intimate atmosphere for those seeking a peaceful getaway.
The hotel's idyllic location, at the  foot of Mount Baldo, offers breathtaking views of the lake and surrounding mountains, immersing guests in the natural beauty of the region. With its private beach area, guests can unwind on the sun loungers, take refreshing dips in the crystal-clear waters, or simply soak up the sun while enjoying the gentle lake breezes.
Hotel Val Di Sogno boasts a range of stylish and comfortable rooms, each thoughtfully designed to provide a restful retreat. Whether you choose a standard room or opt for a more luxurious suite, you can expect tasteful decor, modern amenities, and a cozy ambiance that invites relaxation.
One of the highlights of Hotel Val Di Sogno is its exceptional service. The friendly and attentive staff are dedicated to ensuring that every guest's stay is truly memorable. From providing you with helpful local tips and recommendations to arranging personalized experiences, they go above and beyond to cater to your individual needs and preferences.
For those seeking relaxation and rejuvenation, Hotel Val Di Sogno offers a range of wellness facilities. You can indulge in a soothing massage, unwind in the sauna, or take a refreshing dip in the outdoor swimming pool. The serene surroundings and tranquil atmosphere create an ideal setting for finding inner peace and harmony.
Beyond the hotel, Malcesine offers a wealth of attractions and activities to explore. From the historic Malcesine Castle to the charming streets of the town center, there is always something to discover. I love the leisurely walks along the lake promenade,and the location means it is easy to visit nearby wineries for tastings, or embark on adventurous hikes in the surrounding mountains.
For booking details and more independent reviews click here.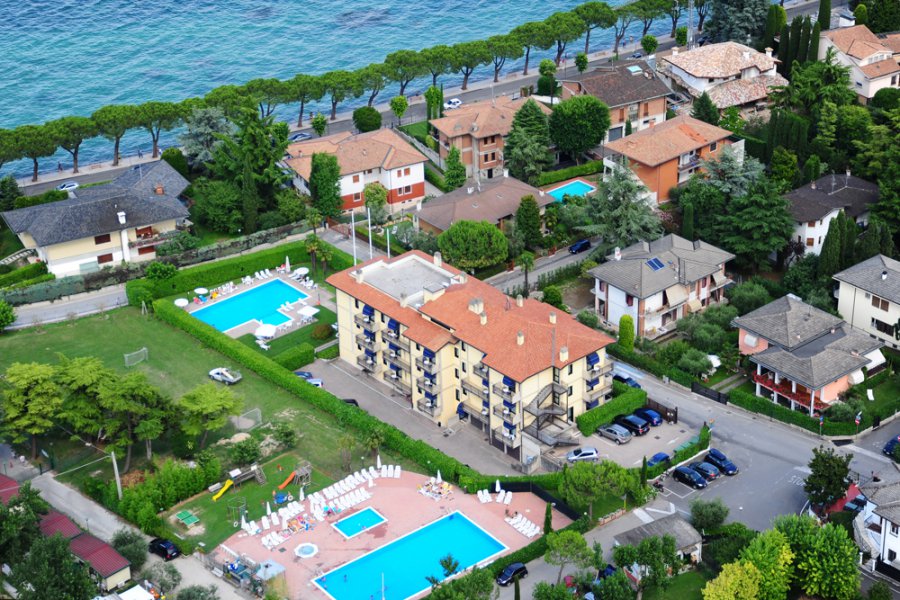 When it comes to traveling with children, finding the perfect destination and hotel that cater to their needs is essential. Look no further than Peschiera del Garda, a town on the shores of Lake Garda, and the Hotel Puccini, which offers exceptional value and family-friendly amenities.
Hotel Puccini, understands the importance of creating a welcoming environment for families. The hotel goes above and beyond to ensure that both parents and children have a memorable and enjoyable stay. From the moment you arrive, the warm and friendly staff make you feel right at home.
One of the highlights of the Hotel Puccini is its fantastic pool. Children will be overjoyed by the opportunity to splash around and have fun in the sun. Parents can relax poolside, soaking up the rays and keeping a watchful eye on their little ones. The pool area is well-maintained and provides a safe and secure space for children to play.
In addition to the pool, the hotel is conveniently located near one of the best beaches on Lake Garda, allowing families to easily access the sandy shores of Lake Garda. The kids can paddle in the refreshing waters, or simply enjoy a day of beachside fun. The proximity of the beach to the hotel makes it incredibly convenient for families to spend quality time together.
Another advantage of staying at Hotel Puccini is its close proximity to the charming old town of Peschiera del Garda. A short walk from the hotel will lead you to a maze of narrow streets, historic buildings, and quaint shops. Exploring the old town with your children is like stepping back in time, immersing yourselves in the rich history and culture of the region.
When hunger strikes, you'll find a plethora of mouth-watering restaurants nearby. From authentic Italian pizzerias to family-friendly eateries, Peschiera del Garda offers a diverse culinary scene to satisfy even the pickiest of eaters. Indulge in delicious gelato, savor traditional pasta dishes, or enjoy a leisurely meal with stunning views of the lake.
Beyond the hotel and its immediate surroundings, Peschiera del Garda offers plenty of family-friendly attractions and activities. Visit Gardaland, Italy's largest amusement park, which is just a short distance away. Let your children's imaginations run wild as they explore the rides, shows, and attractions. Alternatively, take a boat trip on Lake Garda to discover the picturesque towns that dot its shores.
Hotel Puccini combines family-friendly amenities, a convenient location, and excellent value, making it the perfect choice for families traveling to Peschiera del Garda. With its welcoming atmosphere, fantastic pool, proximity to the beach, easy access to the old town, and delectable dining options, Hotel Puccini ensures that both parents and children will have a memorable and enjoyable experience on their Lake Garda getaway. Of all the hotels in the Lake Garda area this is my choice.
Hope I've convinced you...if not read what others say.

The Hotel Mavino – Sirmione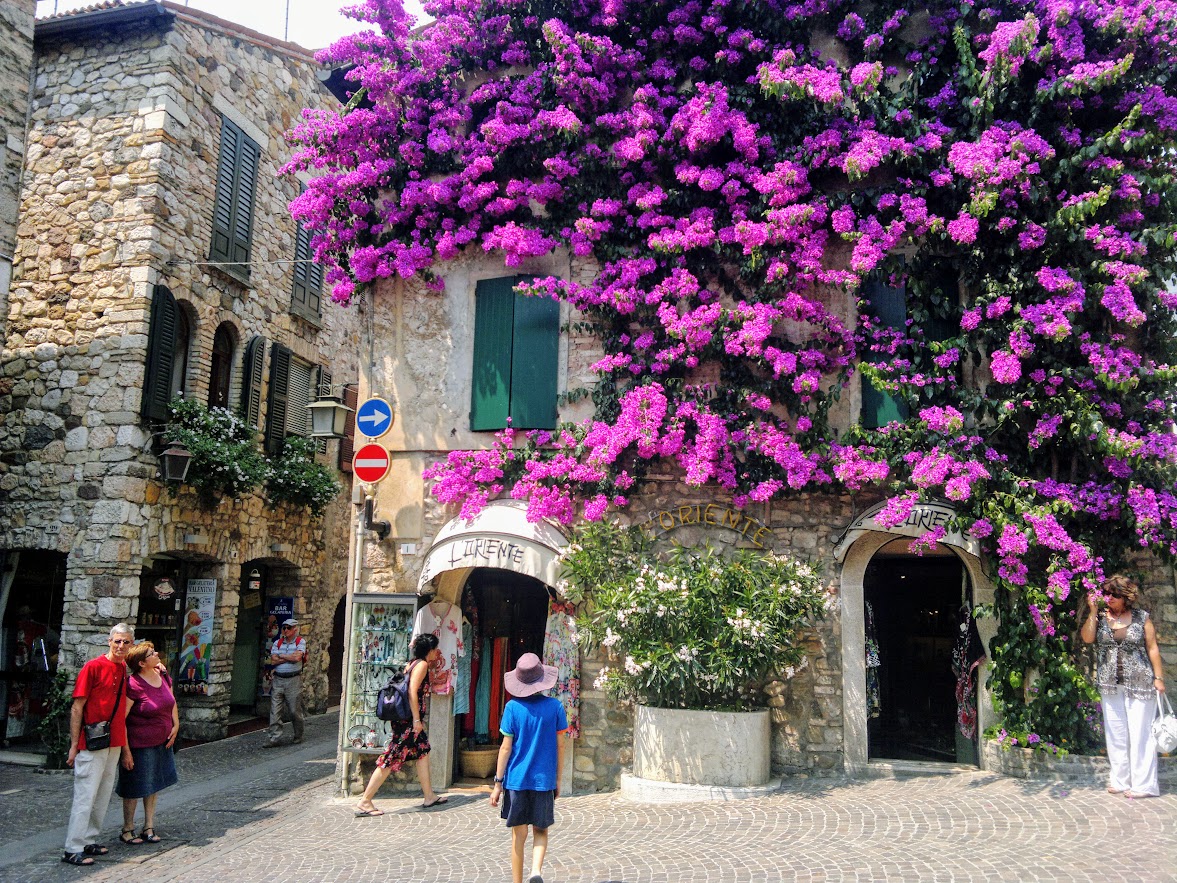 Sirmione Old Town
Sirmione's old town is charming and the 28 room Hotel Mavino is right in the heart of this ancient town and near the castle and Roman villa. You won't find many Garda hotels or hotels in Italy with friendlier staff. Rooms are clean and have internet, satellite television, mini bar, air con etc. For more reviews of this hotel and booking details click here.




Splendido Bay Luxury Spa Resort - near Padenghe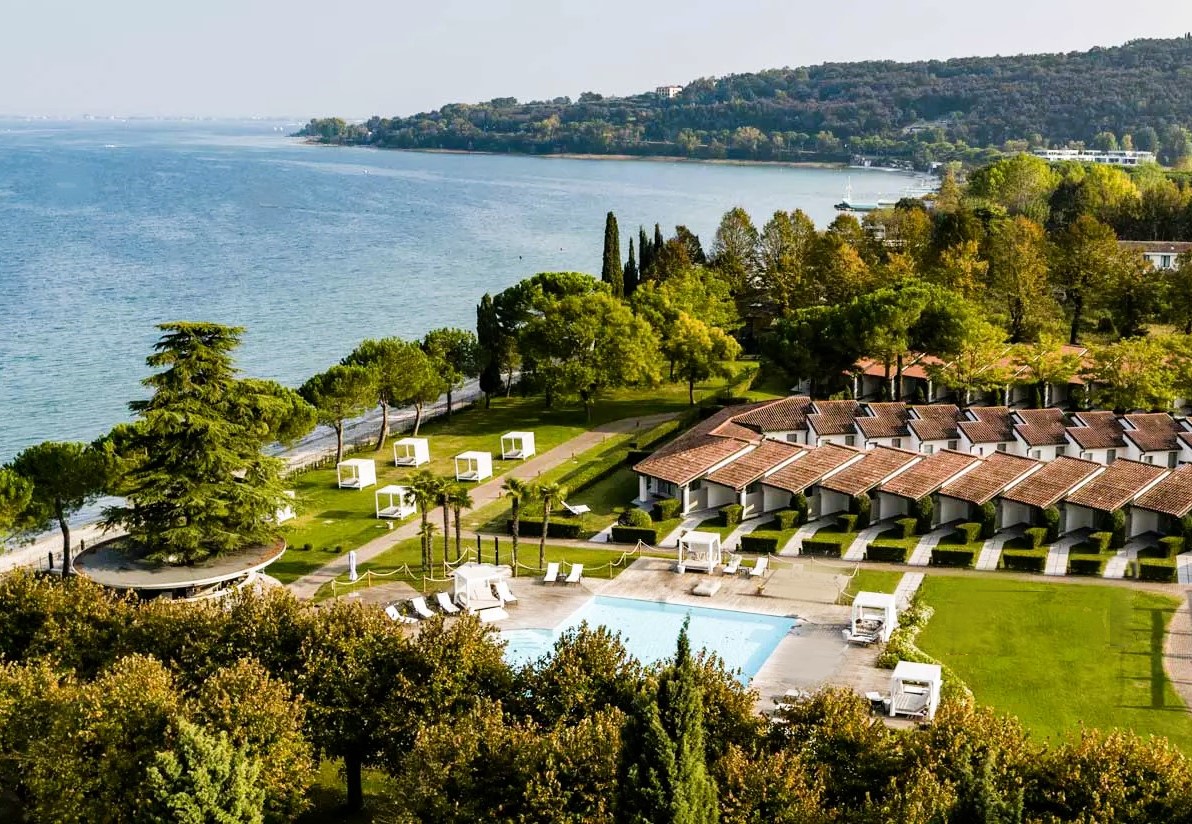 Nestled in the picturesque town of Padenghe sul Garda, overlooking the tranquil waters of Lake Garda, the Splendido Bay Luxury Spa Resort offers a truly indulgent and unforgettable experience .
The crown jewel of this Garda resort is its luxurious spa, where guests can immerse themselves in a world of relaxation and tranquility. The spa also features a state-of-the-art fitness center, a heated indoor pool, and a sauna, providing guests with the perfect opportunity to unwind and revitalize their mind, body, and soul.
When it comes to dining, the Splendido Bay Luxury Spa Resort leaves no stone unturned in providing a culinary experience to remember. The resort's signature restaurant offers a gastronomic journey, showcasing the finest Italian and international flavors. Expert chefs prepare each dish with precision and creativity, using the freshest, locally sourced ingredients. Whether you prefer fine dining or a casual meal by the pool, the resort's dining venues offer a range of options to satisfy every palate.
Beyond the luxurious amenities and culinary delights, the Splendido Bay Luxury Spa Resort offers easy access to the many attractions and activities that Lake Garda has to offer. Explore the charming nearby towns, go on a boat trip to discover hidden coves, or partake in water sports such as sailing or windsurfing. The resort's concierge is always on hand to assist with organizing excursions and providing recommendations to ensure that guests make the most of their time in this stunning region.
For more reviews of this hotel and booking details click here.
Palace Hotel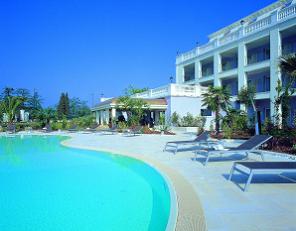 Ideally located to explore both Lake Garda and the wine routes around Verona, this hotel is very new and spotless. The hotel has two pools but the rooftop pool is my favourite. The views over the lake from here are simply stunning.  If you are looking for a really good Lake Garda Hotel, offering top value for money, you don't need to look any further. For reviews of this hotel and booking details click here.
Hotel Le Mura in Lazise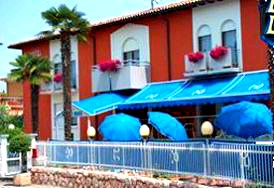 Lazise is a town I really love. Normally when visiting Lake Garda for any length of time we stay here. More a bed and breakfast than a hotel the Hotel Le Mura is nothing fancy but is well located near the castle and a five minute walk from the bustling old town. Very good value. For more reviews of this hotel and booking details click here.
Gardaland Parc Hotel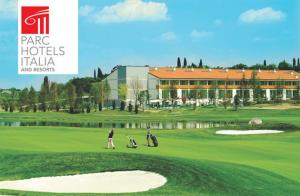 A family style resort hotel that is very near to Gardaland. Far better value than the official Gardaland hotel and offering everything you need for a perfect family holiday. If, in the unlikely event, your children get bored with all the nearby theme parks then the hotel has an entertainment team whose job is dedicated to keeping them busy. For more reviews and photos of this hotel and booking details click here.
Please Book with Us... Maria here, if you enjoy my site I'd love your support.
Simply book your next trip anywhere (not only to Italy) via the link below or with any of the hotel links on the website.
You'll get the best deal available and the income I receive helps me to remain independent and to keep bringing you more of beautiful Italy.