Pictures of Vicenza

If you're planning a trip to the Veneto, try to include a few days in and around Vicenza.The city is beautiful, and even in July there are hardly any tourists about—very different from Venice.
There is so much to see, but I often find that the most enjoyable part is sitting at a caffe in one of the piazzas and watching the locals go about their business.
In fact, sitting in a piazza is on the Italian bucket list (view list here), so this is a good place to cross off number eight on that list. Plus, in Vicenza, the people are really friendly, and you'll often end up spending hours lost in chatter with all sorts of interesting people.
Try to stay over too; our family home is a 45-minute drive north of Vicenza, but I'll often spend a few nights during the summer.
I always believe that you never "know" a town until you've spent 24 hours there, and a summer evening spent in the old town of Vicenza is a wonderful experience.
Our guide to Vicenza has more on the city; however, if you plan to stay over, then I'd suggest you try the Glam Boutique Hotel.
I hope you like the photos. If you do please click like below.

Ciao
Maria
Let's go to Vicenza....
Piazza dei Signori was considered by the great architect Pallidio to be one of the greatest piazzas in Italy. It reminds me of St. Mark's Square in Venice, but it has an advantage over St. Mark's. What is the advantage? Well, people-watching while seated at one of the many cafes lining the piazza is a joy. You get to watch locals going about their lives, whereas in Venice, you only get to watch endless tour groups and selfie-takers.
The photos above were taken in Giardino Salvi, one at dawn and one at sunset. To get here, you wander up the busy main road from the station, and at the end of the road there is this park. A few steps inside, and you're in another world entirely.
In Piazza dei Signori you'll find the 12th century Torre dei Bissari (Bissari Tower) and  the 15th century Basilica Palladiana, designed by Andrea Palladio, one of the world's all time greatest architect. I love this piazza and the building surrounding it. The amazing thing is how different it can seem, the colors and hues change completely depending on the time of day, the weather and the seasons.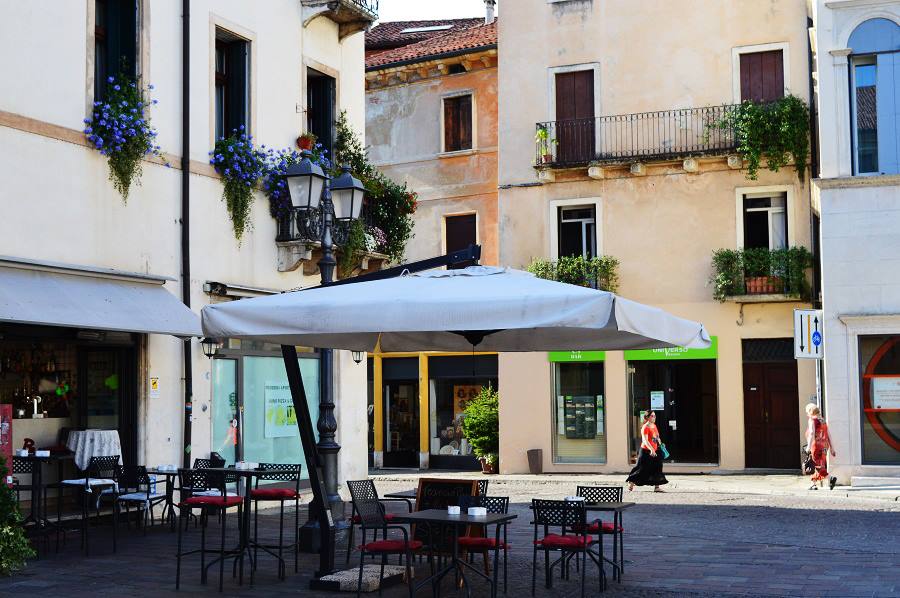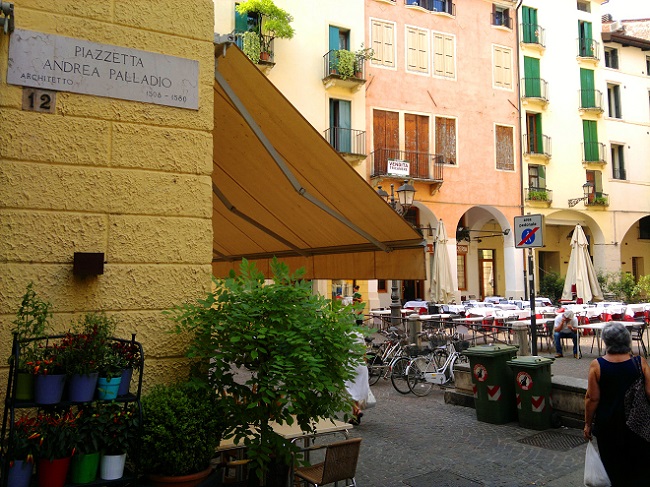 Piazzetta Andrea Palladio -morning and late afternoon.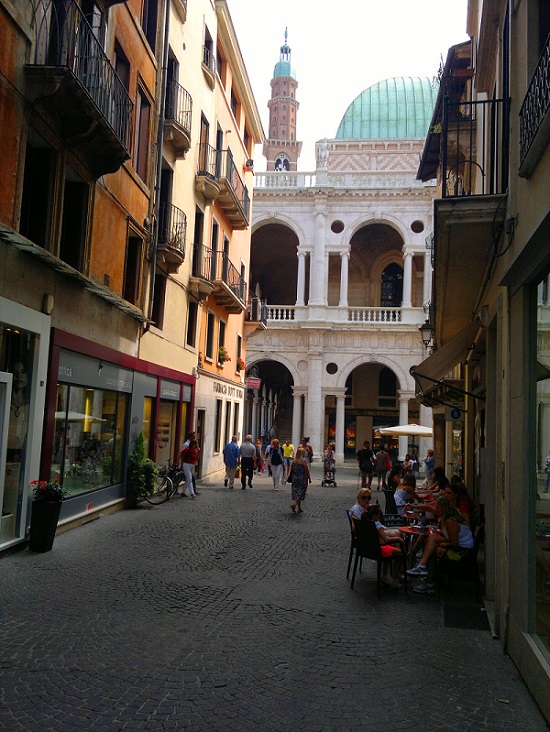 One of the roads leading to Piazza dei Signori These roads in the old town are mostly pedestrian-only and are great places to sit and sip a cappuccino while life passes you by.
There are some really great shopping streets around here too, with Corso Andrea Palladio being one of the best, although expensive. If bargains are more your thing, head to the Thursday market in Piazza dei Signori, where you'll find an amazing selection of products, from delicious treats to the latest Italian fashion.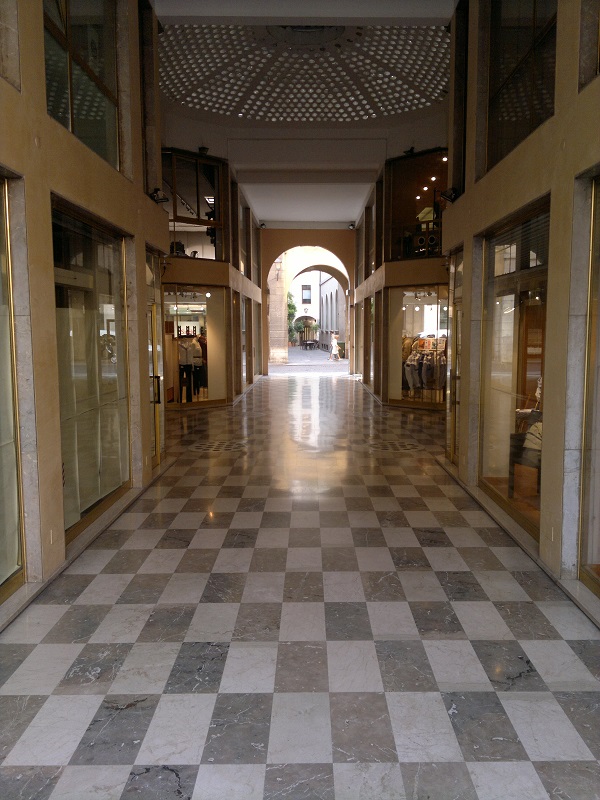 A shopping arcade in the old town near Corso Palladio.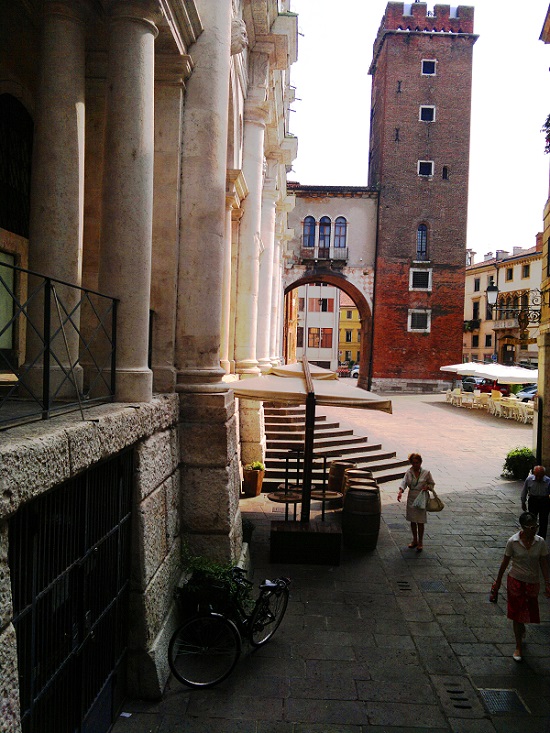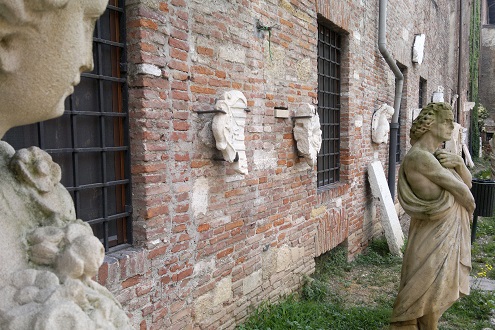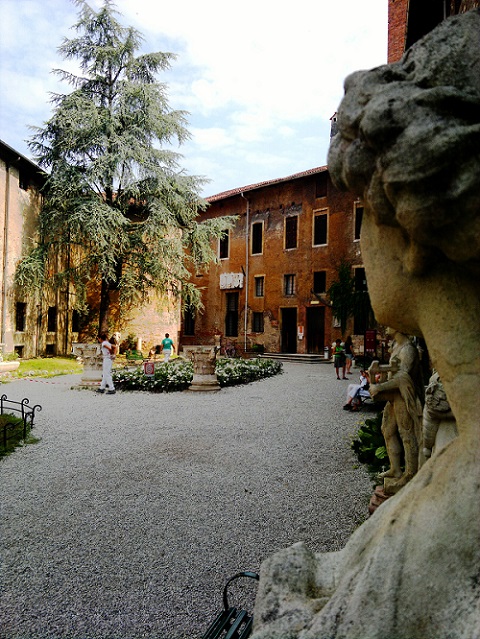 The two photos above show the Teatro Olimpico which was Palladio's last work - he passed away while it was being built.  You can wander the gardens outside for free but to really appreciate the inside try to attend one of the unforgettable summer concerts. The concerts are reason enough to spend a night in Vicenza and the Glam Boutique,  which I mentioned earlier, is only a five minute walk from here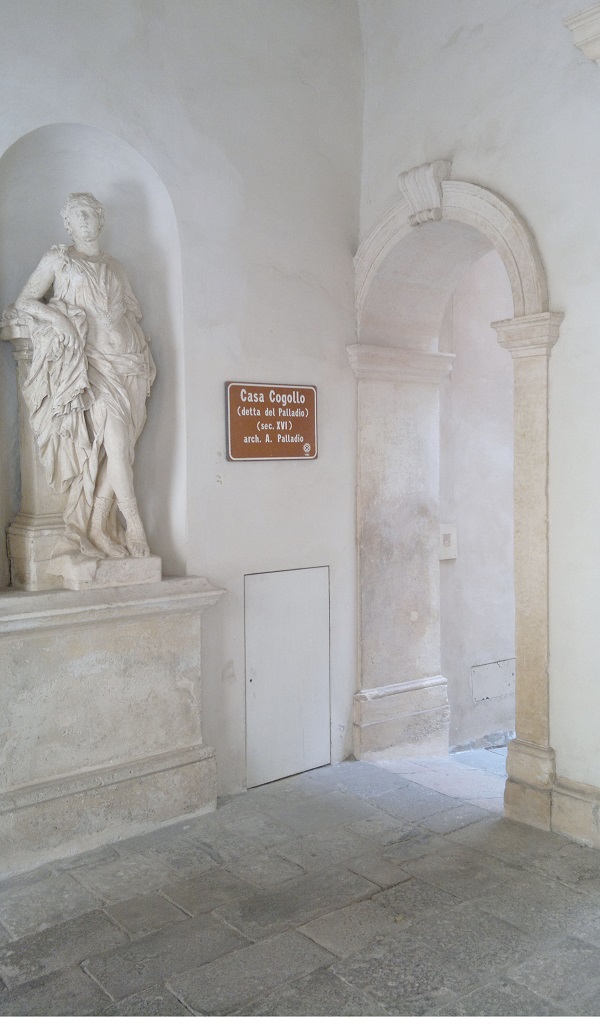 The entrance to Casa Cogollo, one of Palladio's smaller works, yet still lovely.
Please Book with Us... Maria here, if you enjoy my site I'd love your support.
Simply book your next trip anywhere (not only to Italy) via the link below or with any of the hotel links on the website.
You'll get the best deal available and the income I receive helps me to remain independent and to keep bringing you more of beautiful Italy.