The Best Beaches near Rome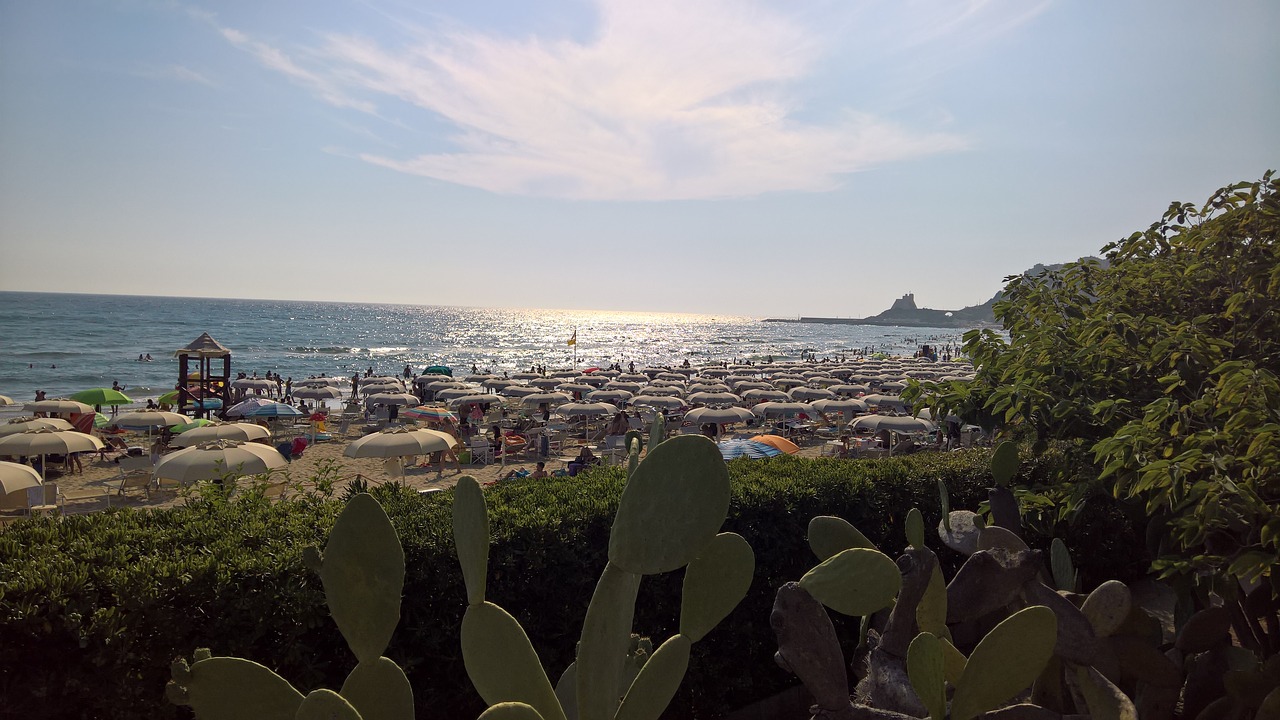 I have discovered them. Beaches with crystal clear warm seas and endless soft sand...
Rome is a wonderful city, but in summer it gets crazy, hot, and sticky. After a while, I crave a beach and cool seas.
Do you agree?
Then the good news is that within a few hours of Rome, there are plenty of top beaches.
Before I get to the best beach near Rome, I would like to mention those beaches to avoid.
Unless you are really desperate for a bit of beach life and don't want to travel far from Rome, then avoid the beaches within an hour's drive to the south of Rome, like those in Ostia and Fregene.
These beaches are really horrible—overdeveloped, crowded, and dirty too.
If you want the best beaches near Rome, you will need to travel about two to three hours from Rome to find them.
The Best Beaches near Rome
Sperlonga
Sperlonga top experiences
Nice long beaches and a fair number of smaller ones too make Sperlonga the best option if you are looking for the best beaches near Rome. The sea is crystal clear and lovely and clean; it's a real pleasure to swim out a little way and float about in the glorious Med, something I always love doing.
One tip, though: don't go in August as it is horribly overcrowded; June or September are best.
Sperlonga is not just a good beach town but a pleasant place to stay in its own right, with a lovely car-free old town.
The "Taste of the Sea Festival," normally held in September, is a great time to be in town, and some of the seafood dishes on offer are truly out of this world. My husband, greedy old thing that he is, just doesn't stop eating.
Other things to see are the villa or cave of Tiberius and the Tiberius museum, which contains a lot of interesting items discovered in the villa.
Imagine a massive mansion adjoining a huge cave, with an endless pool stretching from the beach, along the edge of the villa, and deep into the grotto.It really makes those rap star mansions look pretty lame.
You can get to Sperlonga by train from Rome; it takes around an hour, and trains leave every hour. Sperlonga station is called Fondi Sperlonga but is actually Fondi, and once you arrive, you need to take the local bus to Sperlonga; departures of the bus coincide with the train's arrival.
| Tip
🚆 You can find and buy cheap train tickets for your trip in advance here
If you can, you should really try to stay a night or two in Sperlonga. The town is full of life in the evenings, when tables spill out onto the piazza and the delicious aromas of Italian cuisine drift through the air.
Laughter and the music of beautiful spoken Italian, accompany you everywhere. The lanes and avenues are packed with friends and families enjoying the long summer evenings in the dolce vita style that Italians manage so well.
Maremma, Giglio and the Gulf of Baratti
If you can spare two to three hours traveling time from Rome, depending on where on the Maremma coast you want to go, then you are in for a real treat and some truly amazing beaches.
Not just one beach but nearly a hundred of the best beaches in Italy and definitely the best beaches within three hours of Rome.
I particularly love two beach zones along this coastline. The first are the beaches on the Gulf of Baratti. Here, the beaches all have fine sand, and many are lined with shady pine forests.
Best of all, though, for those who really want to discover a little paradise in the Med and the best beaches near Rome, is to take the ferry out to the Island of Giglio (see video above).
Ready to explore more?
Go on a mini cruise and admire the divine beauty of Giglio And Giannutri Islands! The journey starts from Porto Santo Stefano and includes activities like swimming and snorkeling.
Click herе to book
The island is now famous because of the tragedy of the Costa Crociere ship that ran aground there. It rather deserves to be famous for its beauty and has a number of really lovely beaches; two of the best are Cala dell'Arenella and Caldane Beach.
A few of the beaches can only be reached on foot, but if you really don't feel up to walking, then catch a boat to the beaches from Giglio Port. There are plenty leaving in the summer, and they are not too expensive either.
Where to Stay on the Island of Giglio and near the Gulf of Baratti
If you are coming up to Maremma from Rome it really does make sense to spend at least a night here.
Personally, on the Gulf of Baratti, I can highly recommend the Poggio All'agnello Country & Beach Residential Resort. On Giglio island itself try the Hotel Arenella.
Getting to Baratti
The best way is by train. The fast train from Rome to Populonia takes around two and a half hours and costs around 30 Euros each way.
If you are lucky enough to be able to take life a little slower take the slow train from Rome which leaves every two hours and costs 15 Euros.
In either case you will need to change trains at Grosseto. The station will tell you more when you buy your ticket.
From the station you can catch the local ATM bus to the beach.
Getting to Giglio
By Car
The drive from Rome to Porto Santo Stefano, where the ferry to Giglio leaves, takes around two hours.
If you would like to take your car over to the island you should rather book in advance with one of the two ferry companies sailing the route - tickets cost approximately 10 Euros per person without the car and around 35 Euros for the car. The two companies sailing the route are: www.toremar.it and www.maregiglio.it
By Train
From Rome take the train in the direction of Pisa and get off at Orbetello Scalo which is 1 hour 45 minutes from Rome. Once in Ortabello take the bus number one to Porto Santo Stefano, the buses run every thirty minutes and take twenty minute. The ferry takes another 45 minutes.
When to Visit Baratti or Giglio?
Any time from May to September is great, although avoid August if you can, it can get very crowded and the prices of hotels and restaurants go up a lot too. 
For more photos of Tuscan beaches click here. 
Discovered a Great Beach in Italy?
I really believe that Italy has some of the best beaches on earth! Do you have a favorite?
What Other Visitors Have Said
Click below to see contributions from other visitors to this page...

Santa Marinello.....DON'T GO!!!!!

Stay away from Santa Marinello..... it may be a quick train ride from Rome, and the private (fee) beaches are great looking BUT the men who run them will …


For my pick of the best hotels in Rome itself click here.

Looking for a beach near Venice? These are the best.


Please Book with Us... Maria here, if you enjoy my site I'd love your support.
Simply book your next trip anywhere (not only to Italy) via the link below or with any of the hotel links on the website.
You'll get the best deal available and the income I receive helps me to remain independent and to keep bringing you more of beautiful Italy.