Login with your member password below to see your content

Subscribe today on http://www.miomyitaly.com/subscribe.html
Portobuffole
Near Treviso (see map lower down the page for the exact location) is a medieval gem called Portobuffolè. Sadly few of the millions of tourists who visit the Veneto ever visit. .. most have only one thought in mind... Venice!
They have missed out on a wonderful experience!
You don't need more than a morning to experience it either. Of course if you have the time spend the night in the area.  I can strongly recommend the delightful Hotel Villa Luppis,  which is a mile or two out of town - it's way better than the hotels right in town
What to See

Well it isn't so much a case of a long endless things to see but rather the whole. Everything about the little town seems to fit together perfectly.
Incredibly, here is a village where nothing has been added in the last hundred years that detracts from the beauty of the town. Well actually, from what I could see, nothing much has been added at all!
If you are one of those people who won't bother with a place unless there are a few great historic sights to see then don't despair, there are a few!
Here are the main ones:
You cross a bridge to enter the town gates and here you'll have your first view of Piazza Beccaro. This Piazza is lined with buildings from the 15th and 16th century and this is the moment when you'll realize just how clever you've been to visit Portobuffole!

Wander away from Piazza Beccaro and you'll find the Casa di Gaia. This is the 13th century villa of the poetess Gaia da Camino. The villa is now a museum and contains some delightful frescoes on the first floor. It is easy to understand how this delightful home in this charming village could inspire great poetry. Even I feel inspired to write some poetry...well maybe not.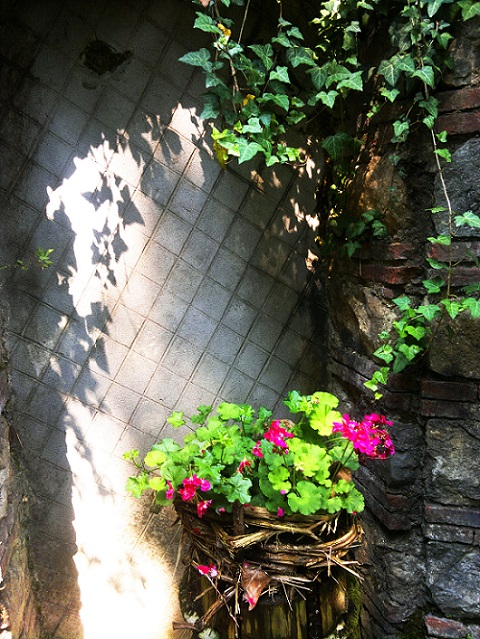 You also have the 10th century Torre Civica tower which was a castle tower and is the last of seven that once existed. Then there's Piazza Vittorio Emanuele and the 16th century Duomo (Cathedral) to visit.

The Cathedral is particularly interesting, it was once a Synagogue before being converted to a church in the 16th century. Inside is gorgeous, filled with light and featuring lovely works by the artist Sanfiori.
There are lots more things too, however the last one that is really worth a mention is the Church of San Rocca which was built a little out of town in the 16th century. It was constructed to cater for the spiritual needs of those in quarantine and suffering from the plague in the nearby hospital.
Where and What to Eat

They love eating things in this little town that most people wouldn't even want to try. Things like pigeon and tripe are specialties and, according to my husband who'll eat nearly anything, they are delicious. 
If you'd prefer tasty homemade cooking with more normal things like gnocchi, pasta and lamb then the Vecchia Dogana in Piazza Vittorio Emanuele is the restaurant to try.

Where is Portobuffole?
Return to a Secret Italy Index