The Best Hotels on the Amalfi Coast
Along with the Cinque Terre, the Amalfi coast is the most beautiful coast in Italy. If you've never visited then you need to make sure it is on your bucket list.

Which are the best hotels on the Amalfi coast?
I have stayed at many of the hotels on the Amalfi coast over the years but only a special few leave you forever longing to return.  These hotels are so beautiful, with such stunning views, that they'll bring tears to your eyes. In fact coming here is like falling in love all over again!!
Don't say I haven't warned you...
Here then are the best hotels on the Amalfi coast....I dare you to book!
All you need in an Amalfi hotel is here. The most stunning views (do make sure you get a room with a view), a pool overhung by spectacular cliffs, an award winning restaurant, a wellness center and a glass lift from the hotel down to the private beach club.
Everybody at the hotel will make you feel so very special and they all go out of their way to assist plus you are only a short walk away from Amalfi town.
If you insist on absolutely everything about your Amalfi vacation being perfect then you really need to book at the Hotel Santa Caterina – click here to do so!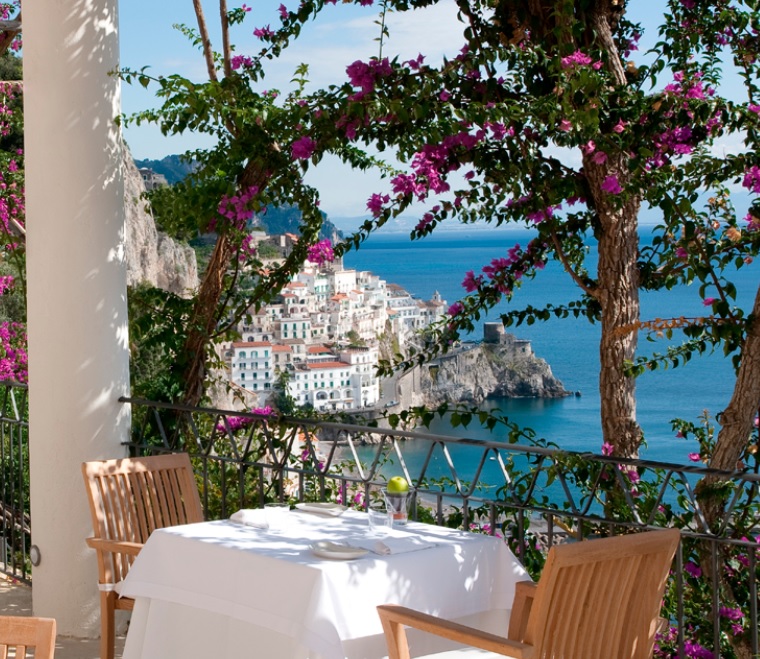 Once upon a time this was a convent... it is now a charming hotel in a dream location.
If romance is your thing you won't find a better hotel than this anywhere on the entire Amalfi coast. Even my husband turns into Prince Charming here.
Hotel staff tell me many unmarried couples who come here end up booking for their honeymoon.
First step in turning your love into forever is to book. You can do that here.
The moment you walk through the door you realize that leaving is going to be a real problem. Beautifully positioned in Positano this villa is the sort of thing we all dream of. Trouble is, making your dreams come true means you never want to "wake up" and leave. Prepared for the shock of having to leave? Then here is more about Villa TreVille.
With its own private beach and views to bring a tear to your eye the Hotel Marincanto has it all.
I stood on the terrace one evening,  somewhere nearby the beautiful sound of Andrea Bocelli, singing Caruso, drifted on the breeze and I knew this was as close to heaven as I would ever come while here on earth. 
Feeling that way starts here with a click.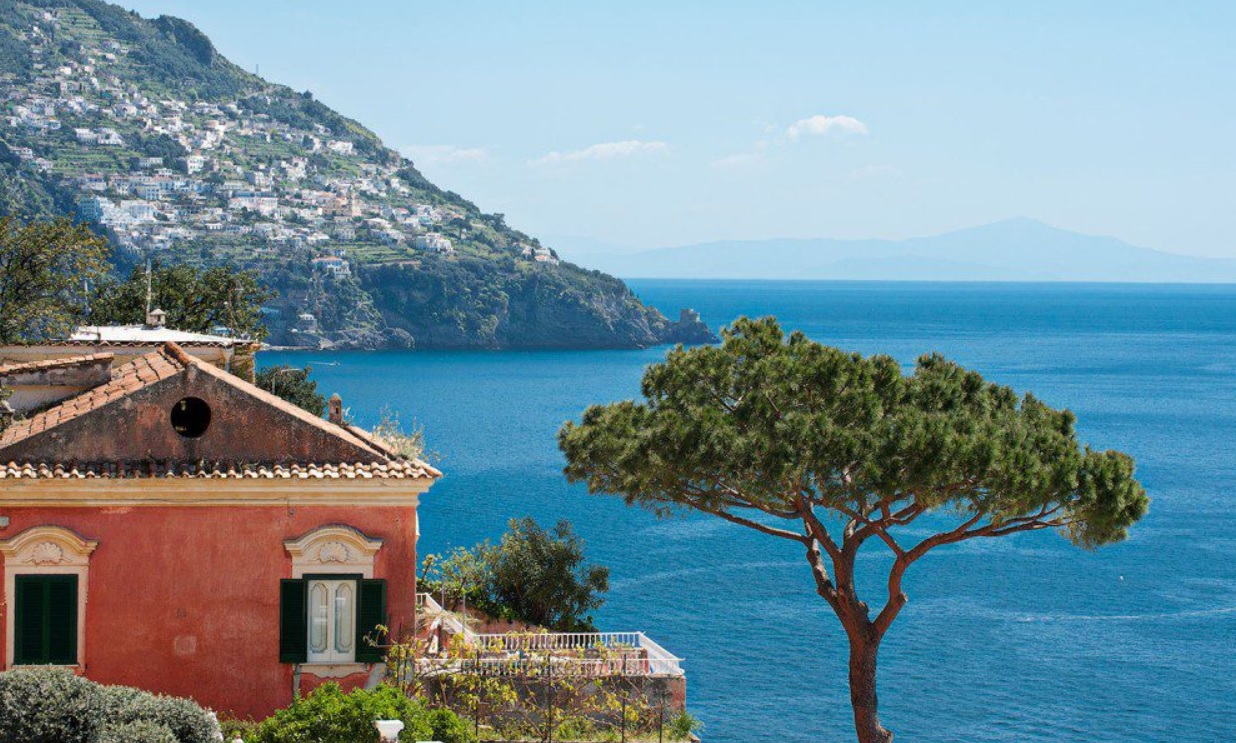 Affordable Amalfi Accomodation
The accommodation above is rather on the expensive side; however, if you can afford it you really should treat yourself.
Need to do Amalfi on a budget then I would suggest the following...
Sorrento is a superb base to explore the Amalfi Coast and visit the island of Capri too.  The town itself is enchanting and is so very easy to fall in love with. My memories of the Marina Piccola 73 are of sipping limoncello and gazing out across seas of turquoise from the terrace;  unforgettable indeed the views of deep blue, flecked with white and pastel hues as yachts and fishing boats drifted by. All framed in the distance by majestic Mount Vesuvius.  The rest of the hotel doesn't disappoint either - here's more.

Liparlati in Positano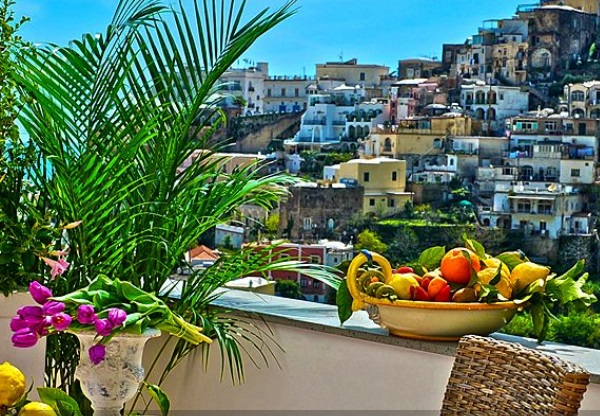 If small and character filled little bed and breafasts are your preference then you'll find heaven here. Owners Antonio and Tiziana  seem to have filled themselves up with the sunshine of the Amalfi coast and this shines through in everything they do. Nowhere else makes you feel quite at home as the Liparlati, for more details click here. 
If you'd prefer a hotel in Positano, one that is good value by Positano standards, then try the Hotel Montemare. 
The Amalfi Holiday Resort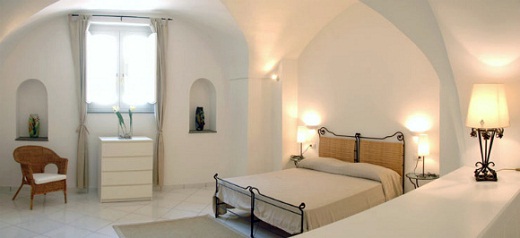 Vacation rentals are the best way to see Amalfi Coast on a budget and to feel like you live here - even if only for a short while.
The Amalfi Holiday Resort is our recommendation: restored from an old mill the vacation rentals consist of five very spacious, fully equipped and air conditioned apartments. All the apartments are absolutely spotless and the owners are really friendly and helpful.
There is a brand new pool, it is right on the doorstep of the town of Amalfi and Amalfi's best beaches, shops and restaurants are all not far away.
Definitely this is the best value accommodation on the Amalfi coast. Click here for more.
Most Popular with Visitors

Other than the hotels I mention above, I get a lot of hotel recommendations from my Facebook community. The hotel that seems to get the most fabulous reviews is the one below...

The Monastero Santa Rosa


The Monastero Santa Rosa looks gorgeous. I have never personally stayed here but because so many people have written to me, telling me such wonderful thing about the place, I've decided to include it. If you do visit please let me know your thoughts. More details about the hotel here.
---
Which is the best Amalfi coast beach? Click for the answer!
For the Amalfi Album click here.

Going to Rome, Venice or Florence?

Visiting Rome too? Then these are the hotels I can recommend.

Venice has some magnificent hotels – these are the ones I really love.
Visited Amalfi?
If you've visited the Amalfi coast share your experiences, tips and photos.
What Other Visitors Have Said
Click below to see contributions from other visitors to this page...

As an Amazon Associate I earn from qualifying purchases

Please Book with Us...
Maria here, if you enjoy my site I'd love your support.
Simply book your next trip anywhere (not only to Italy) with the search box below or with any of the hotel links on the website.

I promise you'll get the best deal on accommodation available and the income we receive from HotelsCombined helps us to remain independent and to keep bringing you the best of Italy.