The Best Beach in Italy

Italy is full of beautiful beaches and on this site and our Piedmont, Sardinia and Liguria site we feature many of the best beaches in Italy.
We have everything from the best beaches around Venice to the best beaches on the Amalfi Coast and even great beaches near Rome and beaches on Lake Garda. But there are so many beautiful beaches in Italy, so how do you decide which is the most beautiful beach in all of Italy.
Here we share the five beaches in Italy that my family and I love most. A few could easily qualify as the best beaches in Italy, and two of them rate among the most beautiful beaches in Europe.
I would love to call these beaches Maria's (that's me) best beaches, but I can't. I have to credit the other two members of my family, my son and hubby who spent as much time enjoying these superb beaches as I did.
The hardest part? Choosing one!
Stunning beaches Italy has in abundance, every type of sand you can imagine, black sand, white sand even pink sand, for those who'd love something more feminine (click here for the pink one). Want turquoise waters or prefer emerald green? Don't worry, Italy has seas of every beautiful hue.
Not only did we try to find the best beach in Italy but at the same time we discovered some great places to stay, perfect for exploring these beaches.
Let's begin discovering the best beaches in Italy...

Cala Luna
Cala Luna means half moon beach in English. Often rated the loveliest beach in Italy we couldn't decide if we agreed, but loved it lots all the same.  The beach is particularly great in early spring when you are likely to have it almost to yourself.
Best way to get to the beach? By boat from Cala Gonone. Boats leave regularly during the summer. Again, I recommend staying at the Bue Marino Hotel, they are very good at helping you with boat or hiking trips to explore the beaches.
A Secret Cove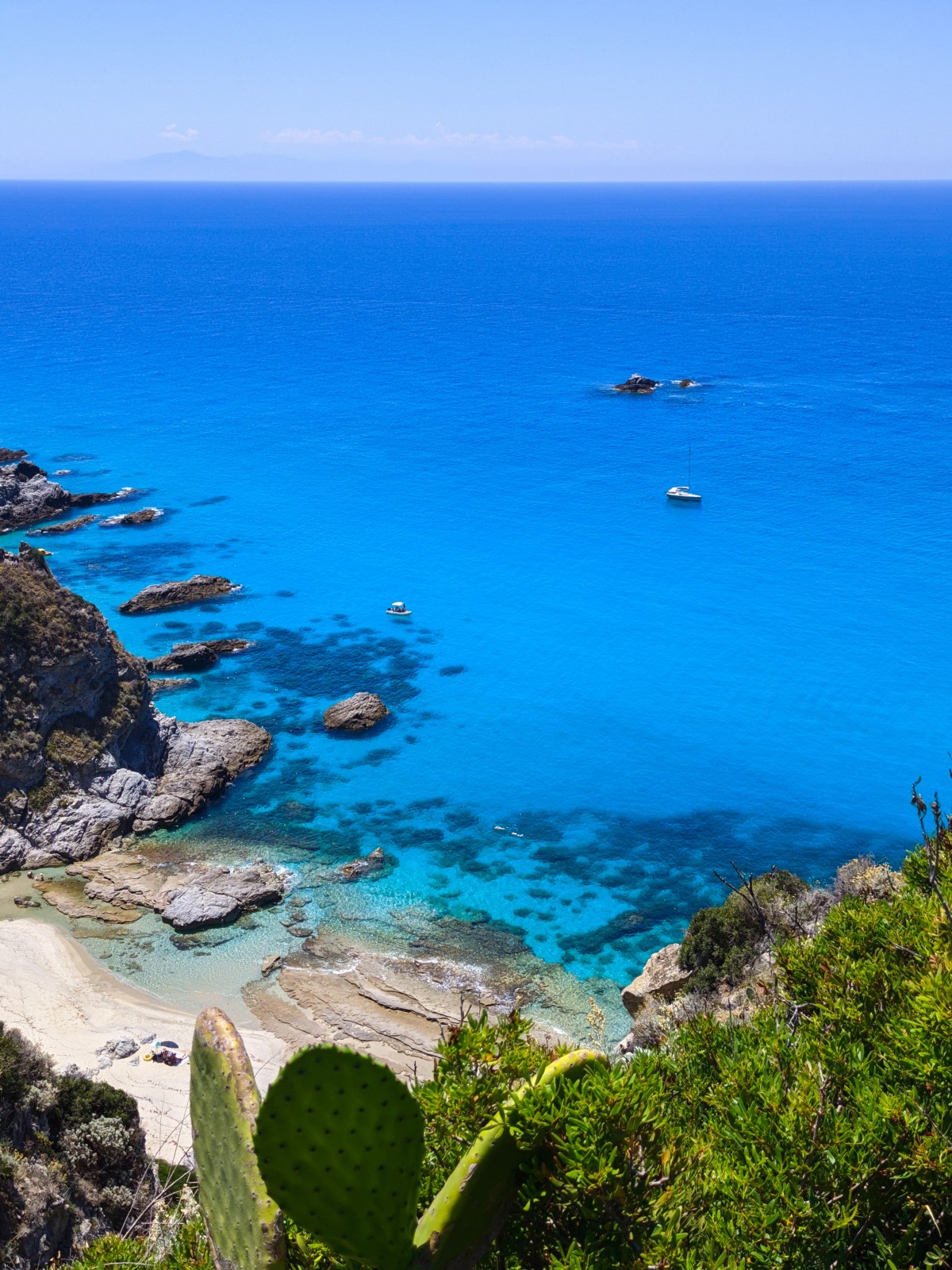 This beach is absolutely stunning, and you will hardly ever find anyone else there - it is like your own private corner of paradise for most of the year.
It is the favorite Italian beach of my family and the most beautiful beach in Italy I have ever seen. It is so pristine that we cannot share it with the world for fear of damaging what is truly beach perfection. If you are a supporter, then you will find the beach on our supporters page. 
Not a supporter? Well, you can change that in a moment, simply click here to find out what awaits you.
Cala Goloritze Beach in Sardinia
A great contender for the title of the best beach in Italy, a stunning paradise where azure seas lap at ivory pink sands. The gently sloping shore means the shallow water is perfect for young children while older children will love exploring the little nooks and crannies in the rocks.
The best way to reach the beach is by boat from Cala Gonone, and Cala Gonone is where you should base yourself too.
The perfect place to stay? I would highly recommend you try to get in at the Bue Marino Hotel located right on the beach in Cala Gonone.
The Island of Elba
With its crystal-clear waters, stunning landscapes, and pristine coastline, Elba boasts some of the best beaches in Italy. Whether you're seeking a secluded cove or a lively beach with amenities, Elba offers a diverse range of options to suit every taste. 
Our pick of them is the Spiaggia di Cavoli beach and I rate it as one of my favorites in Italy. Cavoli is located on the southern coast and it is a favorite among sun worshippers and water sports enthusiasts. Its golden sand stretches along a vibrant turquoise sea, inviting visitors to relax and soak up the sun.  
There are lots of other beaches on Elba, though, and you'll want to visit as many of them as you can while you are on the island, so let's dive into the list of Elba's top beaches:
Spiaggia di Sansone: This picturesque beach, nestled in the northern part of the island, enchants visitors with its emerald waters and white pebbles. Snorkelers will be delighted by the rich marine life beneath the surface.
Fetovaia Beach: Known for its stunning sunsets, Fetovaia Beach is a paradise for nature lovers. Surrounded by lush Mediterranean vegetation, this sandy beach offers clear waters ideal for swimming and snorkeling.
Marina di Campo Beach: Situated near the charming town of Marina di Campo, this beach boasts a wide stretch of soft sand and shallow waters, making it perfect for families. Numerous beachfront bars and restaurants provide a vibrant atmosphere.
Capo Sant'Andrea: For those seeking tranquility and natural beauty, Capo Sant'Andrea is a must-visit. Surrounded by dramatic cliffs and granite formations, this beach offers a peaceful retreat with crystal-clear waters ideal for snorkeling.
Procchio Beach: With its long sandy shoreline and gentle slope into the sea, Procchio Beach is a popular choice for families and water sports enthusiasts alike. The clear waters are perfect for swimming, while nearby amenities cater to visitors' needs.
Spiaggia delle Ghiaie: Located in Portoferraio, this unique beach captivates with its pebble shore and picturesque backdrop of colorful buildings. Its clear waters are ideal for snorkeling, and the beach is within walking distance of the town's attractions.
Biodola Beach: Surrounded by lush greenery and overlooking the turquoise sea, Biodola Beach offers a breathtaking setting for beachgoers. The soft sand and calm waters make it an excellent spot for relaxation and swimming.
Where to Stay on Elba
The best place to stay on Elba is the Hotel Sant'Andrea, a lovely little place that offers amazingly good value. You'll need a car to explore the island properly,
Conero in Le Marche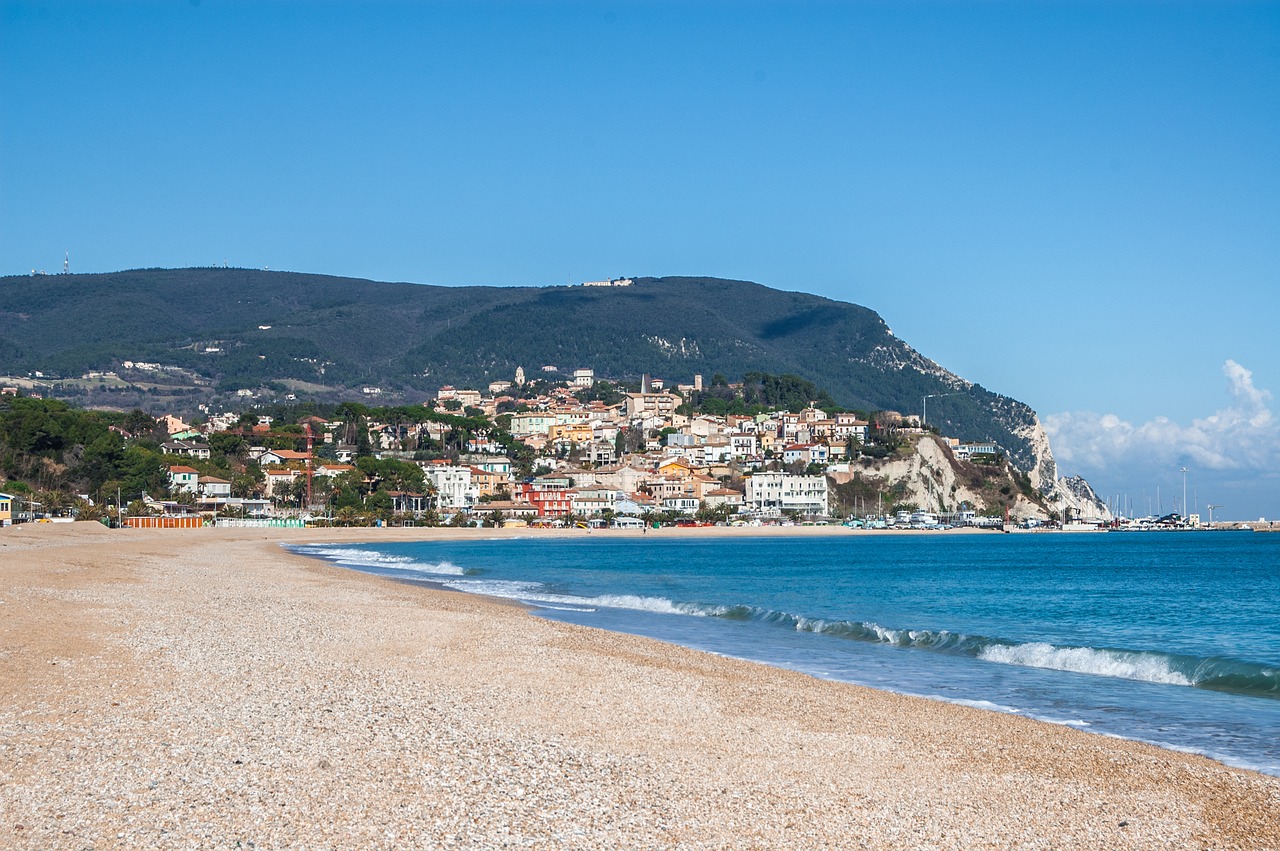 Conero is not at all well known outside of Italy, and yet the beaches on the edge of this nature reserve are lovely. Blessed with rugged cliffs and pristine waters, they offer an extraordinary escape from the ordinary.
They are not as spectacular as the previous beaches nor as lovely as those under the Other Best Beaches in Italy section below, but I truly love it here. I don't know what it is, but these beaches seem to enchant me with a sort of magic that is hard to explain. I fell in love the moment I arrived here. 
The beaches I love most in Conero are the secluded Spiaggia delle Due Sorelle, where two striking rock formations guard the shore like sentinels of beauty, and the picturesque Spiaggia Urbani, a secret cove tucked away in nature's embrace. Here, you can immerse yourself in the serenity of the Adriatic, while the dramatic cliffs provide a stunning backdrop.
Each beach along the Conero Riviera boasts its own unique allure, offering an exclusive sanctuary where you can surrender to the allure of sun, sea, and sand. For more on Conero click here.

Numan is the most popular base for exploring the Monte Conero beaches and a good hotel choice near here is the old Napoleonic Fort which is now a great beach hotel.
The Other Best Beaches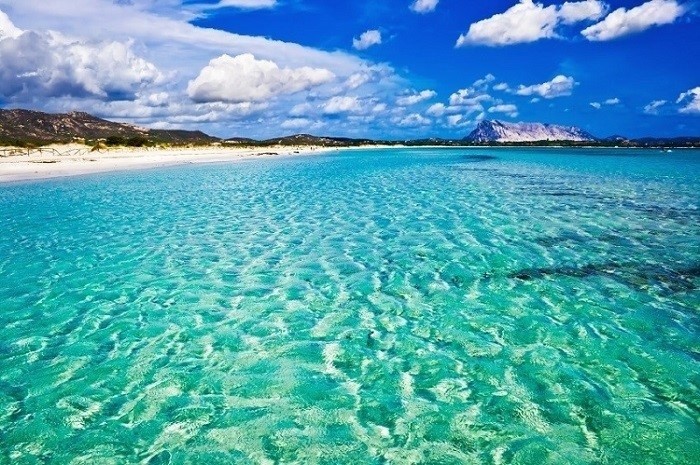 The Costa Smeralda in Sardinia (photo above) is home to another three or four beaches that are also in the race for the title of the best beach in Italy. For my Costa Smeralda Beach Guide click here.

Need a great beach near Rome or Florence? Try these!
Of course, other regions of Italy have awesome beaches too. We've visited many of them, and my husband shares our favorites in Sicily (click here) and Puglia (click here). while the beach in Tropea is one of my personal favorite beaches in Italy

The Other Great Beaches of Italy
Hidden along the eastern edge of the country, lies a trio of coastal wonders that are often overlooked: the Gargano Peninsula, the Tremiti Islands, and the Salento region in Puglia. These lesser-known destinations offer a wealth of stunning beaches that will leave you breathless.
The Gargano Peninsula, jutting out into the Adriatic Sea, boasts a diverse range of beaches. From the sandy stretches of Vieste and Mattinata to the dramatic cliffs of Baia delle Zagare, each beach has its own unique character. Crystal-clear waters and lush greenery create a striking contrast, making the Gargano beaches a true paradise for nature lovers.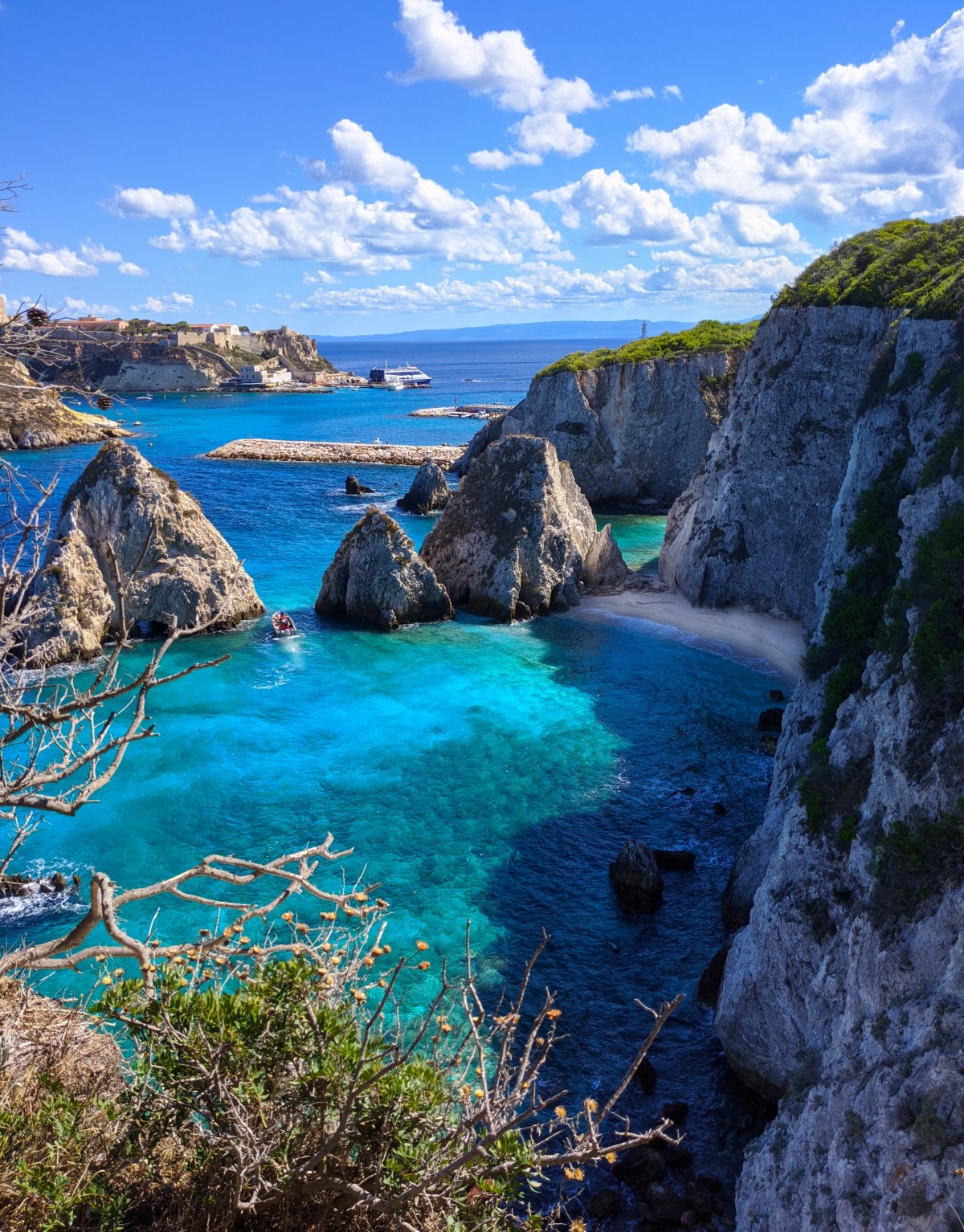 Tremiti Islands
Offshore, you'll discover the Tremiti Islands, a secluded archipelago of stunning beauty. With its azure waters and pristine beaches, San Domino and San Nicola islands are a haven for relaxation and tranquility. Explore hidden coves, snorkel in marine reserves, or simply bask in the Mediterranean sun. The Tremiti Islands offer a peaceful retreat away from the bustling tourist crowds.
Down in the southern region of Puglia, the Salento Peninsula beckons with its incredible coastline. Stretching from the Ionian Sea to the Adriatic, Salento boasts a variety of beaches to suit every taste. From the sandy shores of Porto Cesareo to the rocky coastline of Santa Maria di Leuca, the beaches here are as diverse as the region itself. Don't miss the iconic Punta Prosciutto, known for its white sands and crystal-clear waters.
Venice & Beaches

Please Book with Us... Maria here, if you enjoy my site I'd love your support.
Simply book your next trip anywhere (not only to Italy) via the link below or with any of the hotel links on the website.
You'll get the best deal available and the income I receive helps me to remain independent and to keep bringing you more of beautiful Italy.