The Best Gnocchi Recipe

Gnocchi and polenta are the traditional dishes of the mountainous areas of northern Italy. In the Veneto region, it is hugely popular, and I've got the best gnocchi recipe in Italy for you from this region. Not only that but, at the bottom of the page, all your gnocchi questions are answered too. Let's start with the recipe...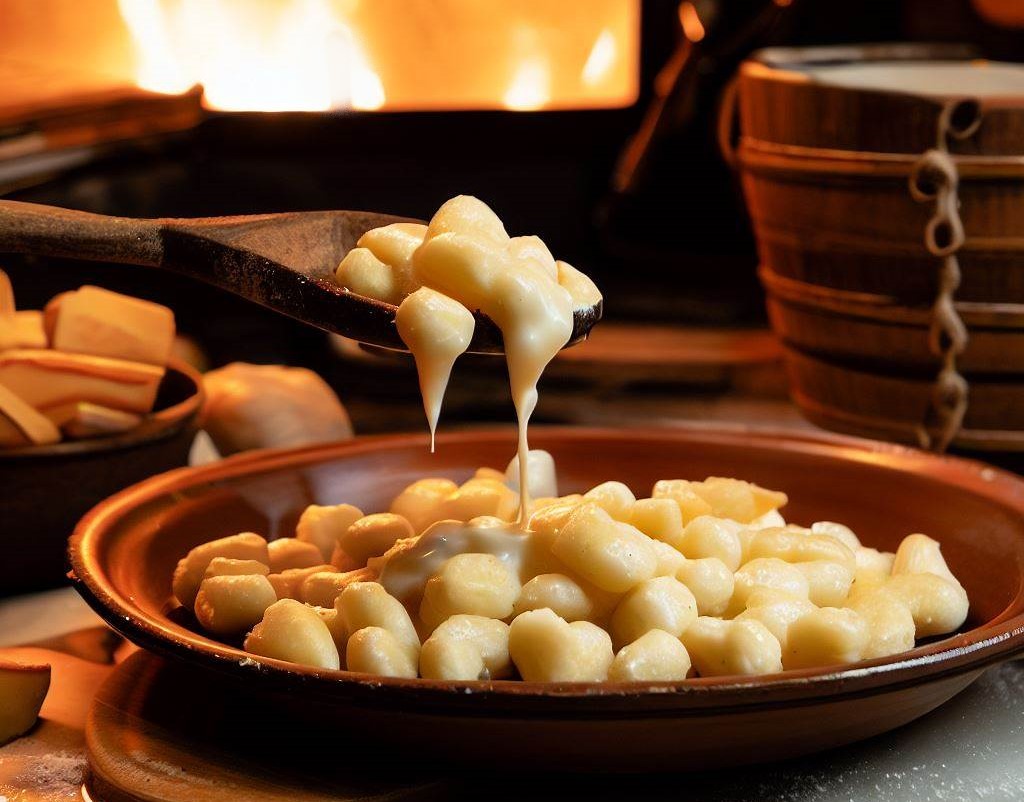 Countless variants and recipes for Gnocchi exist, and every Italian nonna (granny in English) has her own particular special touch that makes her gnocchi the best ever gnocchi recipe in all of Italy. Of course, if it is the best gnocchi recipe in all of Italy, it is also the best gnocchi recipe in the entire world.
To tell you the truth, they are all wrong!
Why? Well, because I know that my mamma makes the best gnocchi I have ever eaten, and it is made like this recipe. Trust me, I've tried gnocchi from various regions and restaurants, and nothing compares to mamma's homemade goodness.
Picture this: tender potato dumplings that practically melt in your mouth, served with a luxurious sauce made from creamy Monte Veronese cheese and sprinkled with aromatic black truffle. It's a divine combination that will transport you straight to culinary heaven.
The secret to my mamma's gnocchi is in the technique.
She carefully selects the perfect potatoes, ensuring they are starchy enough to create a light and fluffy texture. Then, she skillfully combines them with just the right amount of flour, creating a dough that is easy to work with but still retains its delicate nature.
As the gnocchi float in a pot of boiling water, their pillowy forms take shape. It's a mesmerizing sight that fills the kitchen with anticipation. And when they are cooked to perfection, mamma gently spoons them out, ready to be coated in the velvety fonduta al Monte Veronese.
The fonduta, oh my!
It's a creamy delight that envelopes each gnocchi, hugging it with a rich and cheesy embrace. The Monte Veronese cheese brings its nutty flavors to the mix, enhancing the overall experience. And just when you think it couldn't get any better, the black truffle enters the scene.
Grated over the gnocchi, the black truffle releases its captivating aroma, filling the air with its earthy fragrance. Every bite becomes a symphony of flavors, with the gnocchi providing a comforting base, the fonduta adding a luxurious creaminess, and the truffle elevating it all with its unique and irresistible essence.
Try them, and you'll see what I mean.
One piatto (plate) of these, and you'll be hooked! The combination of fluffy gnocchi, velvety fonduta, and aromatic truffle is a match made in culinary paradise.
If you eat them and still think you have a better recipe, send it to me at the bottom of the page, and I'll make it for my family. I don't believe it will EVER be better, but my family will vote, and you never know! But be warned, if your recipe IS better, my mamma will be after you with her legendary wooden spoon. So, proceed with caution!
Buon appetito!
Maria
The Gnocchi Recipe
Ingredients
2 pounds of baking potatoes
1 cup all purpose flour
1 whole egg plus
1 egg white
1 teaspoon salt
Freshly grated Parmesan cheese
Instructions
• Boil the potatoes in their jackets - my mamma always insisted this is the "secret", drain, peel and put through a food mill.
• While the potatoes are still nice and warm, mix in the flour, add to this the egg white, egg and salt.
• Place the potato mixture on a floured wooden board and knead lightly; the dough should be soft. Roll the dough in 1" thick sticks about 10" long. Cut each roll into 3/4" pieces. Rub each piece of dough lightly over the coarse side of a cheese grater.
• In a large pot of boiling salted water, cook the gnocchi until they rise to the top of the water. If you leave them longer once they have floated to the top you end up with a soggy mess.
• Remove the gnocchi and place in a warm bowl.
Sprinkle with Parmesan cheese or Grana Padano to taste, in my case this means LOTS of cheese. It can also be served with a tomato based sauce (you can use this one) or a cheese fonduta.
Turn your gnocchi decadent with A Creamy Monte Veronese Fonduta 
Ingredients:

200g Monte Veronese cheese, grated (Use a matured Asiago or similar if you can't find Monte Veronese)
1 cup whole milk
2 tablespoons unsalted butter
2 tablespoons all-purpose flour
Salt and pepper to taste
Instructions:
In a medium saucepan, melt the butter over medium heat.
Add the flour to the melted butter and whisk continuously until a smooth paste, known as a roux, forms.
Slowly pour in the milk while whisking constantly to avoid any lumps from forming.
Continue to whisk the mixture over medium heat until it thickens and begins to bubble.
Reduce the heat to low and gradually add the grated Monte Veronese cheese, stirring continuously until it melts and incorporates into the sauce.
Keep stirring until the sauce reaches a smooth and creamy consistency.
Season the sauce with salt and pepper to taste. Remember that Monte Veronese cheese can be slightly salty, so adjust the seasoning accordingly.
Remove the sauce from the heat and let it rest for a few minutes to thicken further.
Serve the creamy Monte Veronese cheese sauce immediately over your favorite dish, such as gnocchi, pasta, or grilled vegetables.
Note: If the sauce becomes too thick, you can add a little more milk to achieve the desired consistency. Similarly, if it appears too thin, you can cook it for a bit longer to thicken it up.
Enjoy the luscious creaminess and distinct flavor of Monte Veronese cheese in this delightful sauce. It pairs exceptionally well with gnocchi, pasta, and many other dishes, bringing a touch of elegance and richness to your culinary creations.
Serve with grated flakes of black truffle for the best gnocchi treat ever.
Buon appetito!
Questions about Gnocchi
Gnocchi are small, soft dumplings made from a mixture of potatoes, flour, and sometimes eggs. They have a delicate texture and are typically served as a pasta alternative.
The correct pronunciation is "NYOH-kee," with the "ny" sound similar to the "gn" in "lasagna."
Making gnocchi from scratch can be a bit challenging, as it requires getting the right consistency and texture of the dough. However, with practice and following a good recipe, it can be a rewarding and delicious cooking experience.
For making gnocchi, it is generally recommended to use starchy potatoes rather than waxy ones. Therefore, aged potatoes are preferred over new potatoes. Starchy potatoes, such as Russet or Idaho potatoes, have a higher starch content, which helps in creating a light and fluffy texture for the gnocchi.

New potatoes, on the other hand, have a higher moisture content and a lower starch content, which can result in a denser and stickier gnocchi. While it is not impossible to make gnocchi with new potatoes, the texture may not be as desirable.

So, if you have the choice, opt for aged potatoes when making gnocchi to achieve the best results. They will provide the desired fluffy and light texture that pairs well with various sauces.
Have A Great Italian Recipe?
Do you make a particularly good Gnocchi, Lasagna or any other Italian dish? Share it with us!
What Other Visitors Have Said
Click below to see contributions from other visitors to this page...

Ricotta Gnocchi Recipe. Little pillows that melt in your mouth!

My Father would make his Gnocchi recipe with me when I was a child. I remember we would sit around the kitchen table together after he had prepared the …
Best Italian Recipe On Earth Not rated yet
I've made gnocchi using a very similar recipe for years. The one thing I do that is different is that I cut and peel the potatoes before boiling and then …

I make them very similar Not rated yet
My Grandmother come from Tyrol and she made hers the same about as you except we use grated raw potatoes and mix all the ingredients in a bowl after draining …
Please Book with Us... Maria here, if you enjoy my site I'd love your support.
Simply book your next trip anywhere (not only to Italy) via the link below or with any of the hotel links on the website.
You'll get the best deal available and the income I receive helps me to remain independent and to keep bringing you more of beautiful Italy.