Aunt Rosalinda's Authentic Sicilian Cannoli Recipe
When I was a child I always looked forward to visits to zia (aunt) Rosalinda and a chance to enjoy her Cannoli. She was from Sicily, unlike most of my family who come from the north.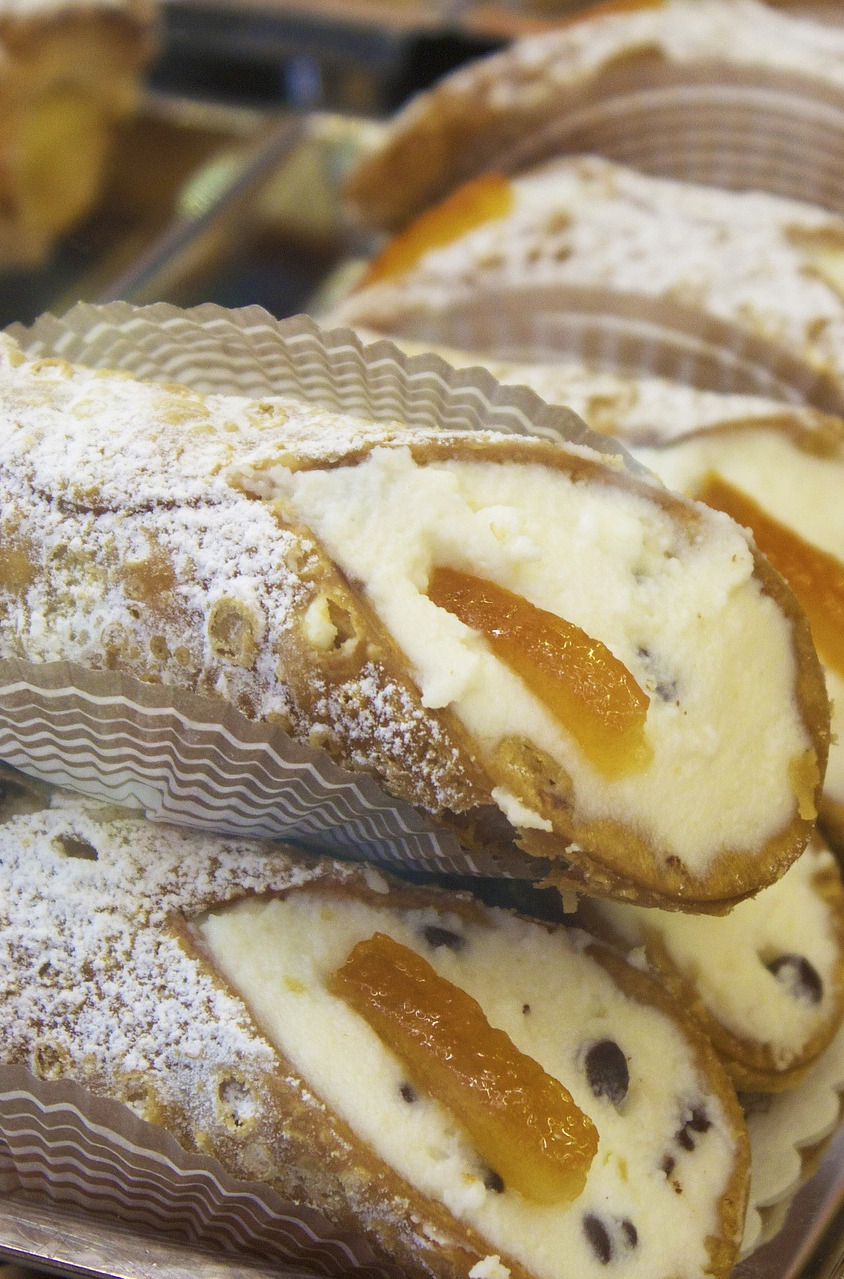 We would visit, straight after Mass. Once we all arrived zia disappeared into the kitchen, followed by a platoon of other aunts and nonna.
A few hours later we'd all sit down to Sunday lunch... and the food would arrive.
Zia always made sure there was enough for 30 people, although I never recall more than 15 at lunch. She always believed in making huge quantities.
She'd say: "What if cousin Luigi and family arrive? What if Roberto brings his friends."
Roberto could have brought an entire football team and they would have struggled to finish.
Anyway I loved it all, and ate like mad. You had no choice - otherwise zia or nonna might have gone and fetched the wooden spoon. It was that or she'd be offended: "what you don't like my food?" Or to my mother she would whisper: "this child is sick, she too thin... why she no eat?" 
One day I brought a vegan, no gluten, friend of mine to lunch. The worry on my aunt's face, on everyone's  faces was comical.  They wanted to rush her off to a doctor... in those days nobody had heard of vegan. They treated it as a life threatening condition.

Well enough of my memories. What I most wanted to share with you was the highlight (for me anyway) of every Sunday at zia Rosalinda... her famous cannoli. It took me years to get her to share the cannoli recipe but... at last... I can let you in on the jealously guarded secret.
Here then is zia Rosalinda's cannoli recipe....
Ingredients
Ingredients for the Cannoli Shells
 500 g (17.6 oz) flour
2 eggs
30 g (1 oz) lard 
1/4 of a cup of dry Marsala wine

a pinch of salt
60 g (2 oz) caster sugar
Tablespoon of white wine vinegar
Ingredients for the Cannoli Filling
100 g (3.5 oz) candied orange 
100 g (3.5 oz) dark chocolate drops
600 g (21 oz) fresh ricotta ( let excess moisture drain overnight)
250 g (9oz) icing sugar
Ingredients for the Cannoli Topping
Instructions 
Making the Cannoli Shells
Place the flour, sugar and salt into a mixing bowl.
Add the lard and eggs.
Slowly add the vinegar and Marsala kneading continually. You made need a little more Marsala or less depending on how it absorbs. The mixture should be firm, elastic and not stick to the side of the mixing dish. Knead for around five minutes.
Cover with a cloth and leave at room temperature for 30 minutes.
After 30 minutes take the dough and roll it out with a rolling pin - make sure it is at least 2 mm (0.08 inches) thick.
Use a pastry ring or fairly large glass to make circles.
Stretch the cannoli around metal cannoli rings or metal cylinders.
Fry in lard until golden brown and bubbly.
Drain well.
Making the Cannoli filling
Mix together the sugar and ricotta.
Place in the fridge for at least an hour.
Remove from the fridge and mix in the chocolate and candied orange.
The Final Touch
Fill the Cannoli shells with the filling and sprinkle with icing sugar.  Do this just before serving. They get soggy if they have to wait, even in the fridge.
Buon appetito!
In honor of the memory of zia Rosalinda and the beautiful island of Sicily.
Print Recipe

Please Book with Us... Maria here, if you enjoy my site I'd love your support.
Simply book your next trip anywhere (not only to Italy) via the link below or with any of the hotel links on the website.
You'll get the best deal available and the income I receive helps me to remain independent and to keep bringing you more of beautiful Italy.