A Good Restaurant near Garda - Tre Camini

V. Murlongo, 82
37010 Costermano (VR)
Tel: 045/7200342


The Three Chimneys, to give the place its English name, is a delightful restaurant. If you are looking for a good restaurant near Garda then you need look no further.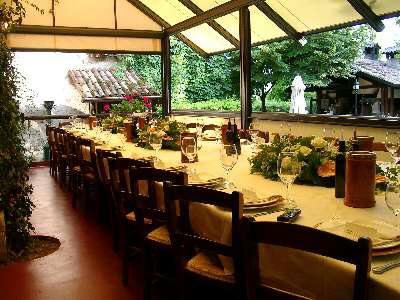 Housed in a 16th century farmhouse near the foot of Mount Baldo, warmth and genuine country hospitality await the lucky visitor.
The cooking too is country style and it's good – the place to experience the tastes of an Italy centuries past.
Summer or winter the atmosphere is warm and welcoming. During summer I always take an outside table but strangely I prefer coming here in winter. The atmosphere on a cold and misty winter's evening is wonderful.
Particularly charming is the Portico dinning room with its old stone walls and wood beamed ceilings. You will need to book – the restaurant is a firm favourite with locals and try to avoid weekends when the restaurant is just a little too packed for my liking.
Cuisine is local – mostly dishes from the lakes and mountain regions of the Veneto. Nothing wrong with that either!

Starting with Anitipasti, I tend to always go with the Wild Boar Prosciutto when available. For starters I normally enjoy the little Gnocchi know as Gnocchetti and my husband enjoys the risotto – the Risotto with Mushrooms is superb.
Main courses are a mixture of mostly meat and chicken dishes – all that I have tried are good but nothing exceptional. Back on the exceptional list though are the desserts - the Semifreddi and the Panna Cotta stand out.
Wine is plentiful here with an enormous wine list featuring wines from every major wine region in Italy and most of the major wine producing countries. Andrew, my husband, has tried many of them - too many of them.
All in all the Tre Camini is a very good restaurant, near Garda there are few that are better. You can count on a memorable atmosphere, good food and all at a price that is not exorbitant. You are probably looking at a hundred Euros a couple for a three course meal with a bottle of the local red.



Why not sign up for my free monthly newsletter? Packed full of insider information.

Please Book with Us... Maria here, if you enjoy my site I'd love your support.
Simply book your next trip anywhere (not only to Italy) via the link below or with any of the hotel links on the website.
You'll get the best deal available and the income I receive helps me to remain independent and to keep bringing you more of beautiful Italy.