A Really Good Restaurant in Padova
OSTERIA AI SCARPONI, VIA CESARE BATTISTI 138, Tel: +39 0498171285 
I don't know about you, but when I visit somewhere I want to immerse myself in the culture, traditions and lifestyle.
For me that is what makes travel such a joy.
I put aside the routines of  home and embrace the differences. It is a refreshing change, an exhilarating escape from the mundane.
Food is a big part of that.

There is a quote that goes something like: "to know a country is to eat at its table". I've found that to be true.

Even if the food hasn't always been the greatest it has always been an experience I will treasure. Personally though I will give the Casu Marzu a miss the next time I am in Sardinia and the same goes for the Khash( affectionately known as a "Smiley") in Turkey. 
But even the Casa Marzu, though maybe not the Smiley, would beat heading to the KFC or Burger King.
In Padova the "difficult " dishes are things like horse meat, octopus and tripe. You can easily skip these, without offending anyone, and try plenty of other far less risky local treats, dishes like  pollo alla cacciatora, the local bigoli pasta and so much more.
Where should you try them? 
Well my pick would be the Osteria Ai Scarponi. It's a tiny little place and very popular with locals -  you will definitely need to book.
From the moment you walk through the door, to a friendly welcome, you know this is going to be a great lunch or dinner. Everything is made fresh from locally sourced ingredients, nothing is prepared beforehand and nothing is ever made from frozen - if it's not fresh it's not on the menu here.

What to Eat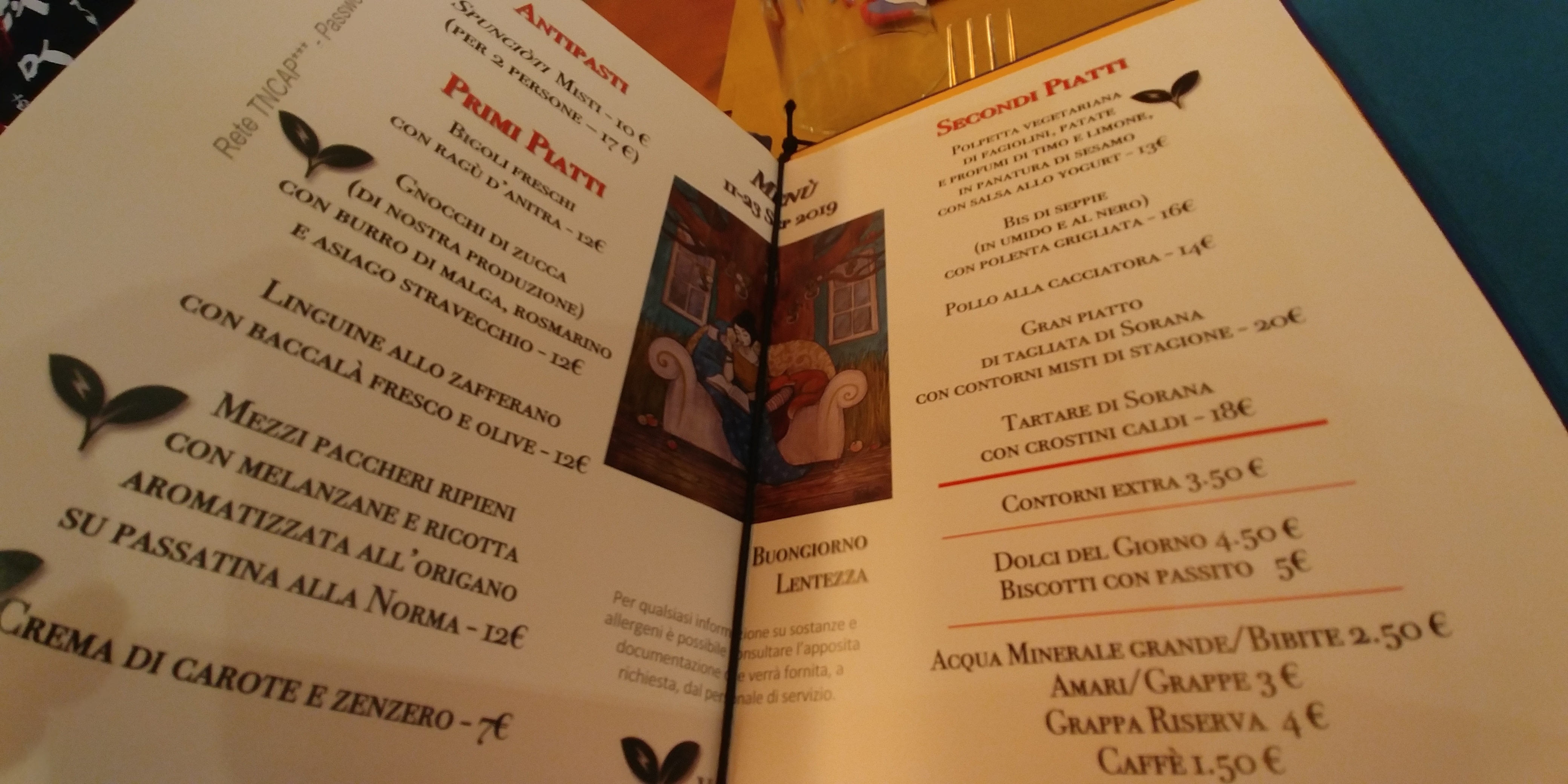 Their menu is always changing, depending entirely on what is in season; however, I can tell you that my family and I, as well as friends we've invited to dinner, have never been disappointed with anything we've ever ordered.
Some of the outstanding dishes we've tried include: bigoli with various sauces,  baccalà, the mixed antipasti for two people and their biscotti con passito.
Prices are really reasonable, you'd expect to pay around twice as much for this sort of quality. They have a good wine selection too, although we normally just go with their house selection - it always seems to match the food perfectly.
If you would like to book you can do so online directly from their website.
Please Book with Us... Maria here, if you enjoy my site I'd love your support.
Simply book your next trip anywhere (not only to Italy) via the link below or with any of the hotel links on the website.
You'll get the best deal available and the income I receive helps me to remain independent and to keep bringing you more of beautiful Italy.