An Italian Asparagus Recipe
This asparagus recipe is very simple to make and it is sure to impress your family and friends. You'll find versions of this dish served across the Veneto and the entire north of Italy, but only in season (more about that in our FAQ section below the recipe).
The cheese is really important with this dish; if you don't use the right cheese, it changes the recipe completely, and the end result is nowhere near as delicious.
I, of course, have the added problem that if the cheese isn't right, I am going to have a complaining husband. Boy, can he go on?
Ingredients
A bunch of fresh green asparagus.
100 gr, of grated Grana Padano or Parmigiano cheese.
50 gr, butter.
A dash of salt and pepper.
half a liter of milk.
4 eggs.
150 gr of bread crumbs
A nice crisp loaf of Italian bread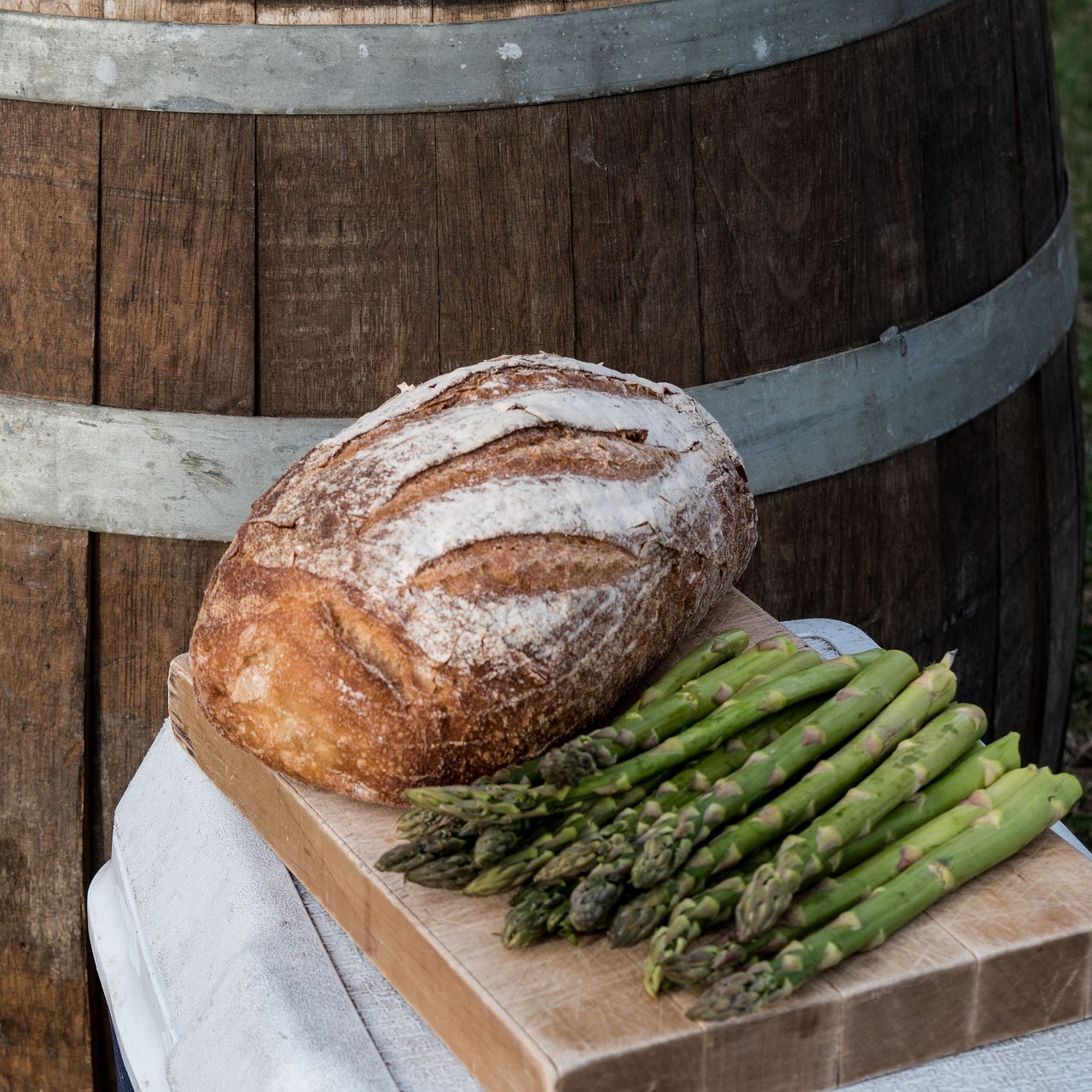 Preparation
 Clean the asparagus and remove the heads from them.
 Boil the asparagus in salted water, drain and allow them to cool.
 Line an oven dish with butter.
 Beat the eggs and add salt, pepper, milk and the bread crumbs.
 Spread some of the egg mix on the base of the oven dish and place the asparagus into the dish.
 Cover the asparagus with the egg mix and sprinkle with cheese.
 Cook in the oven at 160°C for 30 minutes
I like to eat this with a nice big hunk of crispy Italian bread—something like Pane Croce del Sud—a really wonderful bread. If you can get it where you are, then be sure to try it; I'm sure you will love it as much as I do.
Maria & Andrew
Common Questions About Asparagus:
Look for firm, bright green stalks with tightly closed tips. Avoid asparagus with wrinkled or slimy stalks, as these are signs of deterioration.
While Grana Padano and Parmigiano are traditional choices, you can experiment with other hard and flavorful cheeses. Pecorino Romano or aged cheddar could be interesting alternatives.
Asparagus is a low-calorie vegetable rich in vitamins like A, C, E, and K, as well as folate and fiber. It's also known for its potential diuretic properties and antioxidants.
In Italy, the primary difference between white and green asparagus lies in their growing conditions and preparation. White asparagus is grown underground or shielded from direct sunlight, preventing chlorophyll development and resulting in its pale color. It tends to have a milder, slightly nutty flavor. Green asparagus, on the other hand, grows above ground and is exposed to sunlight, which contributes to its vibrant green hue and more robust flavor.
Yes, regional variations of asparagus dishes can be found across Italy. In addition to the Parmesan cheese-topped asparagus mentioned earlier, in the northern regions like Friuli-Venezia Giulia, white asparagus might be celebrated in dishes like "Asparagus alla Goriziana," featuring white asparagus with a breadcrumb and egg sauce.
Asparagus season in Italy typically begins in late March or early April and lasts through late May or early June. This period can vary slightly depending on the region and climate. The arrival of fresh asparagus is eagerly anticipated, and it's considered a springtime delicacy, often making its way onto restaurant menus and kitchen tables throughout the country.
Looking for more Italian recipes? We have lots and lots of really tasty ones on this site and on our other Italian site. The best way to find them is to use our site search engine below.

Please Book with Us... Maria here, if you enjoy my site I'd love your support.
Simply book your next trip anywhere (not only to Italy) via the link below or with any of the hotel links on the website.
You'll get the best deal available and the income I receive helps me to remain independent and to keep bringing you more of beautiful Italy.