Homemade Lasagna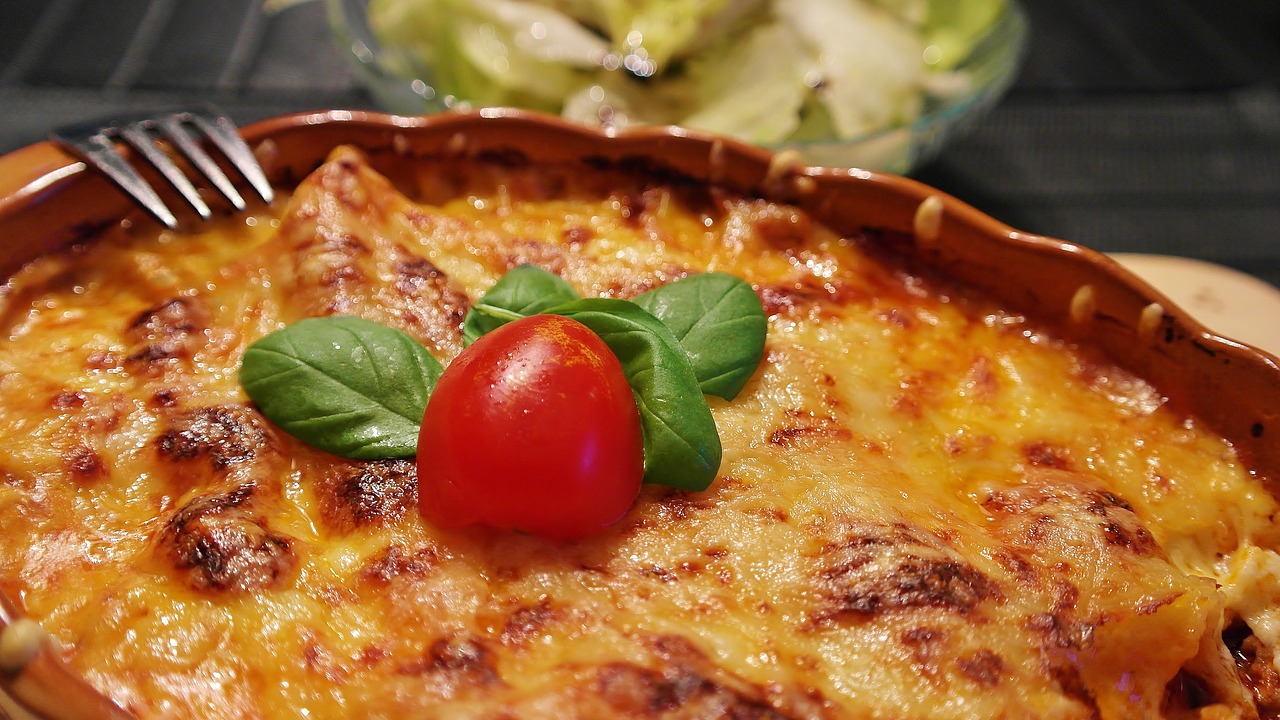 This is the way I have always made lasagna.  It is the way my mamma taught me and this homemade lasagna recipe is something my family love.
In fact I sometimes think my husband married me because of it!
Every weekend he would somehow know my mamma had lasagna in the oven and would turn up just in time.
Of course we always found a place for him and all the others who seemed to turn up too.
I used to make the béchamel sauce too but now I normally buy it. It saves a lot of trouble and to be honest it really doesn't change anything.
This is still the BEST lasagna you are ever going to eat.
You think your mamma has a better recipe?
It is NEVER going to happen but send me yours down bottom. I'll cook it and test it on my darling marito.
My recipe he gives 10/10 - let's see what yours gets :-)
Maria
P.S. If you love Italian food and our recipe please click like below...
Ingredients
10 oz. Prosciutto, chopped
10 oz. Lasagna pasta
20 oz. can whole peeled tomatoes, chopped
1 cup grated Parmesan cheese
1 1/2 lb. Mozzarella cheese, sliced thin
1 large onion, chopped
1 1/2 lb. lean minced/ground beef
4 to 8 leaves of fresh basil, chopped
ground black pepper
Béchamel sauce
2 tablespoons of olive oil
Instructions
• Cook pasta according to package directions or until tender but still firm - al dente as they say in Italy. Use only a little salt as the Proscuitto tends to be salty.
• To make the sauce, saute the onion and prosciutto in the olive oil for 4 minutes. Add the beef and black pepper and saute 10 minutes. Add tomatoes and basil, reduce heat and simmer sauce 35 to 40 minutes or until most of the liquid has evaporated.
• Grease a large baking dish. Arrange a first layer of pasta, a layer of the beef and sauce then mozzarella, then béchamel and then parmesan cheese, Continue adding layers until the dish is full ending up with a top layer of sauce.
• Sprinkle with parmesan cheese and bake in a preheated oven at 400 degrees for 30 minutes.
Serve hot
Liked this homemade lasagna recipe? Why not subscribe to my free monthly newsletter and start receiving our recipe of the month.


Please Book with Us...
Maria here, if you enjoy my site and Facebook page I'd love your support.
Simply book your next trip anywhere (not only to Italy) with the search box below or with any of the hotel links on the website.

I promise you'll get the best deal on accommodation available and the income we receive from HotelsCombined helps us to:
Stay independent and to keep bringing you the best of Italy.
Never have to accept money from hotels directly; that way we can share only those we genuinely love.