Restaurants in Verona - Antica Amelia Bistrot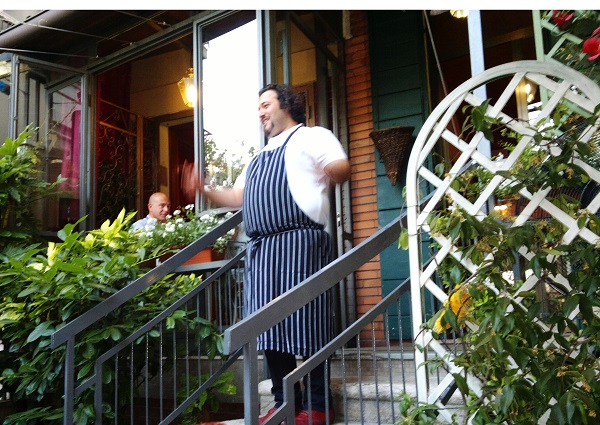 Antica Amelia Bistrot
Vicolo Due Stelle, 5, 37121 Verona VR
Verona

The Antica Amelia Bistrot is right near the top of the list of our most loved restaurants in Verona Italy. 

Stepping into Antica Amelia Bistrot feels like a warm embrace from a dear friend. The cozy, rustic ambiance and carefully curated decor create a setting that is both timeless and inviting.
Having dined here on numerous occasions, we have come to love the familiarity of the surroundings. It's like visiting an old friend's home, where cherished memories have been etched into the walls and every corner exudes a sense of comfort.
The chef (of SHE-f as she prefers it), Micol, is the star of the show.
This young lady, mother, entrepreneur, and rising talent is the magic ingredient in the Antica Amelia Bistrot. Her passion and her commitment are evident in everything that happens here, and the dishes are a blend of tradition and her life experiences.
So what about those dishes?
Well, while the menu may only boast a small selection of dishes, each one of them is a labor of love. Our tried-and-true favorites include the Manzo All'Olio Dell'Amelia and the Trota del Trentino. These creations are consistently exquisite, never failing to transport us to a state of pure bliss with each bite.
As regular visitors, we've also had the pleasure of exploring numerous other starter and main dishes, and we have never been disappointed. The snails are another favorite—not to everyone's taste, I know—but if you've never tried them before, this is a good place to start.
Then there is dessert...
Of course, a meal here would be incomplete without indulging in their heavenly desserts. The Tiramisù is a divine interpretation of the classic dessert. And the Lingotto al Cioccolato? Well, let's just say that they're the perfect sweet ending to a culinary masterpiece.
Now all the dishes I've mentioned above are great; the only thing is that you might not find a single one on the menu.
Why?
Well, the menu changes regularly depending on the season and according to whatever they find in the fresh produce markets.
A negative?
Despite our undying affection for Antica Amelia Bistrot, it's important to note that our experiences have varied, particularly during the summer months.
While we have enjoyed countless exceptional evenings at this charming establishment, it's evident that the increased influx of tourists during July and August can sometimes impact the overall service. There have been instances when the staff appeared slightly overwhelmed and less attentive than we had come to expect. Nevertheless, our love for the restaurant and its exceptional cuisine remains unwavering.
One aspect that consistently stands out is the impressive wine selection.
The sommelier's expertise in selecting the perfect wine is legendary; their knowledge and passion shine through. Remember that the wine regions of the Veneto are fantastic, and some of the best Veneto wine regions are just around the corner from Verona, so go with their recommendations and experience the flavors of the region in every sip. If you are on a budget, their house wine is a good choice, it is always excellent.
In conclusion, if you're seeking a restaurant in Verona that encapsulates the essence of Verona's culinary charm, consider stepping into Antica Amelia Bistrot for a dining adventure you won't soon forget.

Saluti e buon appetito!
If you are looking for a place to stay in Verona these are my recommendations.

Please Book with Us... Maria here, if you enjoy my site I'd love your support.
Simply book your next trip anywhere (not only to Italy) via the link below or with any of the hotel links on the website.
You'll get the best deal available and the income I receive helps me to remain independent and to keep bringing you more of beautiful Italy.