Veneto Restaurants - The Irma Restaurant

Via Crosara 1
36011 Arsiero
Tel. +39 0445 714233 E-mail: info@ristoranteirma.it
The Irma restaurant is one of those Veneto restaurants popular with the locals and is the place for big family functions. Many have their weddings here and over the weekend families from the surrounding towns flock to the Irma to eat.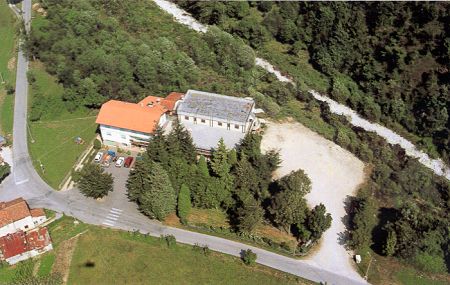 The restaurant, run for as long as I can remember by the Martini family, does local cuisine from this part of the Veneto superbly.
They do a reasonable job too with the more generic Italian classics but in my opinion they would be much better off without them. After all when in Rome do as the Romans do and when in Arsiero eat like a local.
A couple of things here are really worth traveling miles for:
The Gnocchi Menu
Gnocchi is a real local specialty and the Irma does it perfectly. The gnocchi menu consists of around 15 different gnocchi dishes – the variety is incredible.
You get to choose five of the fifteen and all for only 16 Euros or 19 Euros (if you want a glass of wine and a coffee too). My favourite is the one made with the absolutely delicious local Asiago cheese. Be warned though that gnocchi is very filling and the Irma's portions are very generous

One other thing – all the gnocchi is made from locally grown potatoes adding to its authenticity.
The Pig on a Spit (Porchetta allo Spiedo)
They do the pig on a spit for special occasions and it is wonderful, they also do quails the same way and that too is excellent.
For the rest the desserts are always fresh and homemade. The salami is the local Sorpressa, which is really addictive and quite different from other Italian salami. Last, but certainly not least, is their excellent trout caught fresh from the nearby river.


Looking for more great restaurants in Italy? Why not sign up for our FREE monthly newsletter packed full of great tips, restaurants, recipes and much more. Click here to join.


Please Book with Us... Maria here, if you enjoy my site I'd love your support.
Simply book your next trip anywhere (not only to Italy) via the link below or with any of the hotel links on the website.
You'll get the best deal available and the income I receive helps me to remain independent and to keep bringing you more of beautiful Italy.