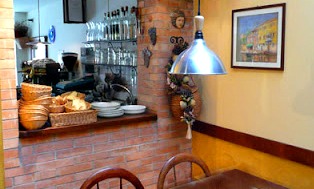 The Osteria Anice Stellato is a unique find in Venice, Italy. It may be small in size, but it is big on quality. This is a restaurant beloved by locals, and as such, it can be difficult to secure a table without booking well in advance.
One of the standout features of this restaurant is the freshness of the dishes. From start to finish, every dish is well-prepared and made with fresh, high-quality ingredients. The menu changes regularly, depending on what is available and fresh in the markets on that particular day.
If you're looking for a classic Venetian dish, then be sure to try the antipasti. The cicchetti is an excellent mix of small traditional antipasti dishes. The sardines in saor, which is a traditional sauce, is a standout dish and a real Venetian specialty.
For starters, the seafood risotto is a great choice. It's followed up by the fish of the day, which is always perfectly cooked and fresh. The desserts are also superb, with a traditional twist. The zabajone is a particular favorite, and it's easy to see why.
The wine list is comprehensive, with some of the best wines from the Veneto region. Whatever you choose, you can be sure that it will be eminently drinkable and a great match for your meal.
Of course, quality like this doesn't come cheap, but the prices are fair for what you get. Expect to pay around 100 Euros for a three-course meal for two, including a bottle of the excellent house wine. Considering that this is Venice, that's not too bad at all.
If you're looking for a truly special dining experience in Venice, then the Osteria Anice Stellato is well worth a visit. The food is top-notch, and the atmosphere is cozy and intimate. The small size of the restaurant means that the staff can give more personalized attention to each guest, making the dining experience feel so much more welcoming.
In addition to the excellent food and service, the location of the restaurant is also a big plus. It's situated away from the crowded tourist areas, right on the edge of the historically fascinating Ghetto area, giving you a chance to explore a less crowded and more authentic part of Venice. 
Overall, the Osteria Anice Stellato is a hidden gem that should not be missed. It's a great spot for a romantic dinner or for a special occasion with friends or family. Just be sure to book ahead of time as it is very popular with locals. When a restaurant is full of locals that is always a good sign and it is not something that happens in many restaurants in Venice.