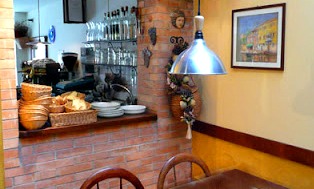 The Osteria Anice Stellato is different from most Venice Italy restaurants, it may be a tiny little place but the food is excellent. This is a place the locals love and you need to book well in advance to secure a table.
From beginning to end the dishes are well prepared and very fresh. It is difficult to recommend a particular item from the menu as the menu changes frequently depending on what is fresh and available in the markets on a particular day.
Antipasti are a definite highlight and this is a good place to try some Venetian classics. Ask for a mix of cicchetti which, in the local Venetian dialect, basically means a mix of traditional small antipasti dishes. The sarde in saor (sardines in a traditional sauce) is particularly good and is a real Venetian specialty.
For starters I normally go with the seafood risotto and then follow it with the fish of the day. The fish is always fresh and perfectly cooked.

Desserts are interestingly superb, basically traditional with a twist. The zabajone is my hubby's favourite and I would concur.
A comprehensive wine list includes some of the best wines from the Veneto and you can be sure that whatever you choose it will be eminently drinkable.
The Osteria Anice Stellato is not cheap but for the quality you get you pay a fair price – basically around a 100 Euros for a three course meal for two, with a bottle of the very good house wine. Considering this is Venice Italy that honestly is not too bad at all.