Italian Food Photos
Italian food photos to make you hungry; that is something I have always wanted to share on the website.
We already have a lot of great recipes on the website (you can see them here) but our photos have never done Italian food and cuisine justice...until now! 
Whether it is wonderful Italian dishes or the food to be found in shops and markets; I will be sharing some mouth-watering photos over the coming months so please keep this page bookmarked and check in regularly to see what decadent delights have been added!
Plenty of the photos are those shared with us by our Facebook community so if you have something delicious and Italian to share, you are welcome to do that there or on our recipe page.
First up are these photos shared by Susan Papazian. If you like them, please click like below...
Susan Papazian Photos 
The fresh food markets of Orvieto are held every Thursday and Saturday mornings from dawn. By 5.30am you can hear the small trucks making their way through the cobbled street ways towards the 11th-century built Piazza del Popolo.
If you're lucky enough to be staying in the Piazza you can hear the vendors setting up their stalls, emptying truckload of fresh produce. The markets are laden with fresh fruit and vegetables, cheeses, prosciutto and salamis and flowers. This is a food lover heaven.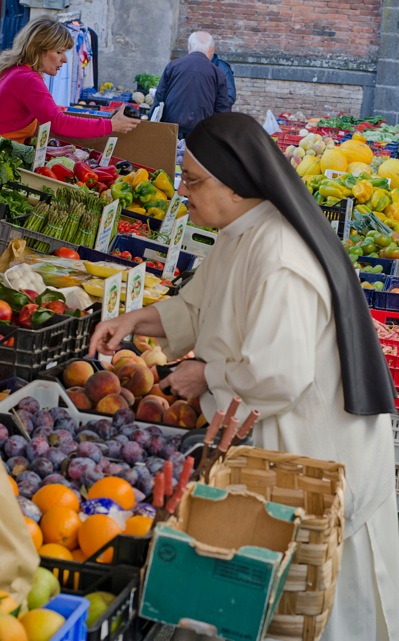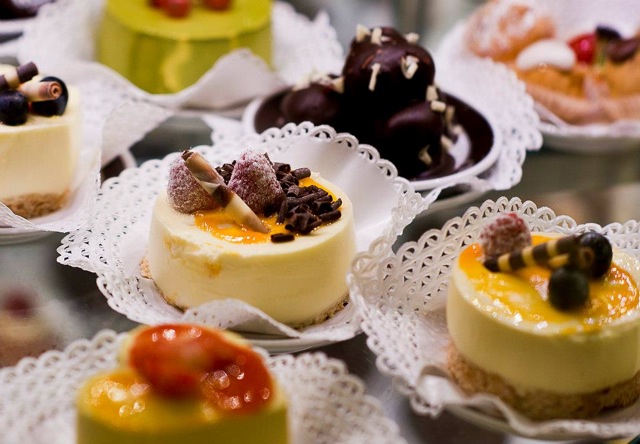 Desserts at the  Caffé Gilli in Florence.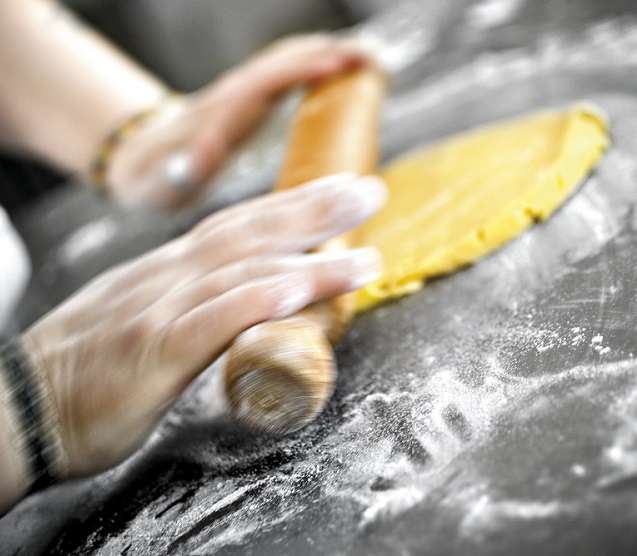 Making Pasta the old fashioned way at the Fiorini Winery.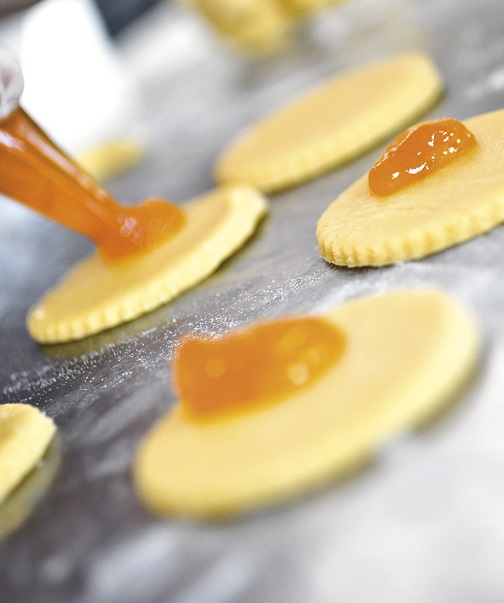 More photos of Italian food and a few recipes too..
Bari's elderly ladies, affectionately called "nonne" in Italian, have become local legends for their mastery of orecchiette-making. These beloved matriarchs take to the streets, setting up their makeshift pasta-making stations with handmade wooden boards and baskets of freshly made dough. As they skillfully press and roll the dough with their fingertips, they effortlessly transform it into tiny ear-shaped pasta, one by one. The rhythmic sounds of their hands at work and the chatter among the nonne create an atmosphere brimming with warmth and camaraderie.
Witnessing this age-old tradition is not only a visual treat but also an opportunity to savor the authentic flavors of Puglian cuisine. The nonne take pride in using the finest local ingredients, often sourced from their own gardens or nearby markets. The result is a plate of orecchiette that embodies the true taste of Puglia - simple, yet bursting with flavor.
If you find yourself in Bari, don't miss the chance to engage with these remarkable nonne and taste their handmade orecchiette. Join them on the streets as they share their stories and culinary wisdom, offering a glimpse into the heart and soul of this charming city.
For an immersive experience in Bari, exploring its rich cultural heritage and vibrant atmosphere, be sure to check out ItalyMammaMia's comprehensive guide to things to do in Bari. From exploring the historic old town and indulging in mouthwatering street food to discovering hidden gems and soaking in the coastal beauty, this guide will help you make the most of your visit to this captivating city.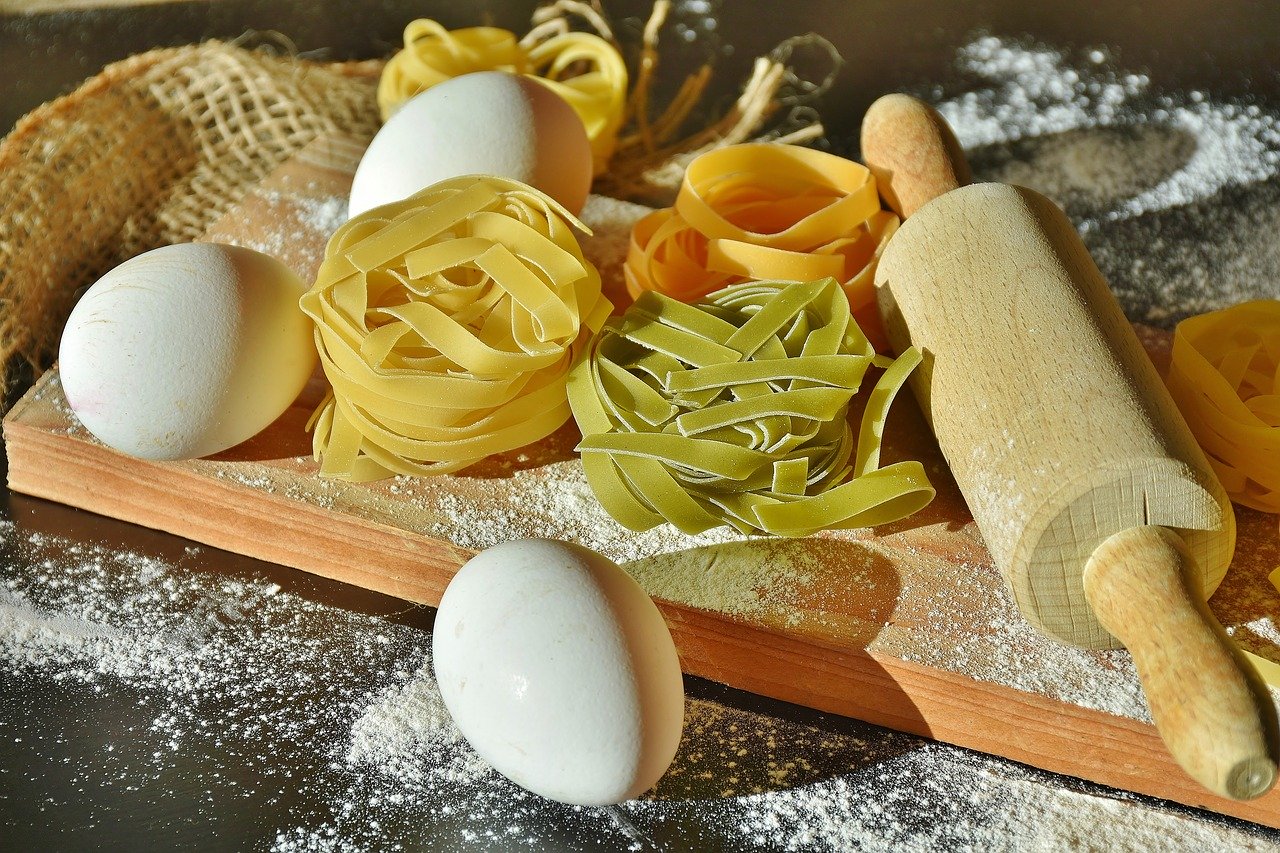 Oh, the eternal debate of what pasta to use for Bolognese sauce! If you ask any Italian nonna or culinary purist, they will passionately tell you that authentic Bolognese sauce is never paired with spaghetti. The true match made in heaven for Bolognese is tagliatelle.
Tagliatelle, with its flat and broad ribbons, is the ideal pasta to cradle the rich and meaty Bolognese sauce. Its wider surface area allows the sauce to cling to every strand, ensuring a perfect balance of flavors in every bite. The delicate texture of tagliatelle also enhances the overall dining experience, creating a harmonious union between the pasta and the sauce.
So why do many people still associate Bolognese sauce with spaghetti? Well, it's no secret that spaghetti is one of the most widely known and beloved pasta shapes around the world. Its long, slender form has become synonymous with Italian cuisine for many. However, when it comes to Bolognese, Italians prefer to stick to tradition and honor the original pairing.
The roots of Bolognese sauce trace back to the city of Bologna in the Emilia-Romagna region of Italy. This region is known for its rich culinary heritage and strict adherence to traditional recipes. Authentic Bolognese sauce, also known as ragù alla Bolognese, is a slow-cooked masterpiece that typically includes a combination of ground meat, aromatic vegetables, tomato sauce, and a touch of cream. The sauce simmers for hours, allowing the flavors to meld together and develop a rich depth that is unrivaled.
When served with tagliatelle, Bolognese sauce takes on a new dimension. The broad, flat pasta ribbons cradle the sauce, ensuring that every bite is a delightful medley of flavors. The texture and thickness of tagliatelle provide the perfect canvas for the sauce to shine, allowing you to fully savor the nuances of the Bolognese. Here is our authentic Italian Bolognese recipe straight from the city of Bologna.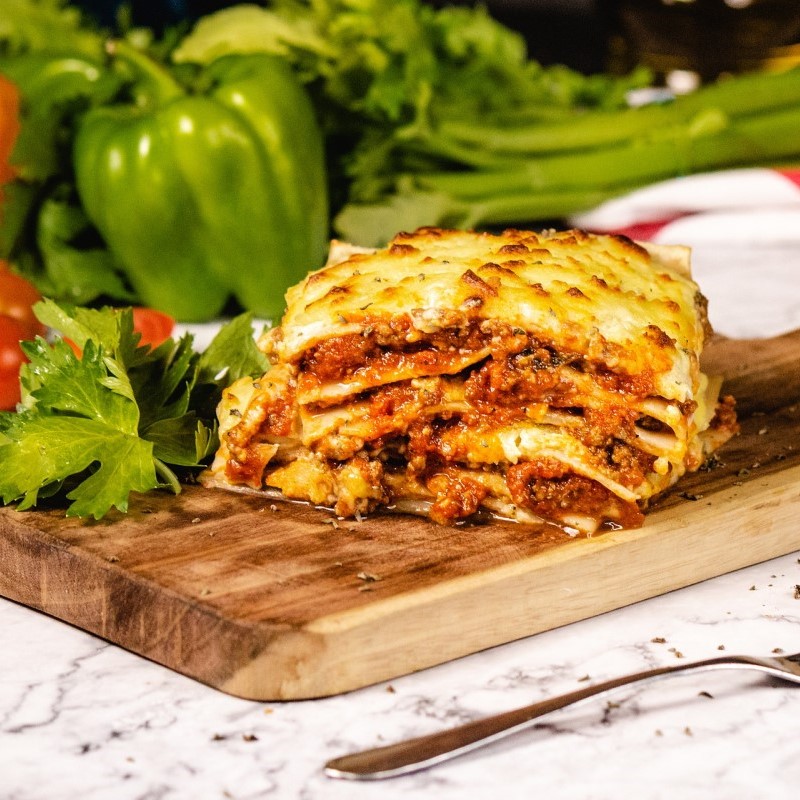 This is the result of my tried-and-true method of making lasagna. It's the way my mamma passed it down to me, and this homemade lasagna recipe holds a special place in my heart because it's a dish that my family absolutely adores. 
Please Book with Us... Maria here, if you enjoy my site I'd love your support.
Simply book your next trip anywhere (not only to Italy) via the link below or with any of the hotel links on the website.
You'll get the best deal available and the income I receive helps me to remain independent and to keep bringing you more of beautiful Italy.