Cannaregio Venice Italy
Embarking on a journey through the intricate maze of Venice is akin to stepping into a canvas painted by time itself. Amidst the labyrinthine alleys and rippling canals, one district stands out like a hidden gem waiting to be discovered – Cannaregio.
Cannaregio offers an authentic Venetian experience that unfolds like a symphony of history, culture, and local life. In Cannaregio you won't find the tourist crowds that are so common in other parts of Venice - that is one of its attractions.

Cannaregio is the area by the train station - for a map of Venice click here.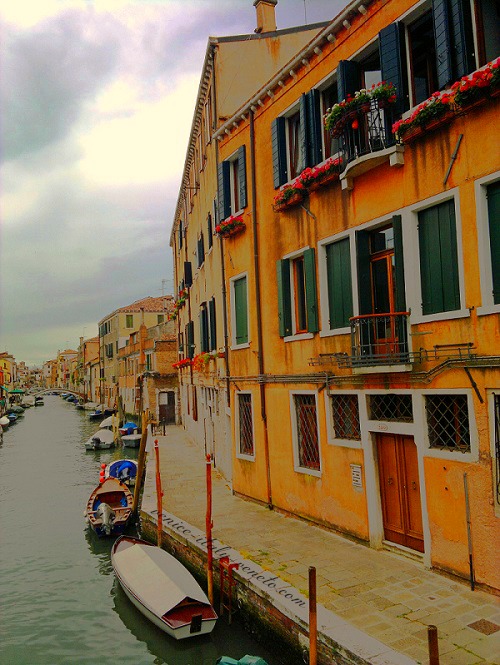 Cannaregio's Hotels

Choosing Cannaregio for your stay means immersing yourself in the true Venetian lifestyle. It's about feeling the heartbeat of the city, relishing in its quieter moments, and forming a connection that lingers long after you leave
Being located away from the bustling crowds, this district provides a tranquil haven, you become a part of the rhythm of the local existence – waking up to the soft lapping of water against ancient facades and venturing out to discover hidden gems that only the locals know about.  When it comes to places to stay, the Hotel Abbazia (click for more) and the Foscari Palace Hotel (view details) are my recommendations.
What to See?

Cannaregio holds within its embrace a testament to the resilience of the human spirit – the historic Jewish Ghetto. Established in 1516, it stands as a symbol of strength and unity.
The narrow streets of the Ghetto echo with stories of a community that defied adversity, their synagogues a testament to their unwavering faith. Walking through these streets, you'll feel the weight of history, a reminder of the struggles faced and overcome.
Here is my guide to the Jewish Ghetto. 
Ca' d'Oro
A 14th-century palazzo situated along the Grand Canal Ca' d'Oro is one of the finest examples of Venetian Gothic-style architecture. Ca' d'Oro's name, meaning "House of Gold," is fitting; it shimmers like a jewel, a testament to the grandeur that once graced Venice's waterways.
The building now houses a very fine gallery of Venetian and Tuscan art. San Sebastiano by Andrea Mantegna is probably the most famous piece on display in the gallery.
Santa Maria dei Miracoli
Santa Maria dei Miracoli (Saint Mary of Miracles) is known as the marble church for its beautiful marble facade, adorned with delicate shades of pink and white. It is a masterpiece of meticulous craftsmanship.
The church, built in the 15th century, is open daily from 10 a.m. to 5 p.m., with the exception of Sundays, when it is only open to those attending services.
The best time to visit is early in the morning or just before sunset, when the light shows the marble at its best. The setting too is charming, with a little canal running alongside and a pretty little square across the way.
Palazzo Labia
I really like this Palazzo; amazingly, many guidebooks don't even mention it at all, yet it is only 300 meters from the main station where many tourists arrive.
The building dates back to the 17th century. Built by a very rich Spanish family, allegedly trying to buy their way (without much success, I believe) into the Venetian aristocracy, as you step through its opulent gates, you're transported to a world where art, opulence, and history converge. This lavish palace captures the essence of a time when Venice was a hub of wealth and cultural flourishing.
The palace's opulent interiors offer a glimpse into a world of aristocratic indulgence. Lavish frescoes and ornate decorations adorn its halls, whispering stories of opulent parties, cultural gatherings, and the allure of a bygone era. As you explore the chambers and salons, you'll sense the echoes of laughter and conversations that once filled these grand spaces.
Palazzo Labia is a splendid building and pretty unique, being one of the few buildings with facades on three sides and facing onto two canals—the Grand and Canneregio Canals. The magnificent ballroom is without a doubt the highlight.

After the Sights?
Walk around the neighborhood, eat at one of the affordable restaurants (my suggestion would be the Trattoria alla Vedova). However, Cannaregio boasts a variety of osterias and trattorias where you can savor authentic Venetian cuisine. Try traditional dishes like sarde in saor (sweet and sour sardines) or risi e bisi (risotto with peas) and do some shopping.
When it comes to eating, drinking, and shopping, this is a good area; it is about as cheap as Venice gets, and you are likely to find as many locals as tourists in the shops and restaurants.
Cannaregio was once the heart of working-class Venice, but it has recently started to become trendier, with more fashionable bars and restaurants opening all the time. Hopefully the character of the place doesn't change too much; I like it just the way it is.
For more photos of Cannaregio click here.

Essential Tips for Your Cannaregio Adventure: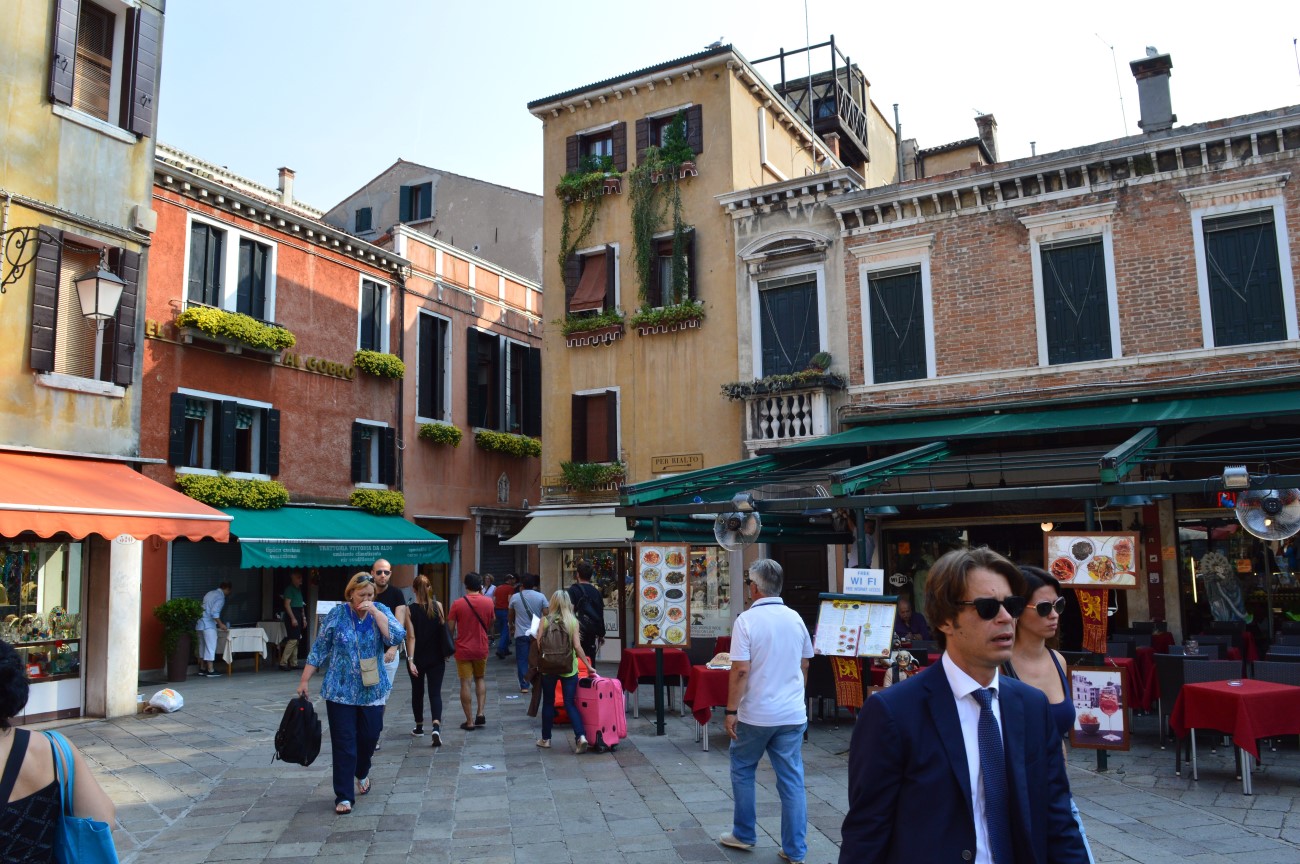 Strada Nova in Venice
Morning Serenity:

The early hours are a magical time to explore Cannaregio. As the district awakens, you'll have the chance to experience its tranquil side, away from the daytime crowds.
Hidden Corners Await:
Venture beyond the well-trodden paths and discover hidden treasures. Campo Santa Maria Nova and the Church of the Madonna dell'Orto are among the district's lesser-known gems.
Unveiling an Incredible Fact:
Did You Know? The Strada Nova, a bustling street in Cannaregio, was designed to connect the railway station to the Rialto Bridge in the 19th century, at a time when Venice was under Austrian rule. Its construction transformed the district's dynamics, providing a bridge between Venice's historical past and its modern pulse.
"The Strada Nova is a living testament to Venice's evolution. It's where history and modernity converge, offering a glimpse into the layers that define our city." - Giulia, a shop owner.
In Closing: An Authentic Venice Awaits
Cannaregio, Venice's well-kept secret, is an embodiment of the city's timeless allure. A stay in this district grants you more than accommodations; it grants you the chance to live Venice, to breathe in its history, and to form connections that span generations. As you explore its alleyways and connect with locals, you become a part of the narrative that has shaped Venice's identity. In Cannaregio, authenticity thrives, and an unforgettable Venetian adventure awaits those who seek to unravel its mysteries.
Please Book with Us... Maria here, if you enjoy my site I'd love your support.
Simply book your next trip anywhere (not only to Italy) via the link below or with any of the hotel links on the website.
You'll get the best deal available and the income I receive helps me to remain independent and to keep bringing you more of beautiful Italy.