Spaghetti Bolognese DOES NOT EXIST in Italy
Instead, here is the delicious real version...
I guess many people will be shocked to find out that the most "Italian" of all Italian recipes: Spaghetti Bolognese isn't even Italian - let alone "Bolognese". In fact you won't find this dish in any self-respecting restaurant, home or even office canteen in Bologna. In Italy, it goes the way of Pasta Alfredo or Hawaiian Pizza - out the door never to be invited back. 
So what do the good folks of Bologna eat instead?
Well, they've a far better alternative called Tagliatelle alla Bolognese. It is absolutely wonderful.
Once you've tried it I bet you'll banish Spaghetti Bolognese from your table forever.
Tagliatelle alla Bolognese
Ingredients
450 grams/1 pound of egg tagliatelle (fresh is best if you can find it)
7 oz/200 g ground/minced beef
7 oz/200 g ground/minced pork

2 cups tomato paste (passata di pomodoro)
1 stick of celery - thinly diced
1 thinly diced carrot
1 finely chopped onion
2 tablespoons olive oil
pinch of sea salt to taste
1/2 cup dry white wine.
5 basil leaves.
Grana Padano cheese for serving (use as per your taste - I like lots)
Cooking Instructions
For the ragù (Sauce)
The Bolognese sauce is best prepared the day before and left overnight to allow the tastes to infuse. 
In a large, thick-bottomed, pot heat the olive oil.
Add in the onion and let them brown;
next the carrots,
then the celery and basil.
Allow to cook, with the lid on, for five minutes.
Add in the mince,
once the mince has begun to dry out add in the wine.
When the wine evaporates, pour in the tomato sauce.
Salt to taste. 
Cover and cook on a low heat for at least two hours and stir regularly with a wooden spoon.
The aroma is wonderful, so family members are likely to want a taste... chase them away with the wooden spoon.
For the Pasta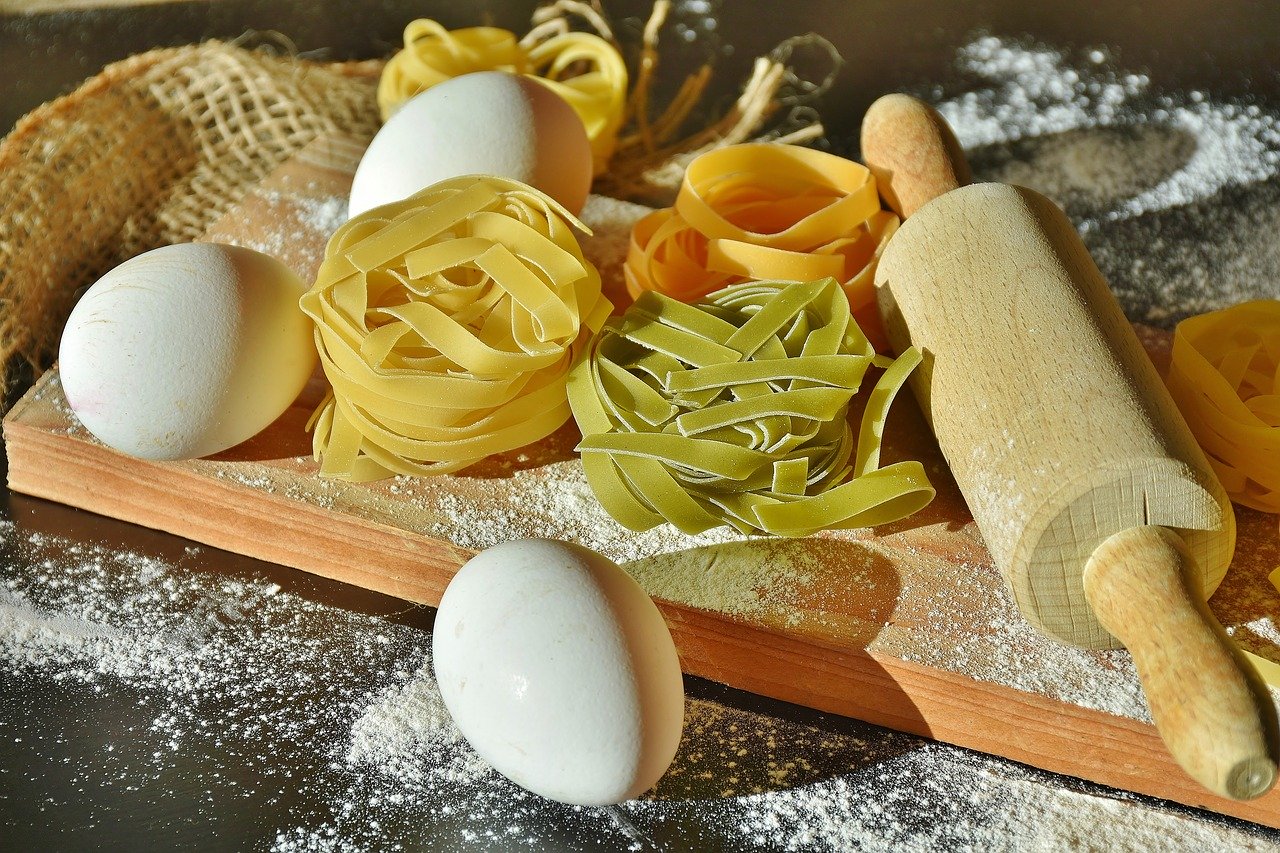 Boil water in a pot.
Once boiling add coarse salt.
Cook for a few minutes less than the packet says or, if fresh, until the pasta floats to the surface.
Drain and mix with the sauce in the sauce pot for a minute.
Serve with the grated cheese (Grana Padano or Parmigiano Reggiano).
Print Recipe

Please Book with Us... Maria here, if you enjoy my site I'd love your support.
Simply book your next trip anywhere (not only to Italy) via the link below or with any of the hotel links on the website.
You'll get the best deal available and the income I receive helps me to remain independent and to keep bringing you more of beautiful Italy.