Venetian Art - Painting of Venice

The beauty of Venice Italy has inspired artists for centuries (Canaletto being the most obvious name) and Venetian art is world famous.
I have longed to be able to offer contemporary art on the site that continues that tradition. Finally, after much convincing, a wonderful artist has agreed to allow me to offer limited edition prints of some of his greatest works.
The artist is Kurt Wagner. Kurt thinks there is nowhere in the world more beautiful than Venice Italy and I quite agree.
He has painted San Marco and Santa Maria della Salute, the fish market, the Grand Canal and many other corners and bridges in this enthralling city.
These prints of Kurt's paintings allow you to share in the great joy he gets from visiting Venice and to experience some of the centuries old charm of this enchanting city.
The photos on this page show a selection of Kurt's most important works.
Contact me at the bottom of this page if you would like to purchase or if you would like me to send you pictures of Kurt's other Venice watercolours.
Buy 1 pic for 42 Euros

Buy 3 pics for 86 Euros

Buy 6 pics for 152 Euros

So buy 3 and save 40 Euros or buy 6 and save 100!

Postage, for up to ten prints, is 15 Euros to Europe and 28 Euros elsewhere.

Scroll down to view these lovely paintings of Venice Italy...
This page only features a few of Kurt's Venice watercolours. If you contact me at the bottom of the page I will send you more pictures or details of how you can purchase these limited addition collectors items.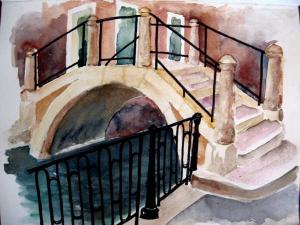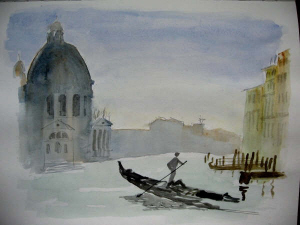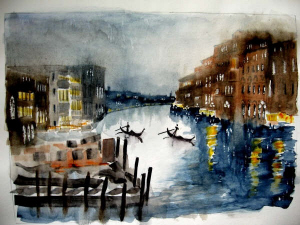 For details on how to purchase or for more of Kurt's paintings of Venice please contact me below...
Please Book with Us... Maria here, if you enjoy my site I'd love your support.
Simply book your next trip anywhere (not only to Italy) via the link below or with any of the hotel links on the website.
You'll get the best deal available and the income I receive helps me to remain independent and to keep bringing you more of beautiful Italy.