Thermo Spas near Venice Italy
I am often asked about the best spa in Venice to visit. I'll answer that question and many others that I am asked about spas in Venice near the end of this article.
However, if you love thermal spas, it may be worth taking a few days to visit some of those close to Venice. These spas are some of the best in all of Italy, and all of them are within a few hours drive from Venice. So, rent yourself a car and head out to spa paradise.

Where are the Spas near Venice?
Nearly all the thermal spas in the Veneto are to the west of Padua (Padova), and these are the nearest spas to Venice. They are ideal if you would like to combine some quality spa time with a visit to Venice.
The other Veneto spas of note are to be found near Verona and on the extreme eastern edge of Veneto, heading towards Trieste.
I have them all here on the site, but I begin with those spas nearest to Venice...
For a map of where these spas are click here.
Abano Terme
This is probably the most famous of the Veneto thermal spa towns, and the town focuses entirely on relaxation.
Best of all, there is not much else to do except cycle or enjoy good walks in the lovely countryside around town. Nearby are some gorgeous villages to explore at your leisure.
The mud baths here are world-renowned, and this was also the first place in Europe to offer this treatment.
The hot springs are equally famous. According to the tourist information office, they are, at 87°C, the hottest natural springs in the world, and there are more than 160 thermospa baths on offer in the dozens of hotels around town.
With so much on offer, it really is impossible not to find the perfect spa for your needs.
Where to Stay in Abano Terme

Abano Grand Hotel has been highly recommended by friends of ours. I have been around the facilities and it really does seem a lovely place with a range of thermo spas/pools, and a unique thermal steam cave. In comparison to the luxury offered it is not expensive either.
Yet another excellent 5 star choice is the Hotel President Terme. With top class facilities, healthy and delicious local food, discount green fees on three local golf course and much more this is a great choice.
The other hotel & spa that I have heard good things about, and it is a lot cheaper than the two above, is the Hotel Aqua. Abano is the perfect place for cycling and this hotel is renowned for organizing great cycling trips in the surrounding countryside and in the nearby Euganean Hills.
Montegrotto Terme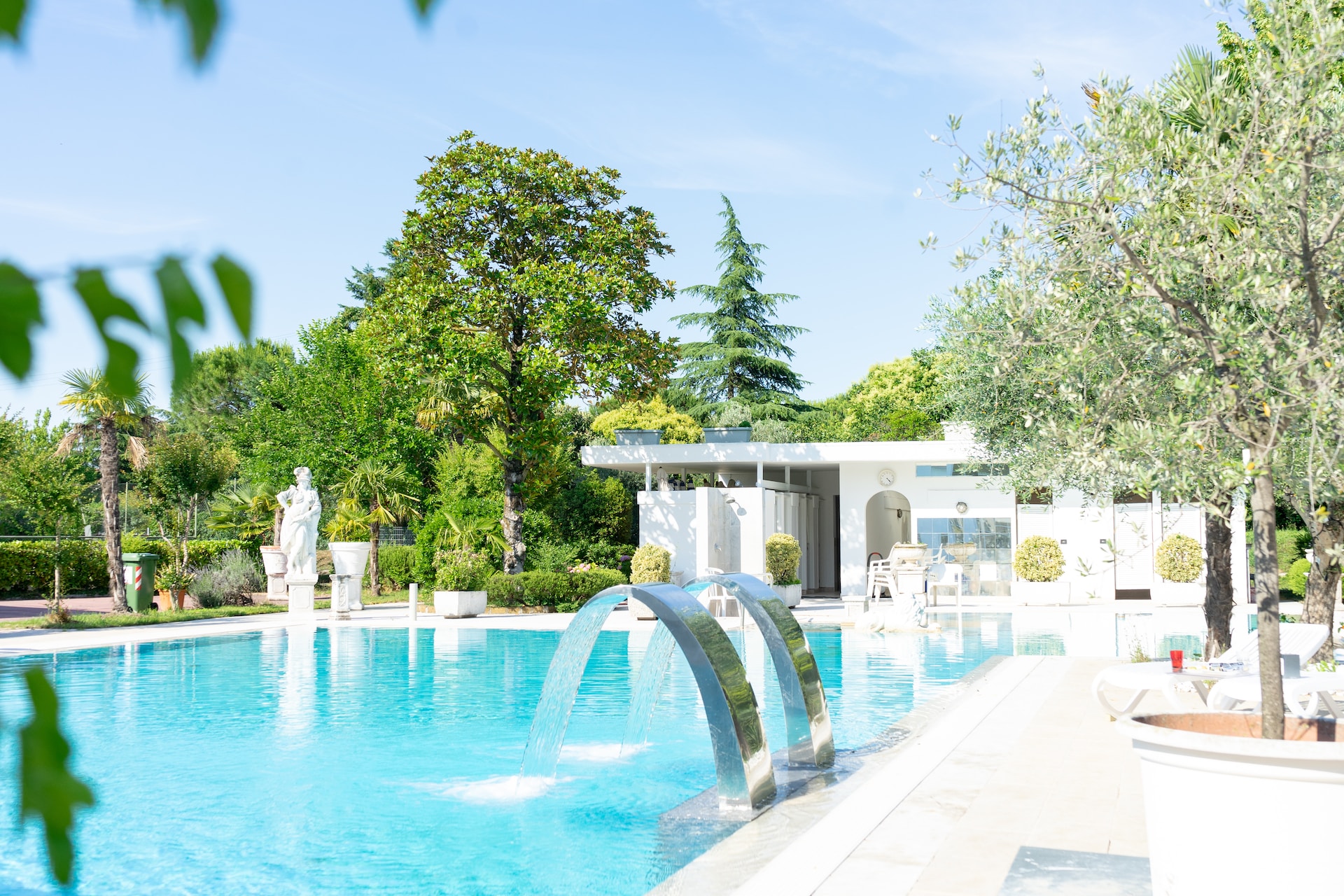 Montegrotto Terme, an extension of the renowned Abano Terme, offers its own unique attractions to complement the spa experience. While Abano Terme steals the spotlight with its thermal waters and wellness offerings, Montegrotto has something special to offer as well.
One notable highlight in Montegrotto Terme is the fascinating ruins of the ancient Roman baths. Stepping into this historical site is like taking a journey back in time, where you can imagine the grandeur of the Roman Empire and the importance of thermal baths in their daily lives. It's a captivating glimpse into the past that history enthusiasts and curious explorers will appreciate.
For those traveling with children, a visit to the butterfly park in Montegrotto Terme is a delightful addition to your itinerary. This enchanting sanctuary is home to over 500 species of butterflies, creating a magical atmosphere as they flutter around you. Walking through their world, you'll be mesmerized. It's an immersive experience that will leave both children and adults in awe of the wonders of nature.
While Abano Terme may offer a wider range of amenities and services, Montegrotto Terme adds its own unique touch to the overall experience. Whether you choose to stay in Abano or explore the nearby attractions in Montegrotto, both towns offer a wealth of opportunities for relaxation, wellness, and cultural exploration.
Nearby
In the Euganean Hills, around Abano Terme, there are a number of lovely thermal spa towns of note; Battaglia Terme and Teolo are probably the better known ones, but not to be missed is one of the best preserved Medieval villages in all of Italy called Arqua Petrarca.
Our Tip: 
If you are primarily interested in the spas, then stay in Abano; it's the spa mecca of the area and has by far the greatest choice when it comes to facilities and good hotels.

Bibione
Bibione is featured under my beaches guide and to be honest, I think it is better as a seaside resort than as a spa Town. It has a great beach, which is one of the longest and widest on the Adriatic coast, and it is a pleasant town surrounded by lovely pine forests.
The spa facilities cannot compete with Abano. The main center is the Bibione spa, and a lot of hotels are located around it. The thermospa water temperature is a lot colder than Abano—only" 52 degrees Celsius.
Overall the facilities are good but definitely lacking is the sense of luxury and of pampered relaxation to be found in Abano.
Recoaro Terme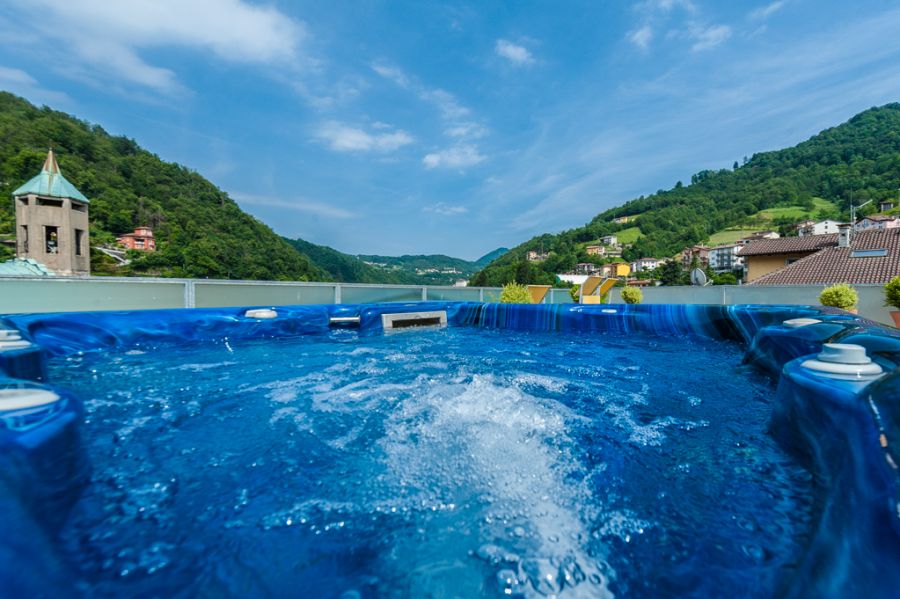 A short drive from where we live, Recoaro Terme is a place I know well.
Again Recoaro can't compare to Abano in terms of the range of spa facilities on offer but it is a peaceful town in an extremely beautiful setting with a lovely ski resort nearby .
Recoaro is one of the oldest spa towns in Italy and has nine natural springs, five of which are to be found in the Fonti Centrali complex, which is the main one in the town.
The five natural springs found in the Fonti Centrali vary considerably in terms of their benefits. Some of these springs are rich in magnesium, while others are rich in iron and other beneficial minerals.
Where to Stay in Recoaro Terme
This is really easy, The Hotel Trettenero, owned by the Cornale family, is the only choice. This hotel dates back to the 18th century and has been exquisitely restored.
Other Spa Resorts
There are a number of smaller thermo spa resorts in Veneto.
Resorts such as Terme di Caldiero, but these offer limited facilities compared to the places mentioned above and generally offer a more specialized service focusing on the treatment of particular ailments.
My personal advice is to visit Abano Terme if this is your first time visiting a spa in the Veneto. The town really offers everything you need, and the facilities are second to none.
Questions about Spas In Venice Italy
Absolutely! Venice is home to several top-notch spas where you can unwind and rejuvenate. The best spa option in Venice is the Casanova Spa at the Belmond Hotel Cipriani, known for its exquisite spa experiences and its world-famous Garden Ritual Treatment. Okay, any spa treatment in Venice is not going to be cheap, and the Belmond Hotel Cipriani certainly isn't in the "affordable" category, but it is an experience you will always remember, and what price can one put on making memories that will last a lifetime?
Venice offers a diverse range of spa treatments to cater to every preference.
While Venice itself doesn't have natural thermal springs, there are incredible thermal areas nearby that are worth exploring. Scroll up to the top of the page to find all of the best ones.
Please Book with Us... Maria here, if you enjoy my site I'd love your support.
Simply book your next trip anywhere (not only to Italy) via the link below or with any of the hotel links on the website.
You'll get the best deal available and the income I receive helps me to remain independent and to keep bringing you more of beautiful Italy.