Venice Tourist Attractions
San Giorgio Maggiore
San Giorgio Maggiore was one of the Venice tourist attractions that struck me the most on my very first visit to Venice nearly twenty years ago.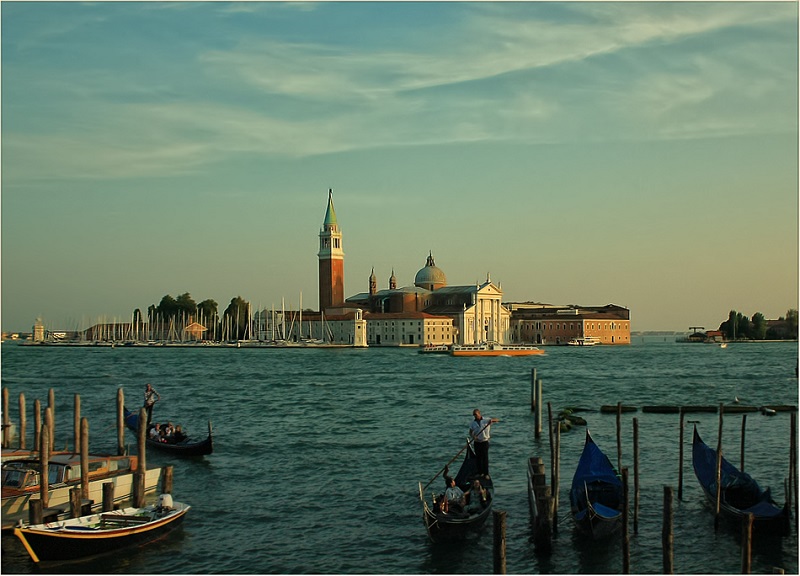 Looking across from St Marks Square the island of San Giorgio is a splendid sight indeed and yet relatively few tourists ever seem to make the trip over to the island. I have never understood why and it is a mistake not to go across if you have the time.  

Built in the 16th century, San Giorgio Maggiore was designed by perhaps the greatest architect the Veneto has ever produced – Palladio. Finished only after his death; it was completed in accordance with his original design.  Over the centuries it has inspired many of the greatest artists of the world. including Monet and many others - have a look at some of Monet's paintings of San Giorgio Maggiore here.
Highlights
An impression of airy brightness pervades both the interior and exterior and the facade in splendid white is startling. On entering the impression of luminosity is even more profound.
The paintings include three important works by Tintoretto. These are the Last Supper and The Fall of Manna both of which are located behind the altar. To the right of the choir –in the Chapel of the Dead - you will find Tintoretto's other work -Deposition. Of significance too is Sebastiano Ricci's Madonna in throne with Saints.
Do take a trip up in the elevator to the top of the bell tower. The panorama across Venice from the top is spectacular - perhaps the best view from up high in all of Venice.
An Unusual Place to Stay
Just down the way from San Giorgio Maggiore, in La Giudecca, is a very unique place to stay - it is a luxury yacht, come houseboat, available at very reasonable rates. Called the Sarah Sun Island, this is an exciting and unique way to see Venice Italy.
Getting Here
It is not difficult to get across to the island of San Giorgio. Take the water bus (Vaporetto) number 2 from Riva degli Schiavoni and get off at the San Giorgio Maggiore stop. The photo above was taken near the "bus stop" and, as you can see, you won't ever find a better spot to wait for a bus.
San Giorgio Maggiore should certainly be on your list of not to be missed Venice tourist attractions.
Find all the hotel you need with the search box below...

Please Book with Us... Maria here, if you enjoy my site I'd love your support.
Simply book your next trip anywhere (not only to Italy) via the link below or with any of the hotel links on the website.
You'll get the best deal available and the income I receive helps me to remain independent and to keep bringing you more of beautiful Italy.