Weather in Venice Italy
Venice could be called the best city in the world in many respects, but the weather in Venice definitely won't win any awards. It does depend on personal taste, though; some people love the weather in Venice at Christmas time, when the days are cold and misty but very evocative.
Others prefer the weather in Venice during the summer, when days and nights are hot and sultry. We've got all you need to make an informed choice, and once you've decided on when to visit, our What to Wear in Venice Month by Month guide near the bottom of the page will help you pack.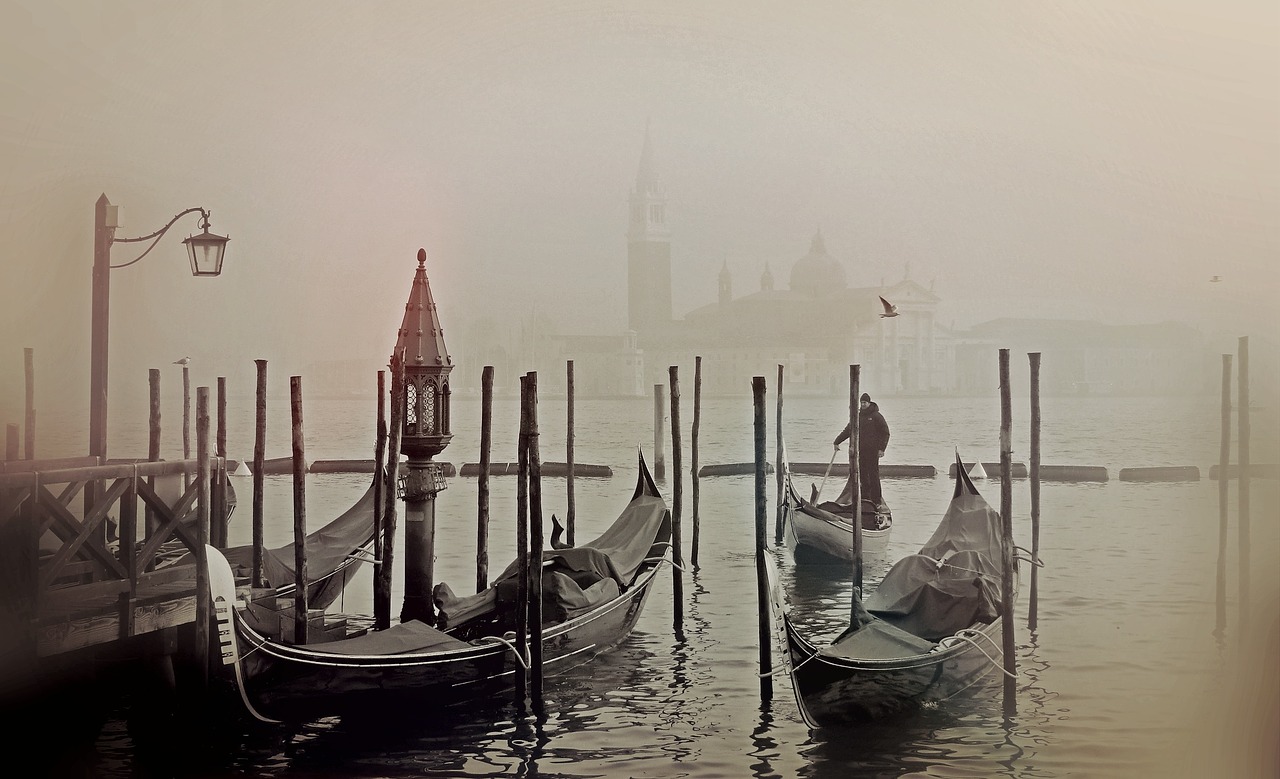 Extreme Weather Events in Venice
While Venice is famous for its dreamy ambiance, it's no stranger to extreme weather events that capture the world's attention.
One such event is the notorious acqua alta, or high water, when unusually high tides flood the city. These tides occur predominantly between autumn and spring when strong winds push water into the Venetian Lagoon. Piazza San Marco, the lowest point in the city, often bears the brunt of the flooding. Tourists and locals alike sport colorful rubber boots known as "wellies" to wade through the temporary waterways.
There is good news and bad news about the floods and the plans Venice has to deal with them. Our Venice Flooding Explained article has all you need to know before you go. 
Another weather phenomenon that occasionally visits Venice is the notorious "Sirocco." This warm, dry wind blows in from the southeast, often carrying fine dust particles from the Sahara Desert. When the Sirocco hits, Venetians batten down the hatches as visibility diminishes and a reddish haze blankets the city. Despite the dusty inconvenience, there's something strangely captivating about the mystical Venice meets the Sahara atmosphere created by this unique weather event.
The Climate in Venice & When to Visit
December to April

December until the end of April is often bitterly cold, and on misty winter days, the damp really seems to soak into your bones.
The good thing about the winter weather, though, is that it keeps a lot of tourists away. Venetians seem to pop out of the woodwork once again, and you'll get to see real Venetian life. This gallery gives you an idea of what I mean.
Then there's the fact that the narrow alleys and canals are hauntingly beautiful in a winter's mist: Christmas in Venice is really magical; and of course, there's the Venice Carnival.  All in all, I'd say this is a pretty good time to be in Venice.

May and June 
In May
Venice awakens from its winter slumber, bursting with renewed energy. The city comes alive with blooming flowers, vibrant colors, and a palpable sense of anticipation. The weather during this time is generally delightful, with temperatures ranging from mild to warm, making it pleasant for leisurely walks along the canals or enjoying a delightful gondola ride without jostling through large crowds.
June
A continuation of the enchantment experienced in May. The days become longer, casting a golden hue over the city, and the temperatures gradually rise, as do the tourist numbers. The city is getting crowded, but it isn't yet as overwhelming as in July and August. The pleasant weather in June allows you to fully appreciate all that Venice proudly showcases, from the majestic St. Mark's Basilica to the grandeur of the Doge's Palace.
ALL THE TOP-SIGHTS IN ONE TRIP
🚩 Stroll across the Rialto Bridge, take a ride on a traditional gondola along the Grand Canal, see St. Mark's Basilica, Doge's Palace and other magnificent places in just a day!
Book herе
July and August
These two months, July and August, bring a different side of Venice to the forefront. The city pulses with energy as tourists from around the world flock to its narrow lanes and canals.
However, it's important to note that these months can also be scorching hot and extremely humid, with temperatures occasionally soaring to around 34°C (90°F) and the real feel way hotter still.
The combination of high temperatures and a sea of people meandering through the city's narrow alleys can make for a rather nasty experience. That's why I would recommend considering an alternative time to visit Venice if you have the flexibility.
September
In September, as the summer season starts to wane and a tranquil ambiance settles over Venice, The weather remains pleasantly warm, with a gentle breeze coming off the lagoon, providing a refreshing respite from the heat.
As the crowds dissipate, you can explore Venice at a more leisurely pace. September also brings with it the famed Venice Film Festival, which attracts renowned filmmakers and celebrities from around the globe.
October and November
Early October can be lovely with mild and sunny weather; however, the later into October you go, the more likely it is that you'll get cool and rainy weather.
If you are coming to Venice in the winter, the only month to absolutely avoid weather-wise is November.
November is the month of the year when it rains the most, and it is also the month when high-water flooding, or acqua alta, occurs most frequently.
Getting your feet wet on a freezing day can be a highly miserable way to experience the city. So if you are here in November, bring your galoshes!
What to Wear in Venice Month by Month
January and February:
Brace yourself for the chilly winter months in Venice, with temperatures ranging from 3-7°C (37-45°F). It's time to layer up and stay cozy! Grab your warmest coat, wrap a snug scarf around your neck, and don't forget a cozy hat to keep your ears toasty.
Waterproof boots or shoes are essential to navigate the occasional rain showers that may surprise you. And if you're lucky enough to be in Venice during the world-famous Carnival in February, unleash your creativity and join the festivities by donning an exquisite mask and a dazzling costume!
March and April:
Spring brings a touch of warmth to Venice, with temperatures ranging from 9-15°C (48-59°F). It's the season of unpredictable weather, so layering is your best friend. Pack a mix of long-sleeved shirts and lightweight sweaters, ensuring you have a versatile wardrobe to adapt to changing temperatures.
A lightweight jacket is a must-have for those breezier days, and don't forget to tuck a trusty umbrella into your bag. As the city awakens from winter slumber, you may catch glimpses of colorful blossoms adorning the streets, adding an extra touch of charm to your explorations.
May and June:
Summer is on the horizon, and Venice revels in pleasant temperatures ranging from 15-23°C (59-73°F). It's time to shed those layers and embrace the sunshine! Pack your suitcase with light and breathable clothing like T-shirts, shorts, and breezy dresses for those glorious sunny days.
As the sun sets and Venice takes on a romantic glow, a light sweater or jacket will keep you comfortable during evening strolls along the canals. 
July and August:
Summer brings warmth and sunshine to the city, with temperatures ranging from 20-30°C (68-86°F). It's time to dress comfortably and beat the heat! Opt for lightweight fabrics like cotton and linen to stay cool and breezy throughout the day.
Don't forget to shield yourself from the sun's rays by wearing a stylish hat, sunglasses, and a generous coat of sunscreen. Whether you're exploring the iconic landmarks, shopping for unique souvenirs, or gliding along the tranquil canals, embracing the summer vibes will make your Venice experience unforgettable.
September and October:
Autumn sets the stage for cooler temperatures in Venice, ranging from 14-22°C (57-72°F). It's time to get creative with layering once again. Pack a mix of long-sleeved shirts, light sweaters, and a waterproof jacket to tackle occasional rain showers.
Comfortable walking shoes are a must as you navigate the picturesque streets . And if you're lucky, you might catch a glimpse of the Venetian locals celebrating historical regattas and other traditional events during this vibrant season.
November and December:
Winter returns, bringing cooler temperatures ranging from 4-9°C (39-48°F). Bundle up and embrace the cozy vibes of Venice during the festive season. Wrap yourself in a warm coat, layer up with scarves and gloves, and don't forget to wear comfortable boots to navigate the charming streets.
As the city prepares for Christmas, you'll be captivated by the magical decorations adorning every corner, from twinkling lights to enchanting market stalls. Embrace the holiday spirit and immerse yourself in the joyous atmosphere that Venice has to offer.

Questions about the Weather in Venice
The best weather in Venice can be enjoyed during the months of May, June, and September when temperatures are pleasant and crowds are relatively small.
In winter temperatures ranging from 4-9°C (39-48°F), it's essential to bundle up with warm coats, scarves, gloves, and waterproof boots to combat the chilly temperatures and occasional rain showers.
Yes, Venice is prone to extreme weather events, including high tides known as "acqua alta" and occasional flooding. These events usually occur during the winter months.
Three Day Venice Weather Forecast

Find more on Venice, Italy and weather. Try our Search Engine.
Please Book with Us... Maria here, if you enjoy my site I'd love your support.
Simply book your next trip anywhere (not only to Italy) via the link below or with any of the hotel links on the website.
You'll get the best deal available and the income I receive helps me to remain independent and to keep bringing you more of beautiful Italy.