Shopping in Venice
Shopping in Venice can be disappointing. People often write to me lamenting that all they find are tacky souvenir shops.
It doesn't have to be like that though.
There are some real gems scattered throughout the city - let's discover them...
Masks and Glass
Two of the most popular and beautiful items to purchase in Venice are masks and glass. It's not as easy to find quality as you might expect.
Most shops seem to sell poor imitations from China but the real ones are still there... if you look carefully and know where to go. 
To help you there's our guide to the masks, where you'll find details about Casin dei Nobili - the wonderful little store in the photo. I walk into Casin dei Nobili and I feel I've walked into an Aladdin's cave filled with wonders. Much to the irritation of my husband, I can spend ages in here.
For glass shopping, here's our Murano glass article.
Markets
Sometimes the soul of a city is to be found in its markets; this is the case in many ways with Venice.
Venetians still throng the stalls and streets around them - young and old they meet in a vibrant taste of a Venice before the tourist invasion.
Old people seem to use market day as a time to catch up with old friends from neighbouring districts and share the latest gossip. Housewives haggle with stall owners while excited kids and dogs run here and there trying (not) to trip up everyone.
Which are the best markets? These are my favorites:

Rialto
For sheer life and color no market in Venice is better than the Rialto market and no market in the world has a better setting. Here, in the shadow of the Rialto Bridge, an early morning ritual has been happening for close on a thousand years.
It's starts with the arrival of the barges at dawn and as they offload so begins a complete bedlam of shouting, joking and hard work.
It all looks chaotic to me but there is method in the madness and by 6am the market is in full throttle.
Make sure you get here early to experience it all.
Oh, and If you want to buy fish, vegetables or fruit this is the best market in the city from which to do so.

Mercatino delle Robe da Mar
One of the markets I enjoy most is this one in Via Garibaldi in the Castello District.
Via Garibaldi is a great street with some fascinating shops but the market really is the cherry on top.
It's only held in October - the same weekend as the Venice Marathon. If you're here then it's a great spot to pick up a unique souvenir from one of the many stalls selling antiques and unusual bric a brac.

Mercatino di San Maurizio
The best market in Venice for antiques is this one in Campo San Maurizio- it's held four or five times a year. Check out the market's website (http://www.mercatinocamposanmaurizio.it/) for the dates. It's in Italian but the dates are easy to see on the right side of the page.
Designer Shops
I know I'm Italian and I'm supposed to love designer...but I don't. However, If you're like most Italians and need designer clothes as much as your daily pasta then head to Calle delle Mercerie or Calle Larga XXII Marzo. Both are near St Mark's Square and have enough expensive designer boutiques to satisfy the most needy designer soul.

Bags, Flags and Shoes
Shopping for leather bags in Venice?  Every second shop seems to sell them. Most are actually made in China, with final assembly being done in Italy in order that they can stick a Made in Italy label on the bag.
For real Made in Italy bags visit Balducci Borse in Cannaregio 1593. Franco has been making bags by hand for decades in his small studio and selling them in his little shop. The bags are not just bags but works of art and labors of love.
Shoes: there are a few world class shoe stores in Venice. For handmade men's dress shoes try the world renowned Gabriele Gmeiner in Campiello del Sol,  San Polo 951. This tiny little work-room/store is hidden away in a tiny little square reached down a tiny little lane. Hard to find it is. Worth the effort? Definitely!
Want a pair of Venetian slippers?  Visit Piedàterre in S. Polo, 60, Rialto. The slippers are truly like wrapping your feet in silk and floating on air. They also produce a few bags, which are of great quality too, super stylish and loved by locals. The bags sell out really quickly so don't think about it  - if you see something you like buy it immediately. It will be gone the next day.

Flags: they sell Venetian flags everywhere, but don't buy those cheap imitations that start falling apart and fading once you get them home. Rather visit A. Santi di Moschini in Castello, Calle delle Bande 5276, their flags are the real thing - absolute quality and they are extremely helpful too.

Lace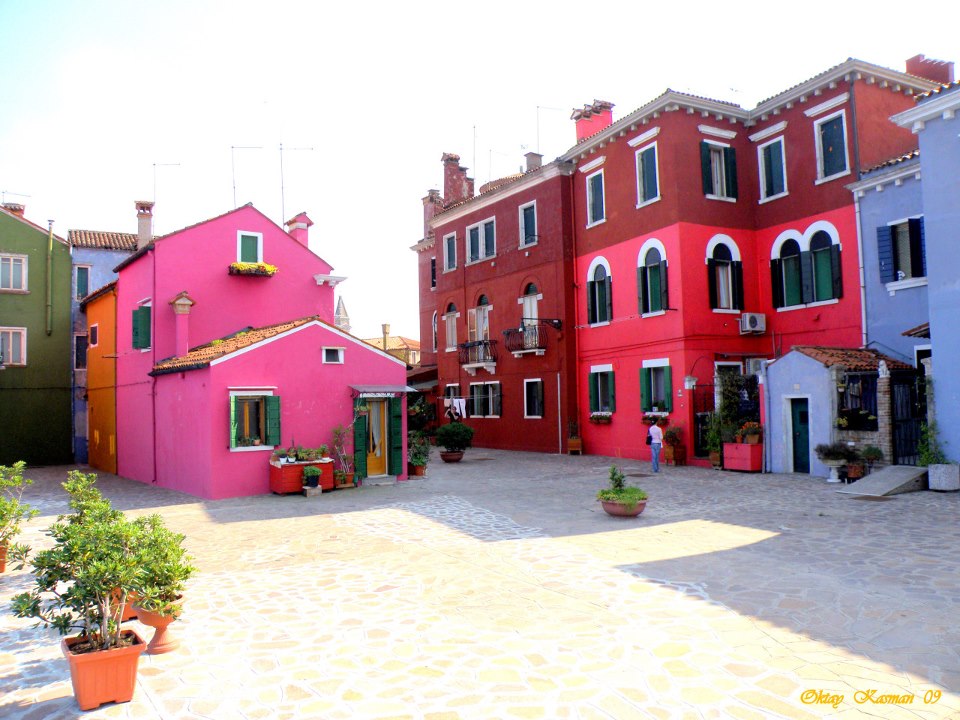 Burano is a colourful little island famous for its lace and only a short boat trip away from Venice. It's worth visiting just to see the fishermen's cottages painted in every color of the rainbow and to enjoy an atmosphere that's a world away from that of Venice. 
If you love top quality lace then you'll be in lace heaven here. The lace they make is the best in the world and they've been perfecting their techniques for over 500 years. They even have a lace museum in Piazza Galupi which is well worth a visit.  
In terms of buying then Martina Vidal in Via San Mauro 309 is one of the most famous shops although it is expensive. There are a lot of other little shops and studios however anything genuine and locally made is going to cost a lot. Considering it is all handmade and the best on earth then the prices are reasonable. 

Books
For an experience second to none you simply must visit the Acqua Alta bookstore at 5167/B Sestiere Castello.
This isn't a bookstore it's an incredible experience. You feel like you've fallen down a rabbit hole into wonderland.
There are books everywhere. Thousands of them.
They are in bathtups, in a gondola, from floor to ceiling.  A canal laps at the door and well fed cats laze languidly on book shelves.
I can't really describe it - you've got to visit yourself. If you visit please buy a book, any book, simply to support this Venetian institution. You can see more photos and find more information here.

If it's English books you're after the Wellington Books in Calle de la Mandola is by far the best option. They've a really good selection of books from classics to the latest best sellers and they're all in English.

The Ghetto
Venice's ghetto (view guide) is considered by Time Magazine to be "one of the world's 100 most important places".
It's not only historically important though, it's also a great place to shop and you'll find very few tourists here.
I love the little art galleries and antique shops scattered about the neighbourhood with Antichità al Ghetto on the edge of the ghetto at 1133 Cannaregio being a particular favorite.
The ghetto also has some superb delicatessens and bakeries filled with tempting treats. Spend a morning here and you'll not regret it... I promise.
For the Children
There aren't a lot of toy shops in Venice, but boys and dads will love Gilberto Penzo's boat store in San Polo 2681, Calle seconda dei Saoneri, 30125. Gilberto makes the most incredible scale models of gondolas and other traditional Venetian boats - each one is a work of art and hand carved from wood. He also sells DIY kits (my son absolutely loves them) and little wooden boats in bottles.

Please Book with Us... Maria here, if you enjoy my site I'd love your support.
Simply book your next trip anywhere (not only to Italy) via the link below or with any of the hotel links on the website.
You'll get the best deal available and the income I receive helps me to remain independent and to keep bringing you more of beautiful Italy.