The Top 10 Sights in Italy!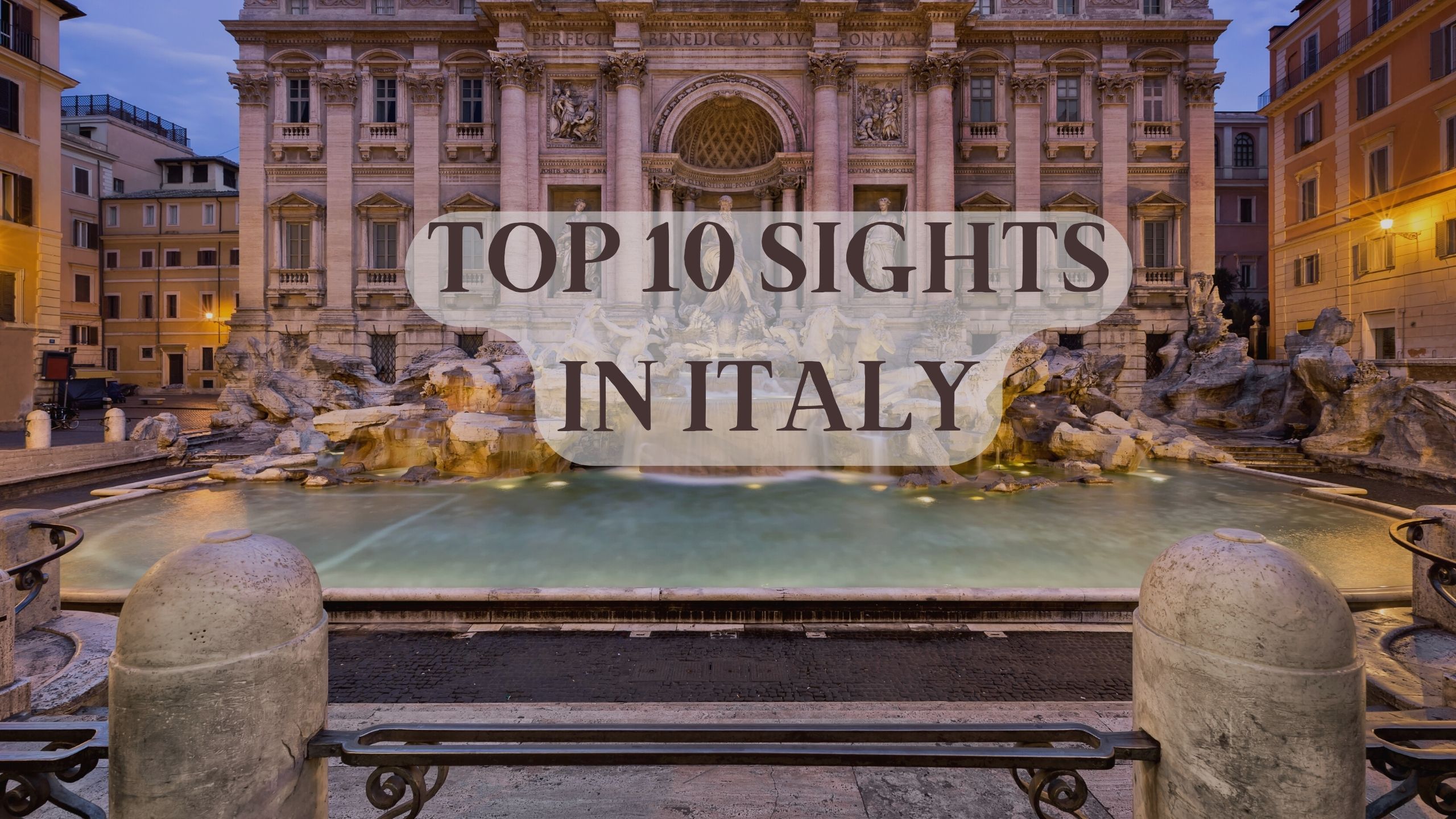 Well, we have the top 10 sights in Italy for you. Some on this list you may know, but I think a few will be a huge surprise! The top two, well, three, as there is a draw at the top of the list, are in Rome. Let's get started...
| Tip
Rome has a lot to offer: visit the Pantheon, the Trevi Fountain, Piazza Navona, the Spanish Steps and more on a walking tour with a break for gelato or coffee
1) At the top of the list we have two winners. Why two? Well, because one of the two is not really Italy proper; it is the Vatican and, as you probably know, the Vatican is its own country even though it lies right in the heart of the city of Rome. And the other one? Why, it's The Colosseum of course.
2) We stay in Rome for number two, and this is one of my personal favorites, it is the Pantheon: one of the best preserved of all Roman building and the dome's enormous size still leaves architects and engineers in awe.
3) Pompeii is next! It is a glimpse into another age but it leaves me in tears - it is so sad to see these poor people and get an understanding of the tragedy that hit them. A disaster that happened so quickly and changed their lives for ever. It makes you realise that we should never take anything for granted in this world of ours. Appreciate every moment.
4) Piazza San Marco in Venice - the most beautiful piazza in all of the world. Visit early in the morning, just before dawn to experience it at its very best.
ALL THE TOP-SIGHTS IN ONE TRIP
🚩 Stroll across the Rialto Bridge, take a ride on a traditional gondola along the Grand Canal, see St. Mark's Basilica, Doge's Palace and other magnificent places in just a day!
Book herе
5) Milan's Cathedral - in a country filled with beautiful churches and cathedrals this one is still exceptional. They tell me that it took 600 years to build and that just goes to show that nothing wonderful is ever achieved quickly. 
6) Le Galleria degli Uffizi, perhaps the greatest art gallery on earth? You can easily spend days in here.

7) Florence Cathedral is next, watch the start of our video below to see just how awe-inspiring this cathedral is. It also feature in our list of the most beautiful churches and cathedrals in Italy.
| Tip
⏳ Save your time with a superb skip-the-line tour that includes the Accademia Gallery and the Florence Cathedral.
8) The Palace of Venaria is likely not somewhere you've ever heard of. It is absolutely a must visit sight though, on a par with the Palace of Versailles in France. Read more about it here.

9) The Trevi Fountain - simply throw in a few coins for a return ticket to Italy. Get here very early though as it gets really crowded and that can spoil the enchantment of being at the Trevi Fountain.
10)The Rialto Bridge - gorgeous, but like so many of Italy's top attractions this too is often rather crowded, but get there really early in the morning and view it from a little way down the Grand Canal. You'll understand instantly why this is one of the most beautiful of all bridges.
See the top 10 sights in Italy in the video below...
Please Book with Us... Maria here, if you enjoy my site I'd love your support.
Simply book your next trip anywhere (not only to Italy) via the link below or with any of the hotel links on the website.
You'll get the best deal available and the income I receive helps me to remain independent and to keep bringing you more of beautiful Italy.