A Good Value Hotel in Venice

Locanda Poste Vecie

If you need a good-value hotel in Venice, in a perfect location, then look no further than the Locanda Poste Vecie (click for more photos and reviews by others). Once this was the old Venice post office, and now it's a splendid hotel with high ceilings and an old-world charm.
The history of Locanda Poste Vecie is as fascinating as its ambiance. The building itself dates back centuries, with origins rooted in the rich history of Venice. Originally serving as a post office during the Venetian Republic, it played a significant role in facilitating communication and trade within the city and beyond.
Over time, the building transformed into an inn, welcoming travelers from near and far who sought respite and shelter in the heart of Venice. Locanda Poste Vecie became a haven for merchants, artists, and explorers, who would gather and exchange stories in the inn's charming and convivial atmosphere.
That history and the many positive reviews I've received tempted me to visit to see for myself. So, the family and I decided to spend a few days here, checking out whether this hotel was as good as the reports we'd received.
My conclusion is that they are. As you explore the inn, you'll discover artifacts and relics that harken back to the building's past, each piece contributes to the tapestry of memories woven into Locanda Poste Vecie.
The restoration of Locanda Poste Vecie was undertaken with great care and attention to detail, ensuring that the historical integrity of the building was preserved. The aim was to create an authentic Venetian experience for guests, where they could immerse themselves in the history and charm of the city.
This is the sort of hotel I love—small and family-run, with the kind of personal service you hardly ever find nowadays. Maurizio, the Manager, is a star and seems to be everywhere, from checking you in to serving the excellent breakfast in your room.
Not only is the service superb, but the location couldn't be better either. You are within easy walking distance of the Rialto market, the Rialto Bridge, and Piazza San Marco, and you have some excellent restaurants nearby.
The restaurant next-door, that has the same name as the hotel, isn't owned by or connected to the hotel in any way. However, mention to them that Maurizio from the Poste Vecie hotel referred you, and you'll get a 20% discount.
Other good options are the Do Spade, which is 5 minutes walk away, while a little further afield you'll find the Trattoria alla Vedova, which offers an affordable opportunity to try the local specialties.
The Trattoria alla Vedova is my pick of the three and is worth the walk, click here for more details.
There's plenty of great shopping nearby, too. Have a look at our shopping in Venice guide for all the best and non-touristy stores you will definitely not want to miss while you are in Venice.
Rooms are a little on the small side, and on a gray day, they can be a little dark, but that is Venice; you struggle to find rooms that are spacious and bright unless you go with one of Venice's many four- or five-star hotel options; even then, most of those hotels aren't great. All are certain to be expensive and few are worth the money. If you do want a luxury hotel in Venice, though, our Best Luxury Hotel in Venice list is the place to start.
The bottom line, though, is that there are now very few good-value hotels in Venice, and even fewer are the good-value hotels where you'll receive a warm welcome and helpful, friendly staff; the Locanda Poste Vecie is one of them. If you'd like to find out more or book simply click here.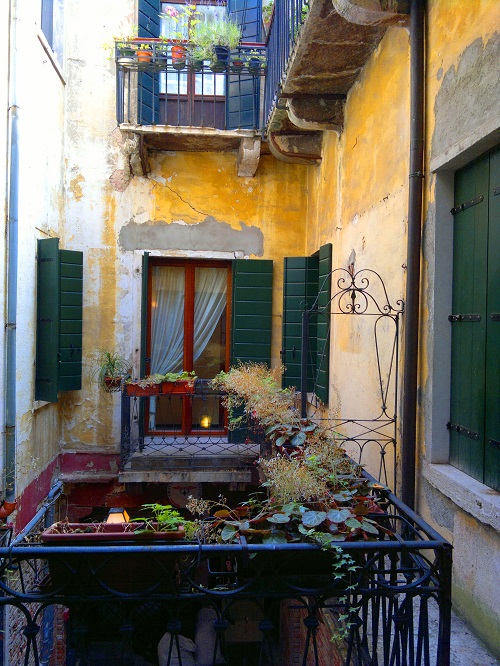 Please Book with Us... Maria here, if you enjoy my site I'd love your support.
Simply book your next trip anywhere (not only to Italy) via the link below or with any of the hotel links on the website.
You'll get the best deal available and the income I receive helps me to remain independent and to keep bringing you more of beautiful Italy.