Arsiero & Posina ( near Asiago )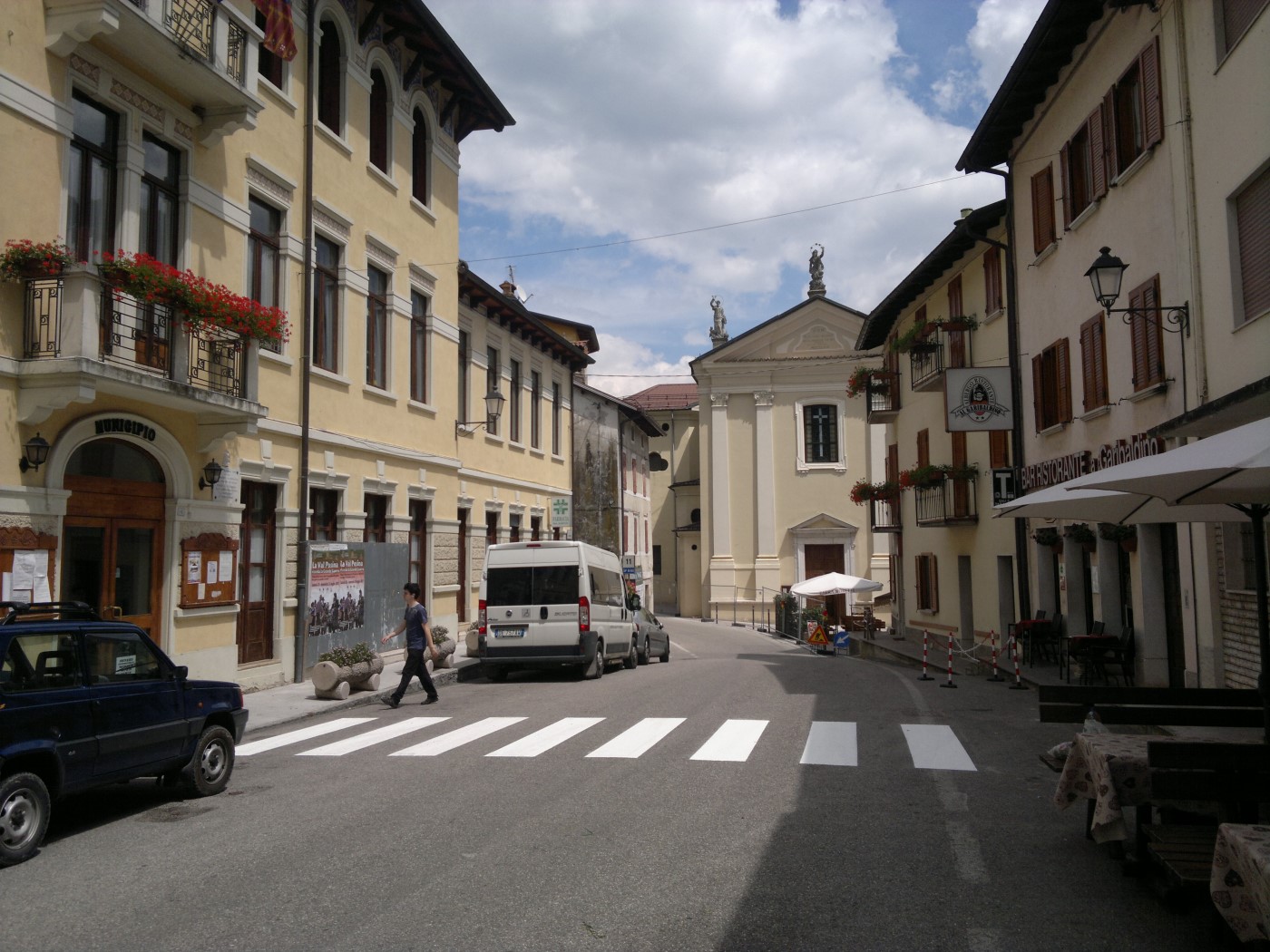 These two villages near Asiago have special significance for our family. My late father was born and grew up in a little hamlet outside of Posina before moving down to Arsiero and then finally to Piovene Rocchette. There's a map at the bottom of the page if you aren't sure where they are.

Arsiero
Arsiero is a bigger town than Posina, and it is a lovely little place to spend a few days. If you would like to stay longer, this is an ideal base to explore the nearby little villages and mountains. Here, time seems to slow down, and life takes on a rhythm of its own," remarks Giovanna, a local artist who I met in the piazza. Her sentiment always resonates whenever I wander through the narrow, cobbled streets lined with charming houses that seem to whisper stories of eras gone by.
In Arsiero, you will find some of the friendliest people on this planet and a fairly well-preserved town with a few very significant churches, one of which, the Church of Santa Maria dell'Angiadura, dates back to the 15th century.
The most impressive of all the churches is the Church of San Michele Arcangelo. It's on a little hill right in the middle of town (there is an elevator if you can't manage the stairs) and is one of the largest churches in all of Veneto. Before you head inside, admire the gorgeous views of mountains and plains from the terrace in front of the church. Once inside, things are just as awesome; there are impressive marble statues, and the altarpiece, by Albano Tomaselli di Strigno, is really fabulous. The artist was tipped to be one of Italy's greatest artists, but, tragically, he died of smallpox at the age of 23.
What Else to do in Arsiero?
There is a vast selection of things to do for those who love hiking, mountain biking, or climbing, and the local cuisine consists of some of the tastiest, most wholesome food you can find anywhere. My mother fattened my husband Andrew up considerably with this type of cooking.
On a Thursday, the local market is held. You'll find everything from shoes to seafood. Be sure to check out the cheese stall, which has some excellent local cheeses.
Where to Stay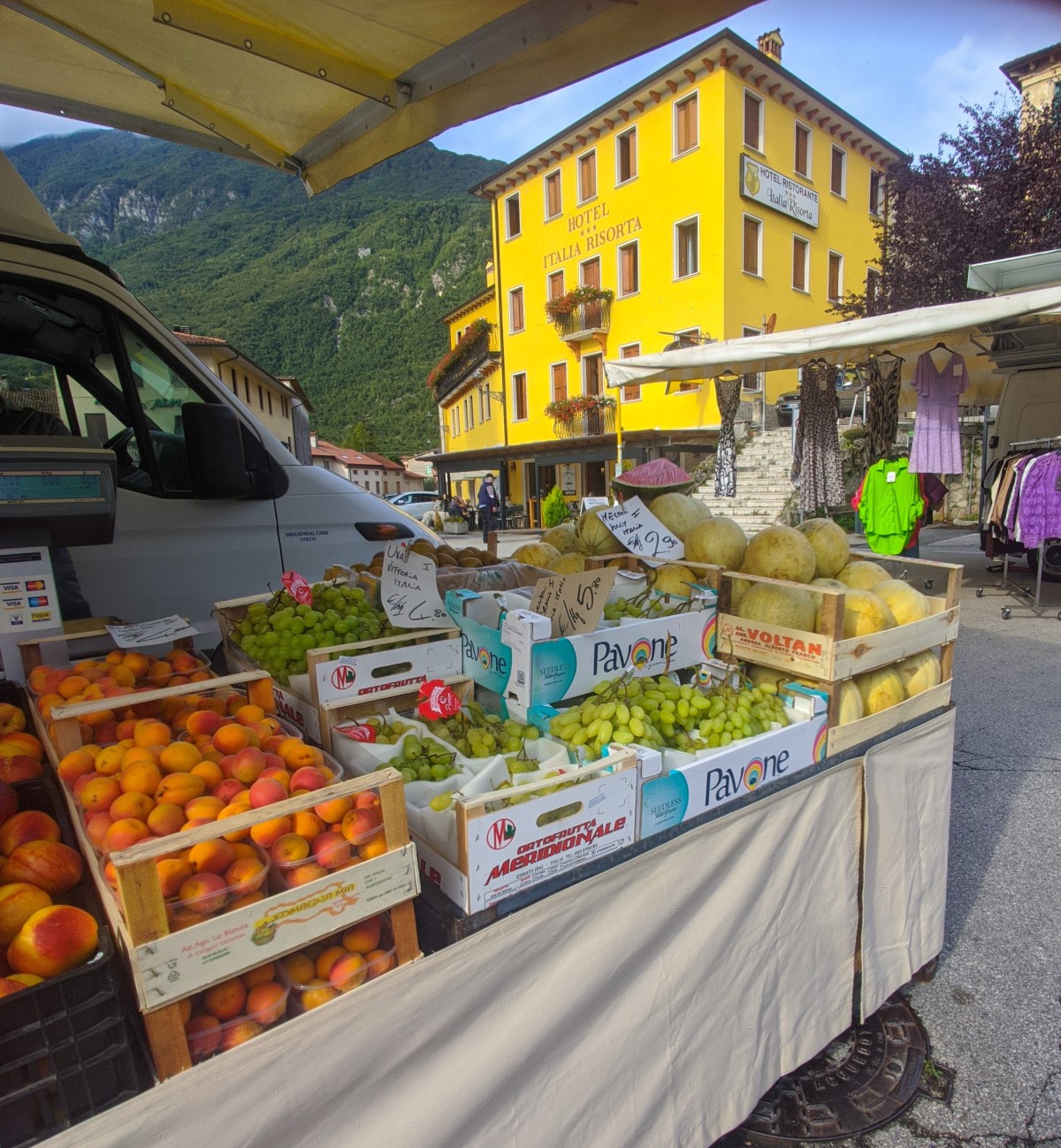 A good place to stay is the Irma Hotel & Restaurant - see our restaurant guide for details. The Irma is around a mile outside of Arsiero; however, If you'd prefer to stay right in town the Italia Risorta is an excellent choice.
---
Posina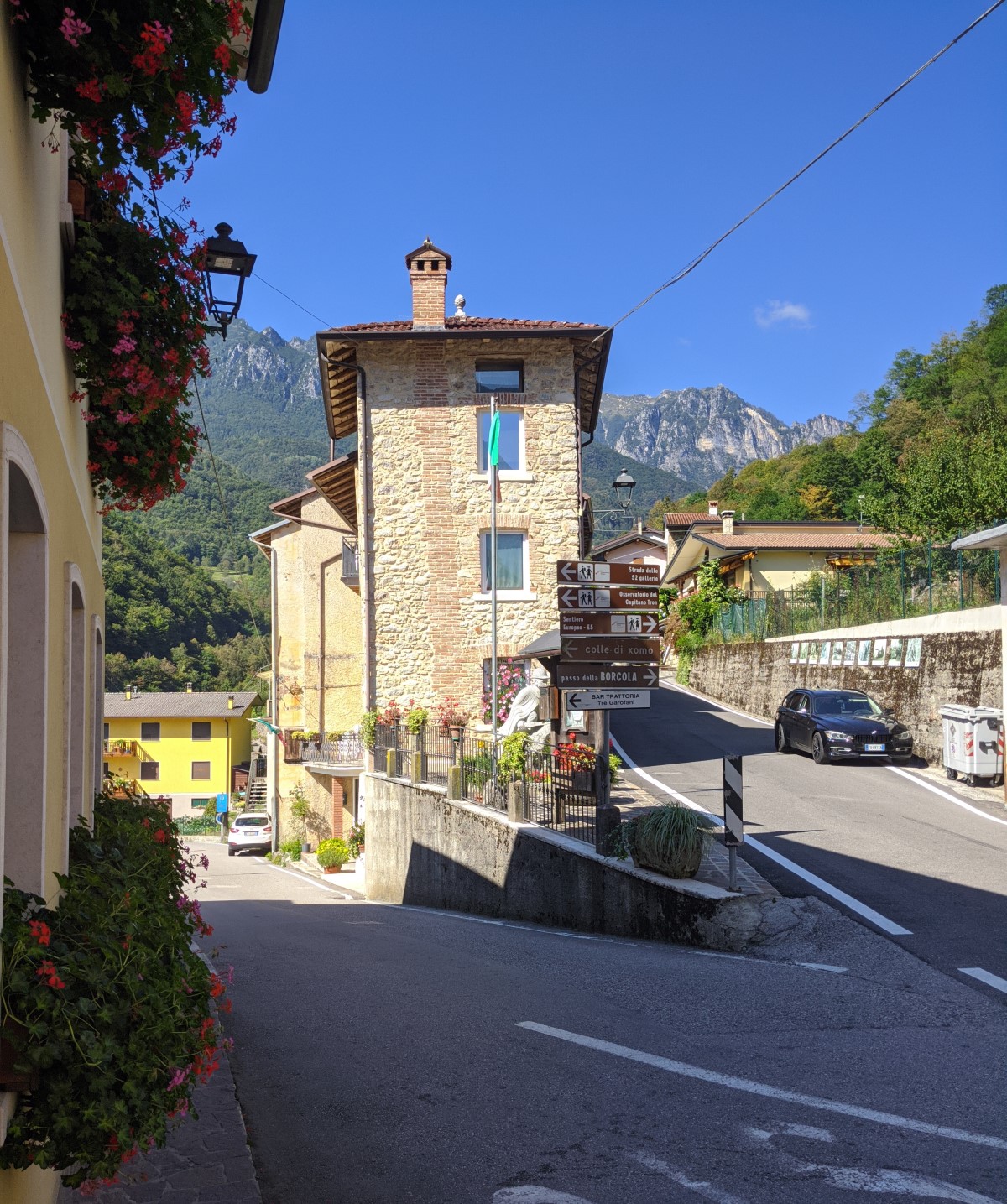 Posina, a little, tiny village about twenty minutes from Arsiero by car, is a sheer delight.
Here is a place where you can breathe clean, fresh air and escape from the stresses and strains of the modern world. The setting is very special. Green forests, snow-capped mountains, gorgeous lakes, and crystal-clear streams
Posina suffered badly during the war, and afterwards it was terribly poor. Many people were forced to emigrate to survive. There is a statue recalling all those who left for Argentina, the USA, Australia, South Africa, and Brazil.
Me, reading the local news in Posina
My dad often recalled those times when many had nothing to eat, and it is wonderful to see the town now as a prosperous place.

Spend a few days in complete peace and tranquility, with nothing to do but eat, sleep, and walk some of the excellent mountain trails around these parts. I guarantee you will return home feeling renewed and rejuvenated.
If you want to buy the great local cheese, similar to Asiago, and the famous local salumi called the sorpressa, then visit the Caseificio di Posina in Via Macello or La Botteghetta. You can't miss either of them, as there are only five streets in Posina.
Where to Stay & Where to Eat in Posina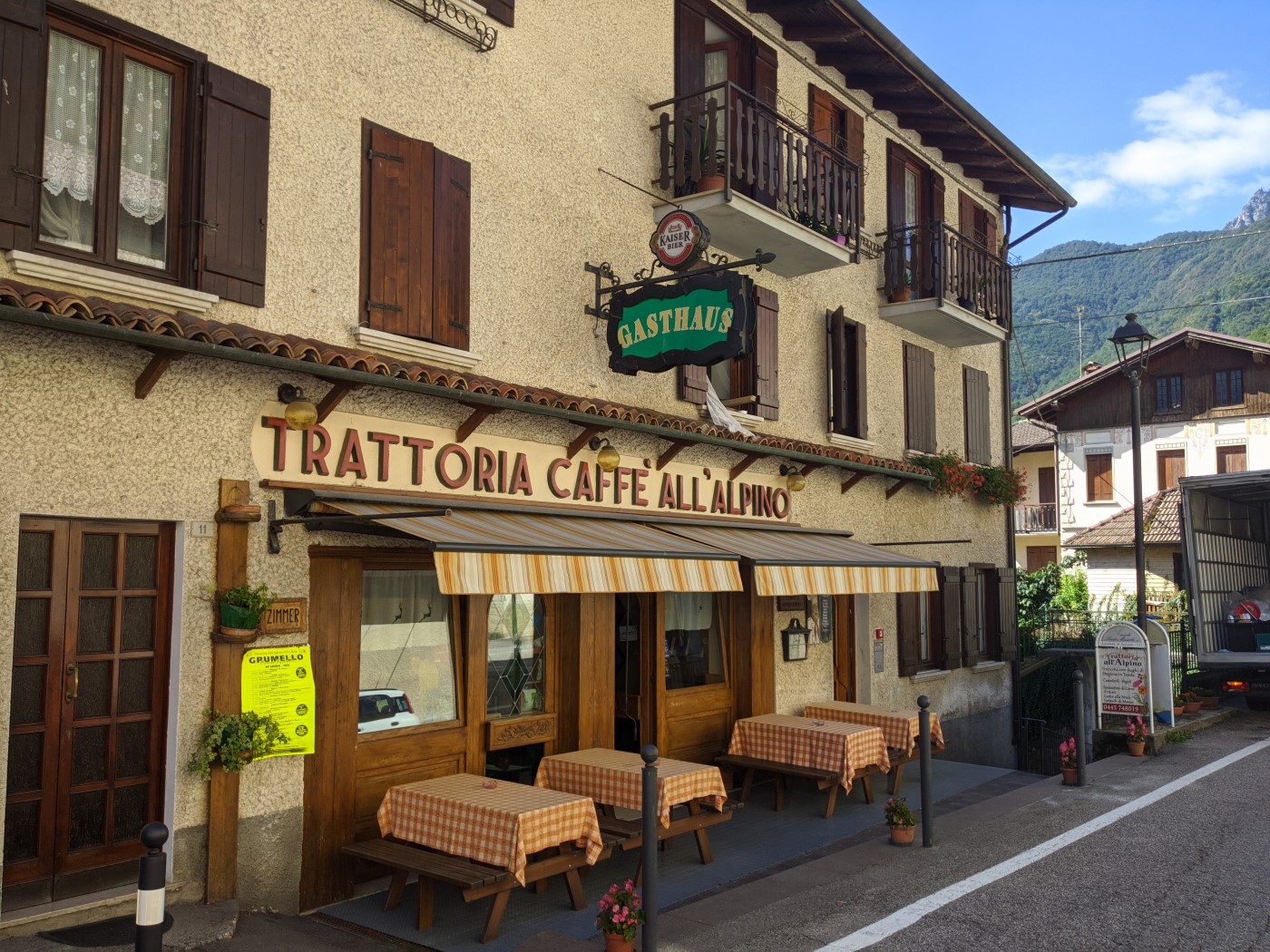 The Trattoria All'Alpino in Via Sareo is the best place to stay in Posina. Their restaurant is the perfect way to sample the delicious local mountain cuisine.
Particularly good are their gnocchi starters and the main courses involving deer and pheasant. They give you massive portions, and all of it is grown or caught on the hills around here.
What to See near Posina
The 52 Tunnels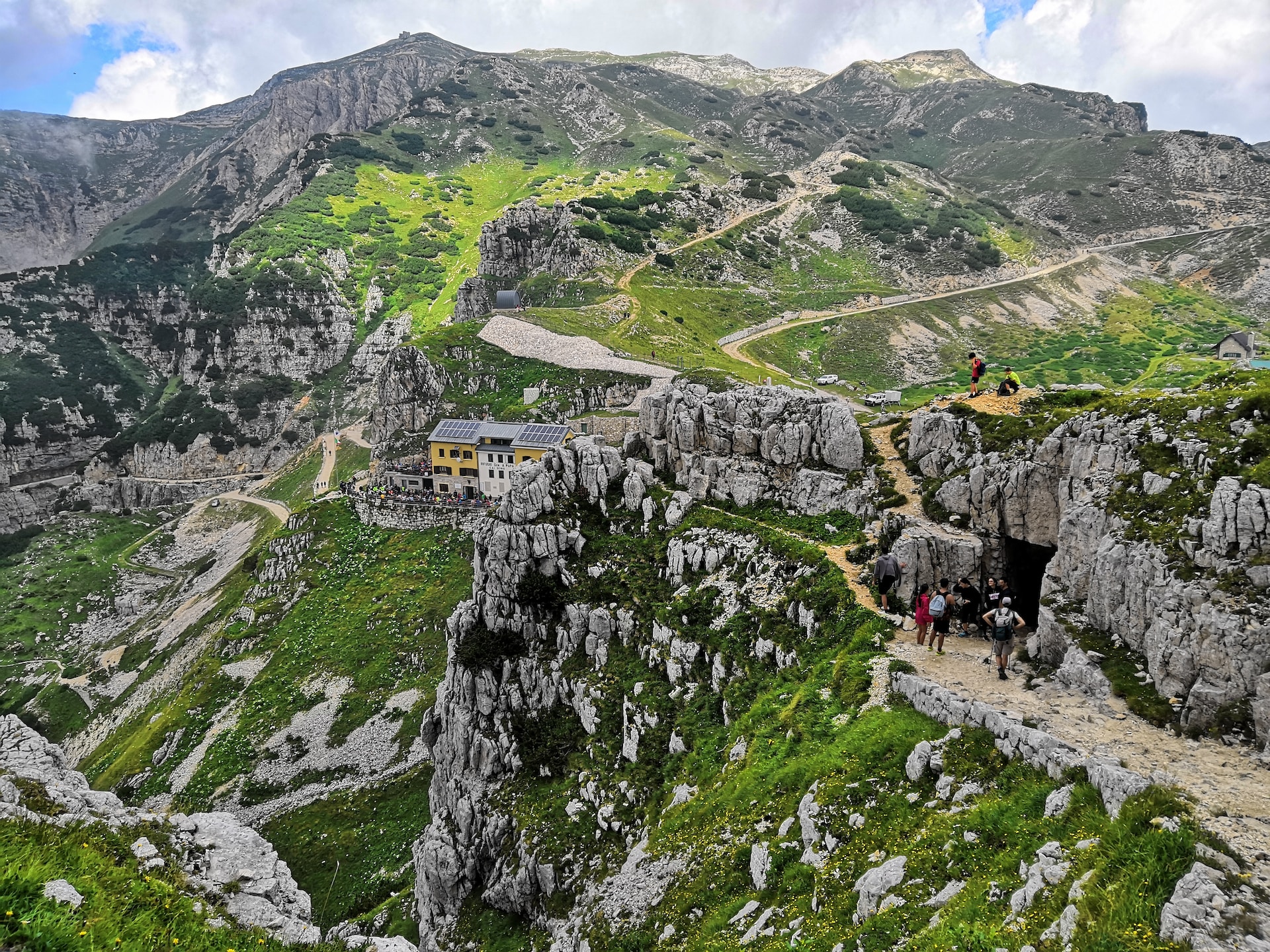 The 52 tunnels walk and the Rifugio Achille Papa
Exploring the 52 Tunnels is like stepping back in time. As I walk through the dark passages, I can't help but imagine the brave soldiers who once traversed these tunnels during World War I. It's a humbling experience that connects us to the history and valor of this region.

The 52 Tunnels are not only a symbol of our past, but they also represent the resilience and strength of our people. They are a testament to the sacrifices made by previous generations and a reminder of the importance of preserving our history.
This remarkable network of tunnels, also known as the "Strada delle 52 Gallerie," was built during World War I. The tunnels served as an essential military road connecting the Plateau of Asiago to the valley below and beyond the reach of enemy artillery. Carved into the mountainside, these tunnels provided a strategic transportation route for soldiers, supplies, and artillery. Today, they stand as a living testament to the history and valor of those who fought in the region.
Exploring the 52 Tunnels is a thrilling experience that offers a unique glimpse into the past. As you venture through the dark and winding tunnels, you can almost feel the weight of history on your shoulders. The damp walls bear witness to the struggles endured by those who traversed these passages during wartime and those who dug these tunnels out in record time.
Each tunnel tells a story, with its own distinctive character and atmosphere. Some tunnels are long and narrow, while others open up to reveal breathtaking views of the surrounding landscape. The countryside you walk through is blessed with natural beauty and enchanting sights. Take a moment to appreciate the lush greenery, rolling hills, and majestic mountains that frame this idyllic landscape. The scent of wildflowers fills the air, and the sound of birdsong serenades you as you embark on your journey. If you are lucky, you might see some of the wonderful creatures that inhabit the forests around here, everything from deer to badgers.
Stop for a hearty traditional meal at the Rifugio Achille Papa, that the building in the photo above. They do a fantastic traditional sausage and polenta dish. Try the local salami too, it is call sorpressa. 
Getting to the Walk
Park at the Passo Xomo parking area, take coins for the parking ticket machines. The walk you will take is the 366, it is well sign posted and ends at the Rifugio Achille Papa. From there take the Strada degli Scarubbi (path 370) back.
Important Safety Advice
When embarking on the 52 Tunnel Walk near Posina, it's important to prioritize safety to make the most of your experience. Here are some tips to keep in mind:
Plan ahead: Before starting the walk, gather information about the route, weather conditions, and any specific guidelines or restrictions. Check with local authorities or tourist information centers for the latest updates. 
Dress appropriately: Wear comfortable and sturdy footwear, as the terrain can be uneven. Dress in layers to adapt to changing weather conditions. It's also a good idea to wear a hat, sunglasses, and sunscreen to protect yourself from the sun.
Stay hydrated: Carry an adequate supply of water to keep yourself hydrated throughout the walk. It's essential to drink regularly, especially in hot weather or during strenuous sections of the trail.
Use proper equipment: If needed, bring a flashlight or headlamp to navigate through the tunnels, as some sections may be dimly lit. A walking stick or trekking poles can also provide stability and support on uneven terrain. No bicycles are allowed on the path.
Stay on the designated path: Stick to the marked trail and follow any signage or instructions provided. Venturing off the path can be dangerous and may disturb the local wildlife or delicate ecosystems.
Be mindful of wildlife: While exploring the area, respect the natural habitat and observe wildlife from a safe distance. Avoid feeding or approaching animals, as it can disrupt their behavior and potentially pose a risk to both parties.
Inform someone: Before starting the walk, let someone know about your plans, including the estimated duration and expected time of return. This ensures that someone is aware of your whereabouts and can raise an alarm if necessary.
Hamlets near Posina
Rader and Costamala Pistore are two picturesque little hamlets near Posina; not much happens in either hamlet, but the scenery is beautiful, and my father was born in Costamala Pistore.
You can purchase houses in these little hamlets for next to nothing—good prices, yes, but not quite like those houses that sell for a euro. (you can read why most of those are rather dubious here).
The sad thing is that there are few young people left and these hamlets, like so many in Italy, risk dying unless a way can be found to bring young people and families back.
Map of Posina and Arsiero
Return to a Secret Italy Index