Brenta Canal Boat Trips
Want to see how the 16th century rich and famous of Venice enjoyed their weekends and summer breaks? Well then the Brenta canal should be on you itinerary if you are visiting Venice and have a day to spare.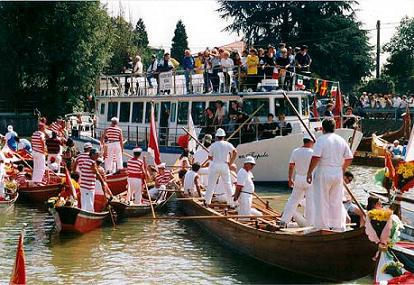 In the 16th century this trip was THE luxury excursion for the upper classes.
Many of these same people built sumptuous summer villas along the canal to escape from the sticky humidity of Venice – in fact well over 2000 of them were built back in the day and many of them are still here.
It needs to be said that some of them now look in dire need of some attention but a few have been lovingly restored to their former glory.
The trips were apparently summer outings of unfettered enjoyment and pleasure. Napoleon put a stop to all this frivolity in the 18th century but the boat trips have now made a comeback.
Trips normally start in Padua (Padova) and finish up in St Marks Square but trips from Venice to Padua are also available. If you leave from Venice the first bit (once you're out of Venice of course) is a bit flat and boring with little to see.
It gets interesting again once you start reaching the villas. The boats stop at all the main ones and you get a bit of a guided tour around them.
Barchessa Valmarana is lovely but Villa Foscari, which was once home to Lord Byron, and the Villa Pisani, are hands-down the best of them.
Boat companies charge around 70 Euro for the cruise which includes guided trips around three or four of the villas and a bus trip back at the end of the cruise. Most of them also make a stop for lunch, which is an extra 30 Euros or so. If you don't want this lunch you can bring your own picnic with you.
One of the better companies running the trips is Battelli del Brenta.
Need a place to stay in Venice? I can really recommend you consider one of these excellent hotels.
Looking for something to do with Italy? Try our Search Engine


More boat trips in and around Venice. 

Please Book with Us... Maria here, if you enjoy my site I'd love your support.
Simply book your next trip anywhere (not only to Italy) via the link below or with any of the hotel links on the website.
You'll get the best deal available and the income I receive helps me to remain independent and to keep bringing you more of beautiful Italy.