Pictures of Verona

It's always strange how Verona can make you feel like you belong. Spend three or four days here, and you'll sense that you were meant to live here. Something about the city charms and enchants like few others.

Yes, Venice is gorgeous, and so is Rome, but unless you really explore, you'll see mostly tourists. You don't really get a feel for "life" there.
In Verona, it isn't like that.
There are tourists, but they seem like a sideshow. Real life goes on all around, and it beguiles and tempts.
This seems to be the Dolce Vita you've always dreamed of.
Through the narrow lanes of the old town, locals "commute" by bicycle, old men play cards at pavement cafes, and animated discussions happen on street corners... I love it all. And if you wish to spend the night, then spend it in a gilded cage of luxury at the Gabbia d'Oro.
Sorry I can't offer you a plane ticket but hopefully these pictures of Verona will be the next best thing.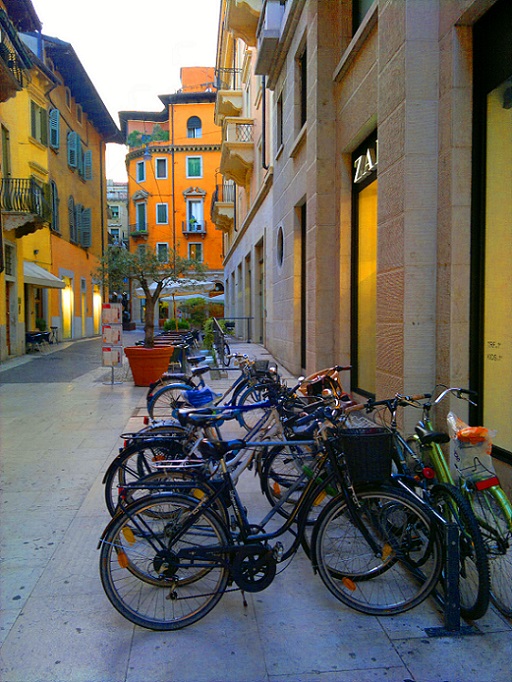 Bicycles are everywhere in Verona (view guide here) and there seem to be more of them with each passing year, There is no better way to explore the city than by bike and you don't need to bring yours from home either. They are easy to rent and cheap too. Most hotels will help you and in the main Piazza by the Arena there are plenty to hire.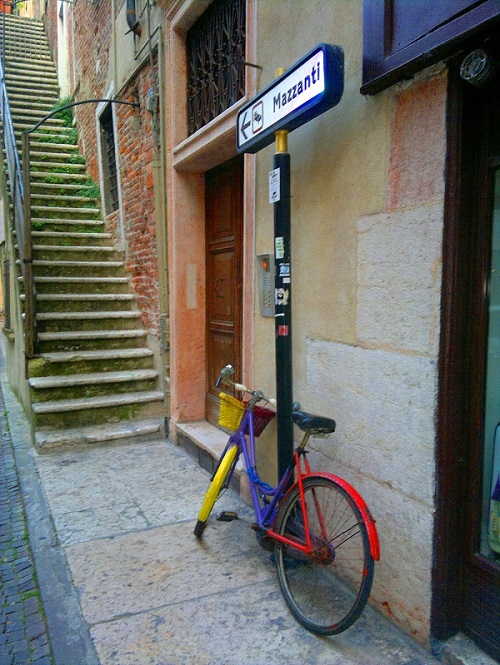 There was a limit to how far my bike would take me. I had to park it here and start walking!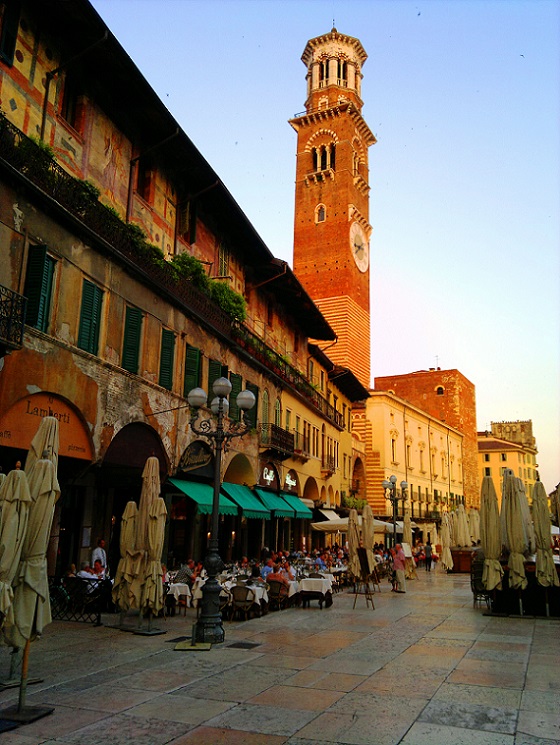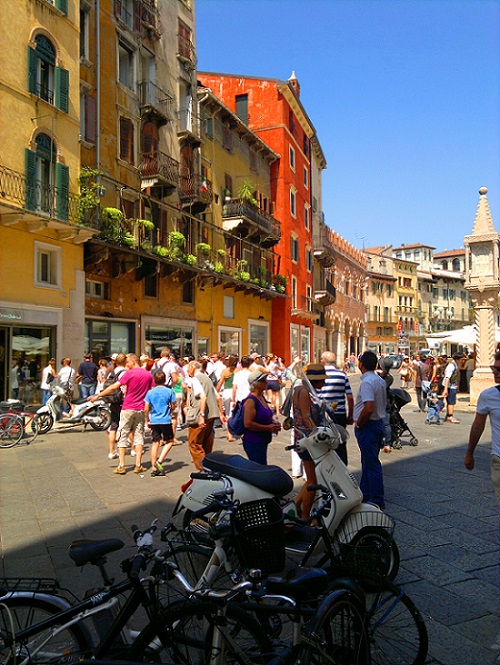 Piazza delle Erbe (two photos above) is one of Italy's loveliest piazzas and it is always filled with life, color and of course bicycles. This is the type of authentic piazza I meant when I included it on my bucket list  - see the list here.
You'll find old men arguing passionately over cards and grappa. Nonna meantime shares all her news and everyone elses with the other grannies. Housewives haggle over prices in the market and the children run around without a care in the world. Life doesn't get much better than this.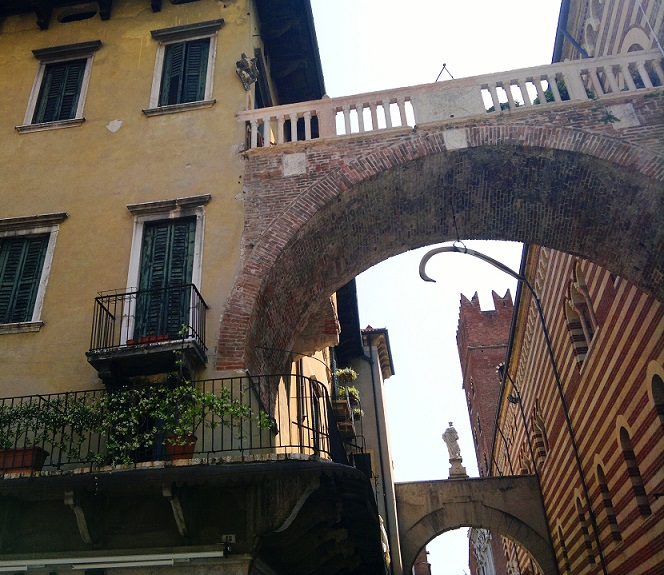 Picture taken just off Piazza delle Erbe.
Porta Borsari , on the edge of Piazze delle Erbe, is one of the loveliest streets in Verona and right where you'll find the incredible Gabbia D'Oro (Golden Cage).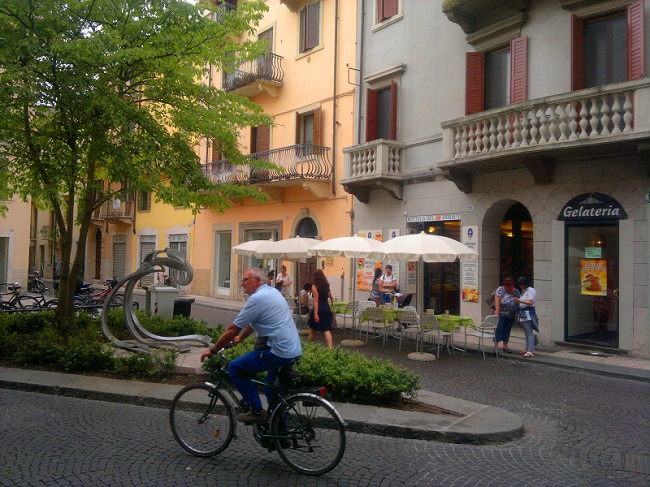 More of the gentle rythms of Veronese life.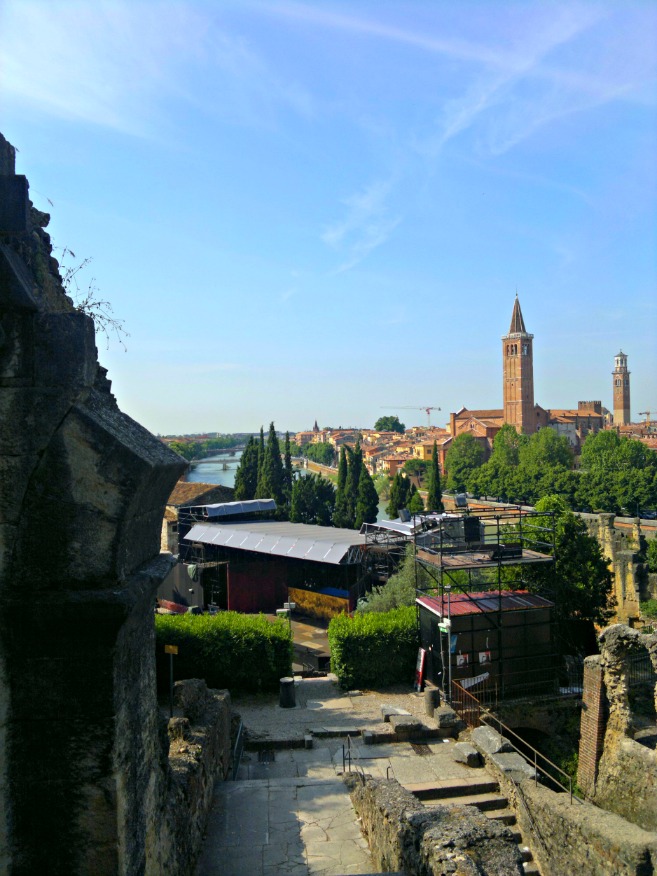 Wander out of the old town and up to the old Roman theater and this is the view you'll get. Lovely isn't it?


Please Book with Us... Maria here, if you enjoy my site I'd love your support.
Simply book your next trip anywhere (not only to Italy) via the link below or with any of the hotel links on the website.
You'll get the best deal available and the income I receive helps me to remain independent and to keep bringing you more of beautiful Italy.