A Personal Venice 
This guest article is by Frank Nelson. Thank you so much Frank for sharing your moving story with us...
Sadly, since publishing this article, Frank has passed away. This article will always remain on my website as a testament to Frank, who helped me and so many others see Venice in a new light.
Feeling Like a Kid Again
I love Italy; I changed so much with each visit. It's the one place where I feel like a kid again, happy and free, and looking forward to every day.  Suffering from a form of MD it's very unlikely I will get back to my beloved Venice ever again.
 Walking is very difficult now. 
But I will always remember walking the city and being out on the lagoon, until the Vaparetto closed down late at night.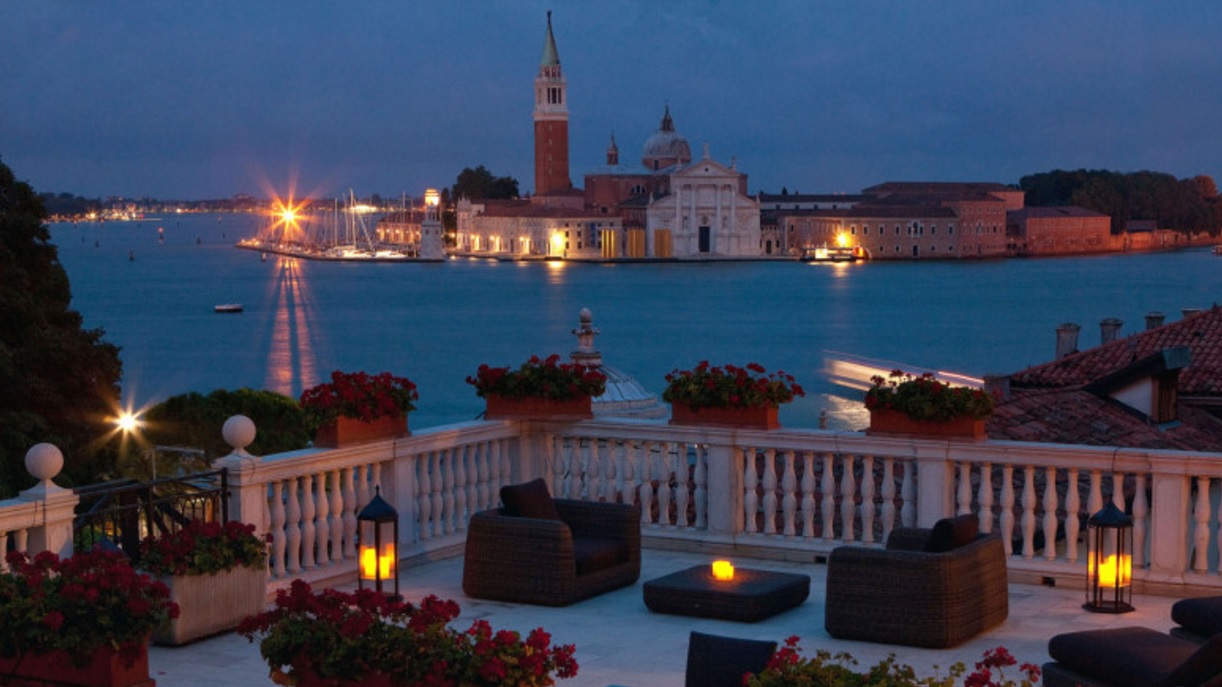 Venice from the Baglioni - click for more
Falling in Love with Venice
It took me a while to warm to it. For decades it was my personal mission to avoid Venice. It was tourist madness with hot, sweaty crowds, which has never been my idea of a good time. A happy accident in 2002 was the reason for my first trip.
My father rented a villa near Verona for the entire family and one Thursday we took the train to Venice and did the typical "arrive at noon, visit the highlights, eat a slice of American style pizza at the Rialto, walk to St Mark's in the afternoon", etc.
It was so busy for most of the day it wasn't impressive although my wife of the time took a lot of photos.
I left St Marks at approximately 16:30 and my brother and I wanted to get to the Campanile so he could take some photos before it got dark (late Oct). No one went up with us, they were tired and since we were going to the Accademia on Friday morning, hit Murano in the early afternoon and then back to the villa, this was going to be my only chance to see it from that vantage point. It was a revelation.
What I saw in the distance, the Cathedrals, the Islands, the lagoon itself captured my imagination. I spend the next 7 years reading about it, buying maps and histories and generally amassing quite a body of knowledge even though it was quite unlikely that I'd ever get back.
The Meaning of Bridges
The nagging feeling that I never really understood Venice wouldn't leave me alone. One of the books I read was The City of Falling Angels about the fire that Destroyed Le Finiche: in it Count Girolamo Marcello talks to to John Berendt:  "How do you see a bridge?" he went on.

"Pardon me?" I asked, "A bridge?"
"Do you see a bridge as an obstacle--as just another set of steps to climb to get from one side of canal to the other? We Venetians do not see bridges as obstacles. To us, bridges are transitions. We go over them very slowly. They are part of the rhythm. They are the links between two parts of a theater, like changes in scenery. Our role changes as we go over bridges. We cross from one reality ... to another reality. From one street ... to another street. From one setting ... to another setting." 
In a way reading that made me ashamed, because I realized that I was hurrying over the bridges like most Americans. For one who considers himself quite observant I had missed Venice, one of the greatest cities on earth. 
The Itch Never Goes
My life took many unexpected turns in the ensuing years. In 2009 I was getting worse and freshly divorced. Returning was not even on my mind.
Then my father rented another Villa in Cortona for a month I went along with a couple of other family members. I was unattached at the time and made the trip without a partner for the first time in my life. I ended up spending 12 days in Venice... and it wasn't enough. That itch will never go away.
People often ask me if I wouldn't rather go somewhere else since I've already been to Venice… but I haven't really. I haven't even scratched the surface.

Touching the Soul of Venice
But I did start getting the "feel" of it. I discovered Aquapazza in (Campo Sant' Angelo, the freshest fish this side of heaven) and made that my home in a manner of speaking. From there I would start out each morning to different parts of the city.
In Italy it's important for me to be loyal to one place.
My coffee is taken at the same place every morning and my dinner is mostly taken at a few places. I'll take my lunch at different places, but I love getting to know Italian waiters and restaurant owners. If you come in often enough they warm up to you. They always prove to be both a wealth of knowledge, not to mention they feed me off the menu, which turns out to be beyond religious in experiences. 
When I look at Maria's lovely photos I can't help but look on in awe. But what I wanted to show here is what's "underneath" all that beauty. Venice appears to be a city set up for well healed tourists, but it's so much more than that.
It's a gritty "blue collar" place where the dance to keep it going never ends.
This place has no cars, just boats. The people who keep it moving are always there and I would dispute that it's dying or decaying. It will be there long after we are all gone and whatever it takes to keep it going will be done.
My Photos of Venice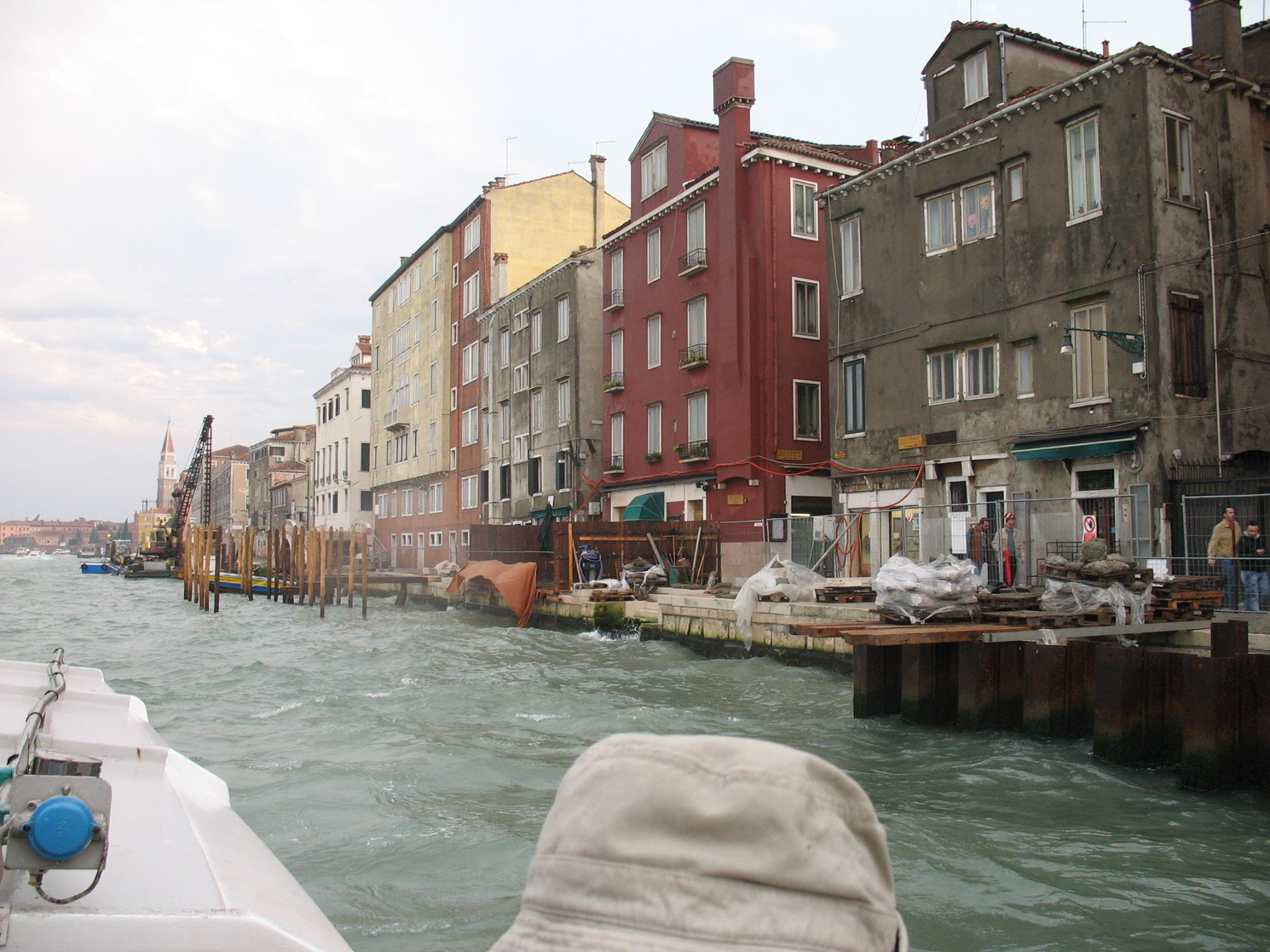 On the Vaporetto. Venice is always being rebuilt. The construction goes on non-stop.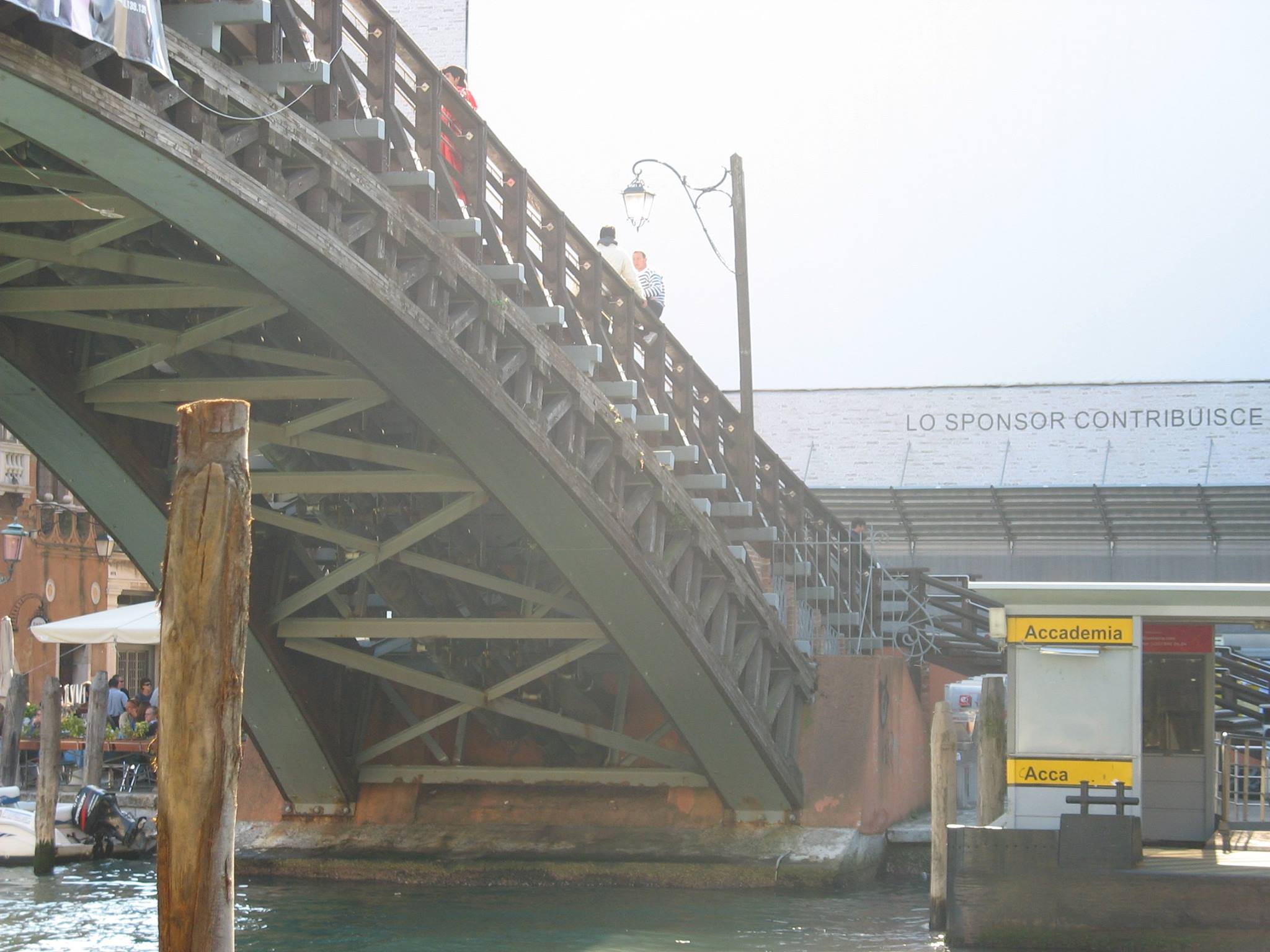 The Accademia Bridge. The only wooden bridge in Venice. As time went on it became clear that Venice was a very Masculine city. It was a place of builders with exquisite taste and hard, brutal work. I started taking photos under the bridges, trying to see the foundations, the place where these men had created their works of art.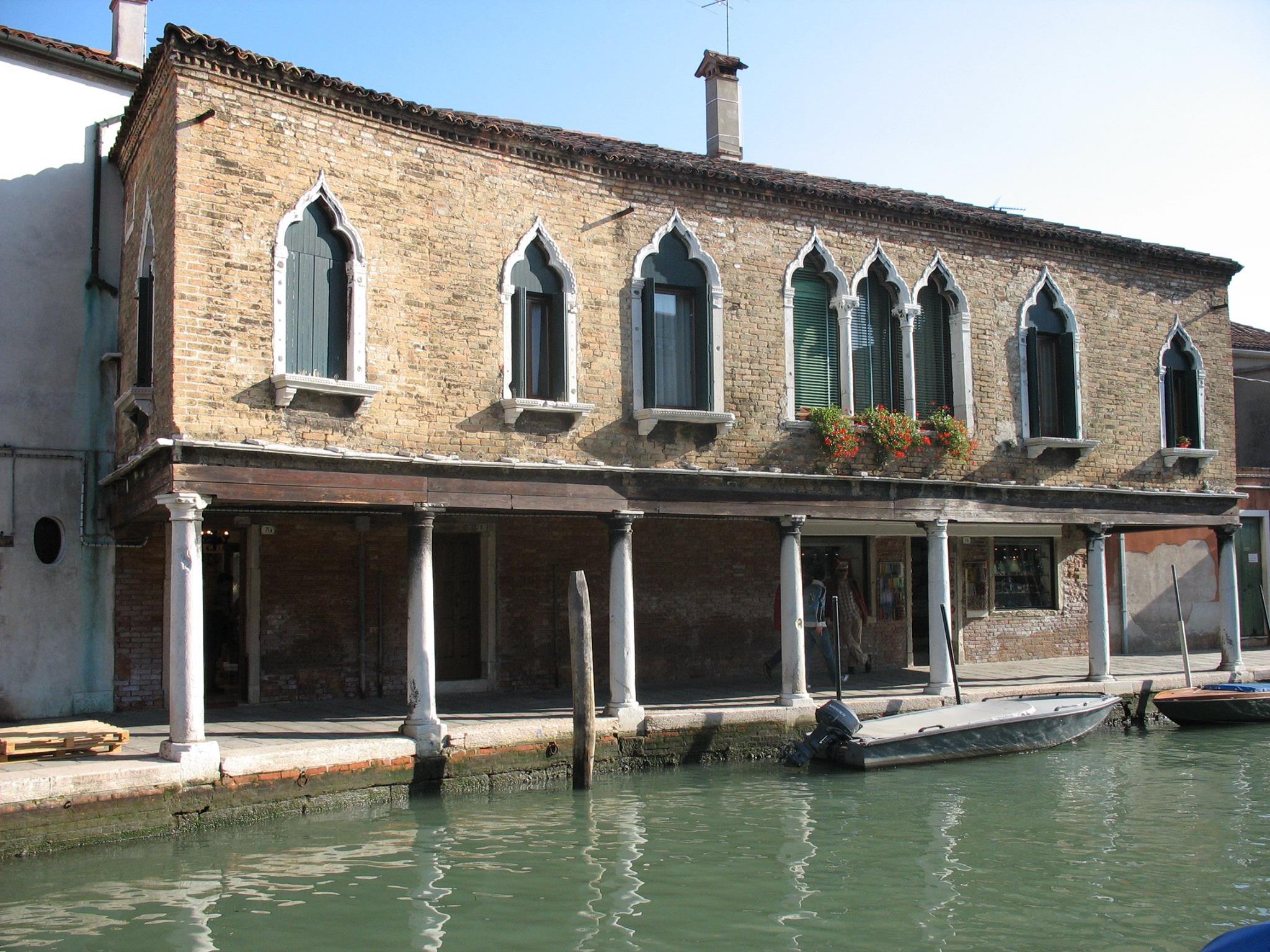 Murano; A good photo of the stones placed on the banks of the canals. They're always so straight. I marveled at the men who built this in such an unstable and ever changing environment.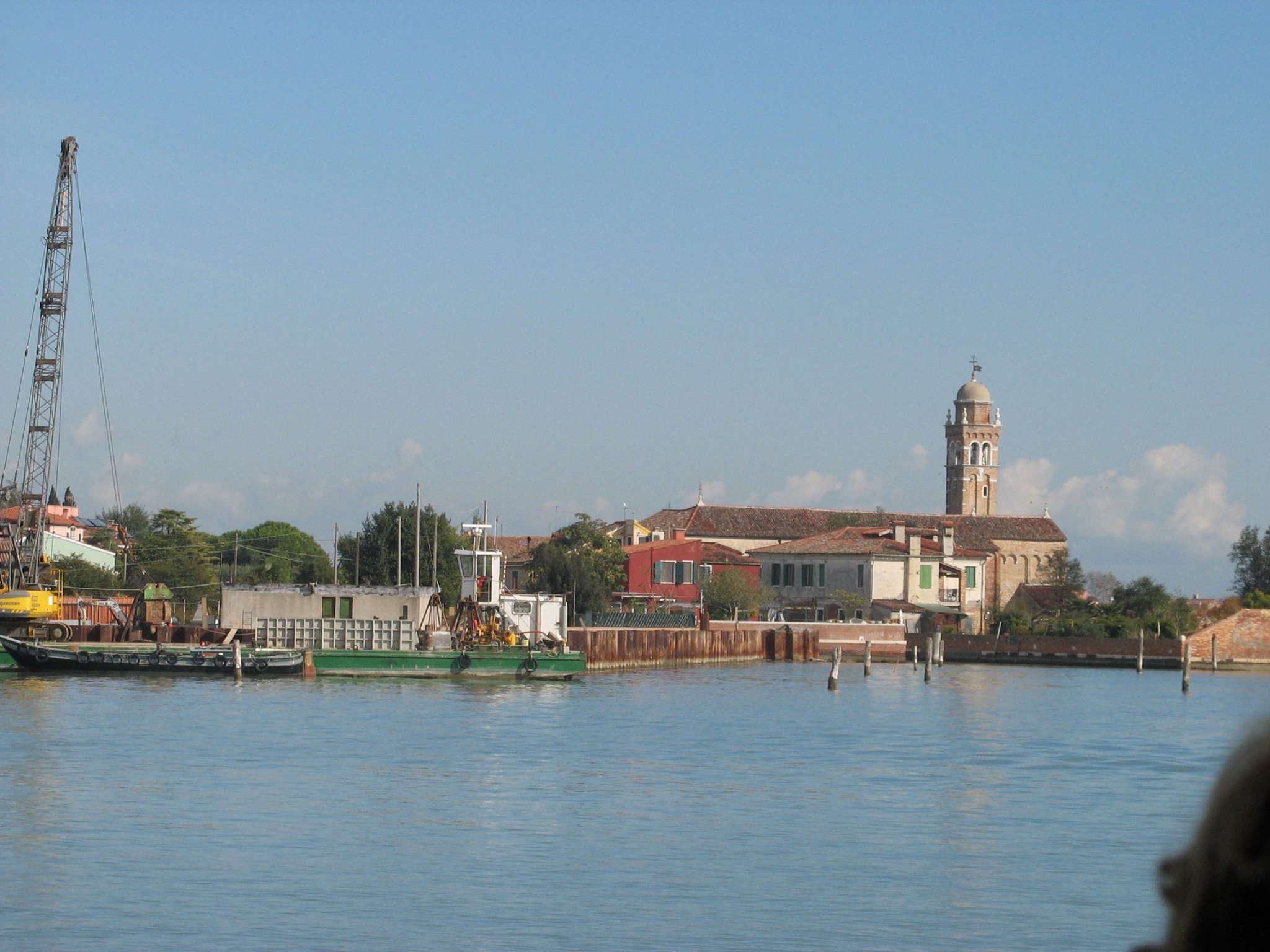 Approaching Burano from Torcello. For all its brightly colored homes and small boat lined canals the feeling of constant rebuilding and maintaining commerce is everywhere. There are no cars and trucks… but they do exist in the form of commercial boats, always building, always resupplying.
In any travel show or article you will hear that Venice is dying.
NONSENSE! It changes and moves in different directions. But long after I'm gone Venice will remain.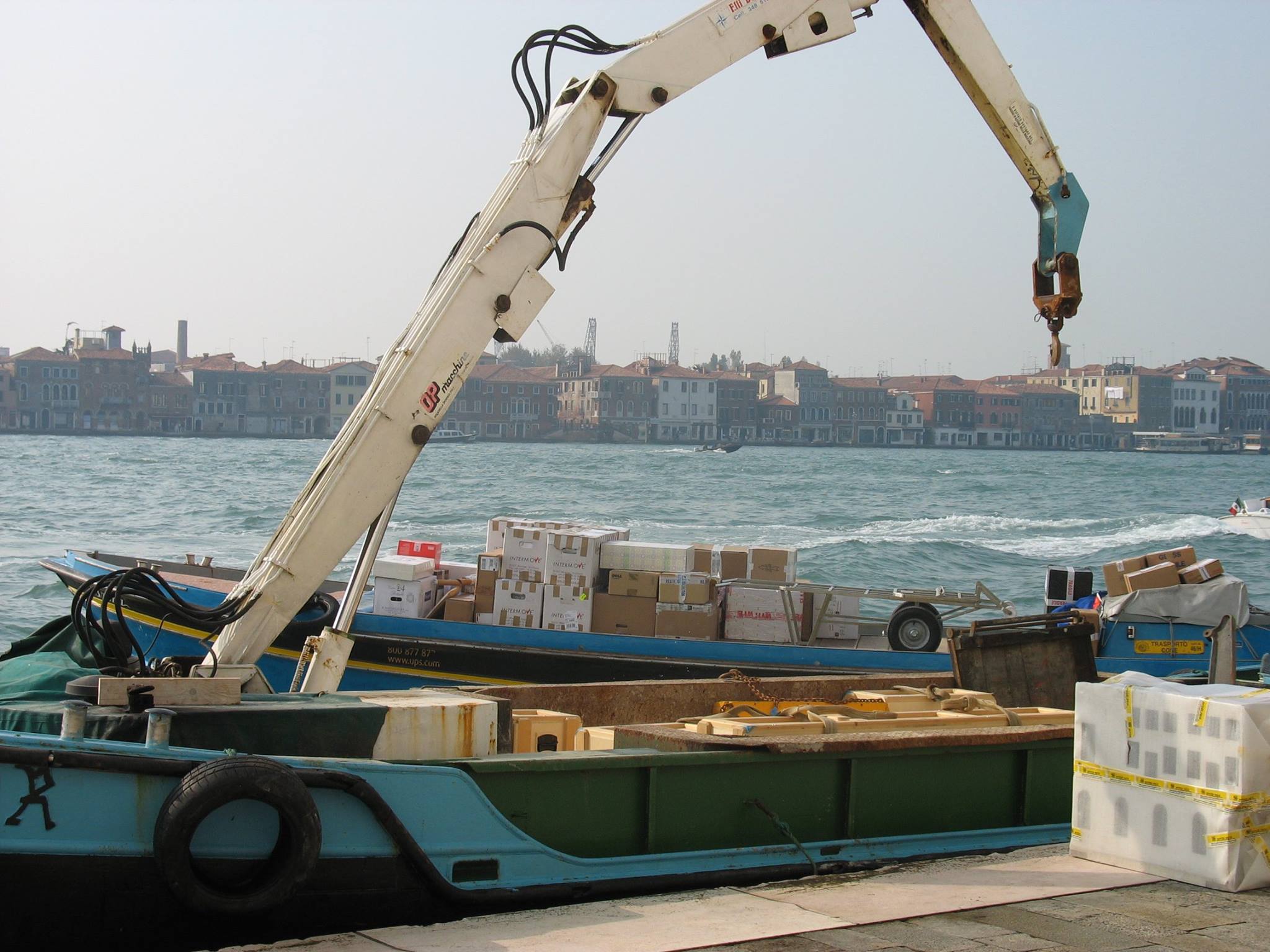 Everything in the lagoon arrives by boat. From there someone must push it by cart to its destination.
Please Book with Us... Maria here, if you enjoy my site I'd love your support.
Simply book your next trip anywhere (not only to Italy) via the link below or with any of the hotel links on the website.
You'll get the best deal available and the income I receive helps me to remain independent and to keep bringing you more of beautiful Italy.