Map of Lake Garda & Veneto

If you've already read our Best of Lake Garda article, you might be wondering where some of these wonderful places are. That's this page comes in useful. It has two maps; one of Lake Garda and one of the Veneto region around Vicenza (our home region).
If you would like more maps of Venice and Verona then please visit our maps home page.
If it is the best beach on the shores of Lake Garda you are in search of then click here.
Map of Lake Garda
The icons on the map feature some of the most captivating towns and villages that grace the shores of Lake Garda. Each icon is a promise of a unique story waiting to unfold, inviting you to explore the hidden corners and uncharted alleys of Sirmione, Peschiera del Garda, Desenzano del Garda, Lazise, Torbole, and more. These towns are not just destinations; they are gateways to experiences that celebrate the essence of Italy's charm.

Sirmione: A Jewel of Tranquility

The first icon that catches our eye is Sirmione, a jewel glistening on the southern shores of Lake Garda. Its fairytale-like castle, Scaliger Castle, stands as a sentinel, welcoming visitors to its historic heart. More about Sirmione here.
Lazise: A Tale of Medieval Beauty

Lazise, with its medieval origins and timeless allure, is another icon that captures our imagination. The town's well-preserved walls and turrets transport us to a bygone era. Wandering through its cobbled streets, we discover charming piazzas, inviting trattorias, and a picturesque harbor adorned with fishing boats. The gentle lapping of the lake against the ancient stones creates a soothing melody that serenades us as we explore its historical embrace. Here's more.

Torbole: Windswept Adventure

Venturing to the northern shores of Lake Garda, we encounter Torbole, a paradise for water sports enthusiasts and nature lovers. This icon on the map speaks of windswept adventures and the thrill of the great outdoors. Windsurfers ride the waves, while the dramatic backdrop of the surrounding mountains adds an element of grandeur to the landscape. Torbole's inviting beaches, panoramic trails, and vibrant atmosphere create an invigorating retreat for those seeking an active escape. Discover Torbole for yourself.

Clicking on these icons is an invitation to a virtual voyage, offering a glimpse into the magic that these towns hold. But beyond the digital realm, these towns await, ready to embrace travelers with open arms, to share their secrets, and to create memories that will forever be etched in the tapestry of our journeys. 
 
Our Veneto and Vicenza Map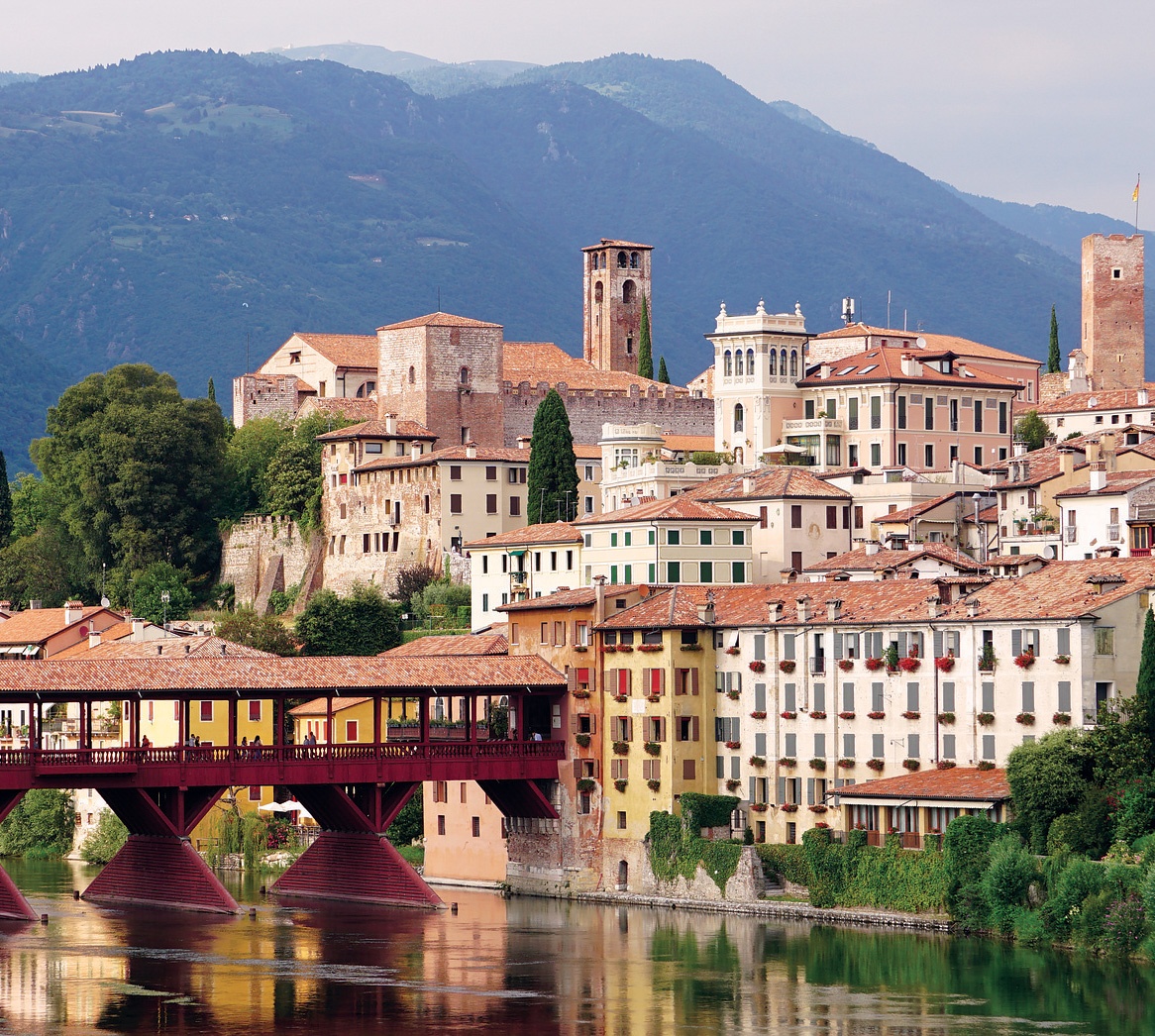 Bassano del Grappa
From our home base in Piovene Rocchette, a charming town in the province of Vicenza, we embark on a journey venturing into the heart of the Veneto's lesser-known towns and villages. The icons on the map, towns like Asolo, Bassano del Grappa, Treviso, Belluno, and more, beckon you to uncover their secrets, inviting you to experience the authentic essence of this enchanting region.
Among the icons that dot the map, some of our favorite towns and villages beckon us to their cobbled streets and historic corners.
Asolo, with its medieval atmosphere and panoramic views, unfolds like a storybook town.
Bassano del Grappa, embraced by the Brenta River and renowned for its iconic Ponte degli Alpini, speaks of both history and beauty.

Treviso, characterized by its tranquil waterways and Renaissance architecture, casts an indelible spell on those who wander its narrow alleyways.
Belluno, cradled by the Dolomites, is a picturesque haven for nature lovers and history enthusiasts alike.
Amidst the larger, more renowned cities that draw travelers from around the world, these smaller towns stand as hidden treasures, patiently awaiting discovery.
It's a joy to find that while many tourists may flock to the well-known sites, the beauty and allure of these lesser-explored towns often go unnoticed by the crowds.
As we stroll through their streets, savoring the tranquility and authenticity, we can't help but feel that we've stumbled upon a well-kept secret—a piece of Italy's soul that remains unspoiled by mass tourism.
The allure of these smaller towns lies not only in their aesthetic beauty but also in the authenticity that defines them. The slower pace of life, the warm greetings exchanged by locals, and the unpretentious charm that resonates from every corner all contribute to an immersive experience that few tourists encounter. 
For an itinerary that takes you to all the places featured click here.
For all things Italian related, from Piedmont to Puglia, try using our search box below...

Please Book with Us... Maria here, if you enjoy my site I'd love your support.
Simply book your next trip anywhere (not only to Italy) via the link below or with any of the hotel links on the website.
You'll get the best deal available and the income I receive helps me to remain independent and to keep bringing you more of beautiful Italy.