Gardaland Italy

I never wanted to go to Gardaland, but my son kept insisting, and off we went. I loved the place; they had to drag me away. Now we visit all the time, and  I'm excited to share some of the "secrets" of the park with you too.
This is Italy's biggest theme park and one of the biggest and best in Europe. It is where the young and young at heart from all over Italy come to play!
It will take you at least two days to see everything, but in July and August, with the long lines, you might even need another day.
Try to avoid these months if possible. The lines are long, and the heat and humidity can be oppressive.
If you do visit during these months, make sure you get to the park well before opening time and try to visit during the week rather than weekends.
In July and August, gates normally open at 9 a.m. or 9.30 a.m., although it does vary a little. The best is to check on the the official Gardaland site before you go. Plan on getting there an hour before official opening time.
Gardaland Hotels

Gardaland has its own hotel, the Gardaland Resort Hotel, which allows a "total immersion" theme park holiday.
It is wonderful and all that, but like the hotels at Disneyland, the rates are fairly high and perhaps not worth the price. I'm not sure to tell you the truth... it's up to you!
If you would like a just as good, and cheaper alternative, then my suggestion would be the Parc Hotel (click here for more), a family-style resort hotel that is very near Gardaland.
The Parc Hotel offers swimming pools, a nearby golf course, tennis, and endless activities for the children.
Of course, don't only visit Gardaland, visit Lake Garda too which has beautiful beaches, amazing little towns like Sirmione and incredible scenery.
Gardaland's Rides
I wasn't expecting to enjoy the rides, yet I must say I LOVED most of them but hated a few.
The ones I liked most were the more tranquil ones, like Corsari (pirates cave) and the 4D Experience. My favorite ride, though, is Fuga da Atlantide (Escape from Atlantis), which absolutely amazed me.
For thrill seekers, there are plenty of heart-stopping rides. I quite enjoyed the water ones like Jungle Rapids and Colorado Boat, and I enjoyed the kiddie roller coaster Ortobruco (generally only thrilling for those under eight and those over fifty).
If you are of sound body and mind and a lot braver than me, then try the Blue Tornado. I was twisted into trying it, and I have never been quite the same since. If you enjoy the sensation of your body being torn apart and if severe whiplash is your thing, then you will love it.
Oblivion is another one I'll never try again—like Blue Tornado, but worse!
A fairly new one (it's a couple of years old) is Jumanji. They've hyped it up a lot, but last time I was in the park, the line was long, so I didn't get to try it.
 Little Children's Section
Most of the best rides for younger children are in the Fantasy Kingdom.
Two very popular ones that have been there forever are the Funny Express and the Doremifarm rides (see photo of my son, taken many years ago, shouting at the cows at top of page). Don't tell anyone but I like them too – very peaceful and relaxing – and a lot better than the Blue Tornado.
The live shows, which change regularly, are in the main excellent though the dolphin show was not as good as I had hoped. I heard that most of the seals and dolphins have been transferred to the nearby Aqua Park but I don't know how true this is.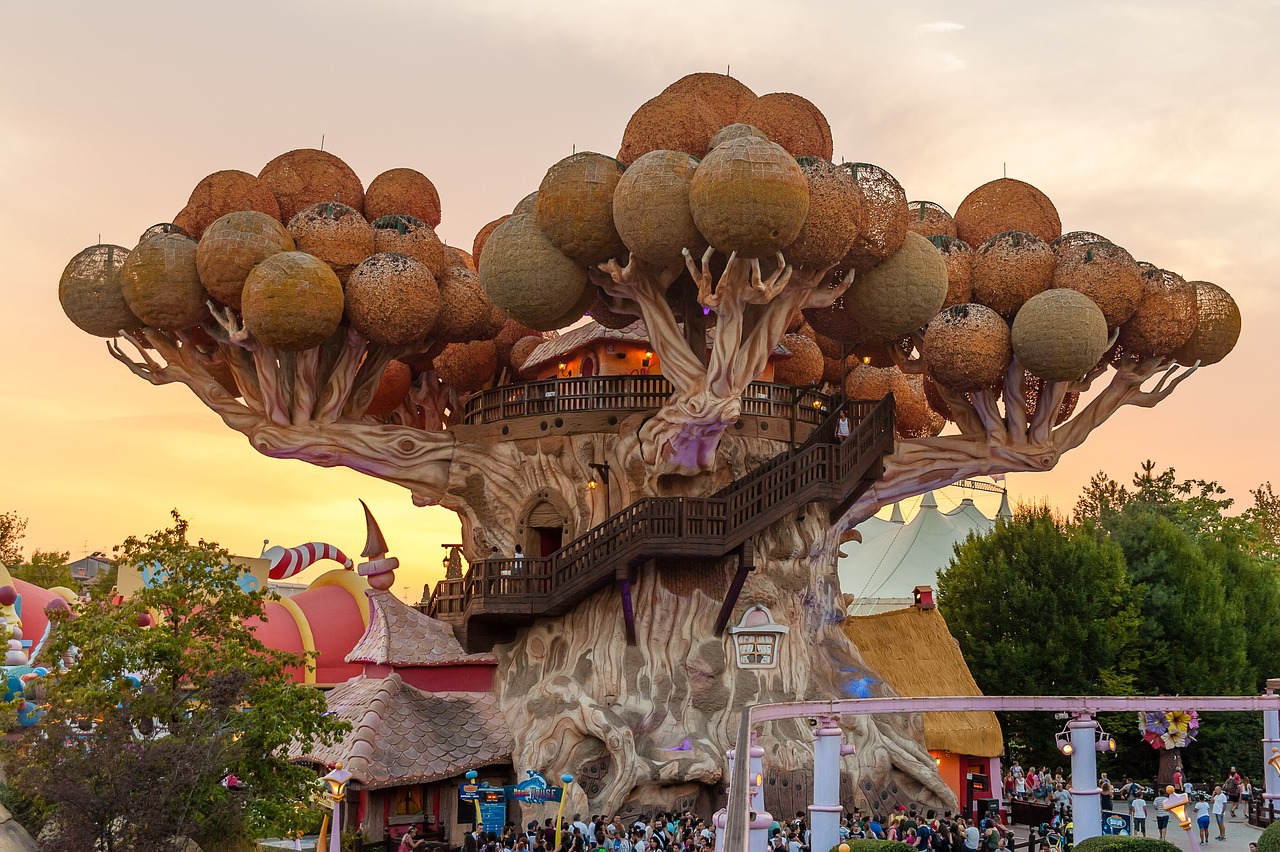 Prezzemolo Tree in Gardaland
Don't miss L'Albero del Prezzemolo. This huge fake tree was amazing with the little rabbits room inside a favorite. The tree itself reminded me of a wonderful book I read as a child called the Magic Faraway Tree. If you've children get yourself a copy of the book - they will love it and so will you.

Recently, a year or so ago, they added a new Kung Fu Panda section that's wonderful for the younger kids. There are rides, interactive shows and lots more.  
Your Questions about Gardaland
Gardaland is easily accessible by car or public transportation. If you are driving, there is ample parking available at the park. If you prefer public transportation, you can take a train to Peschiera del Garda station and then catch a shuttle bus that operates between the station and Gardaland.
Yes, Gardaland caters to visitors of all ages, including young children. The park has dedicated areas and rides specifically designed for younger kids, such as Prezzemolo Land. These areas offer age-appropriate rides and interactive attractions that are both fun and safe for children.
Yes, Gardaland is committed to ensuring accessibility for all visitors. The park provides services and facilities for guests with disabilities, including wheelchair rental, accessible restrooms, and priority access to certain rides. It is recommended to contact the park in advance to discuss specific needs and arrangements.
Gardaland often offers discounted tickets and special promotions, especially during off-peak seasons or for groups. It is advisable to check the official Gardaland website or authorized ticket vendors for any current offers or packages that may be available.
The operating hours of Gardaland vary depending on the season. Generally, the park is open from morning until evening, with extended hours during weekends and holidays. It is recommended to check the park's official website or contact their customer service for the most up-to-date information regarding opening and closing times.
Outside food and drinks are not allowed inside Gardaland. However, the park offers a variety of dining options, including restaurants, snack bars, and food kiosks, where you can purchase meals and refreshments.
Yes, it is possible to purchase tickets in advance for Gardaland. This can be done through the official Gardaland website or authorized ticket vendors. Buying tickets in advance can help you avoid long queues at the entrance and ensure your entry to the park on your desired date.
Have a look at our Gardaland Hotels section near the beginning of this article. You'll find our hotel recommendations there.
Please Book with Us... Maria here, if you enjoy my site I'd love your support.
Simply book your next trip anywhere (not only to Italy) via the link below or with any of the hotel links on the website.
You'll get the best deal available and the income I receive helps me to remain independent and to keep bringing you more of beautiful Italy.