A Splendid Verona Castle
This famous Verona castle was built in the 14th century, by Cangrande "Rabid Dog" della Scala to protect Verona from rival bosses/kingdoms.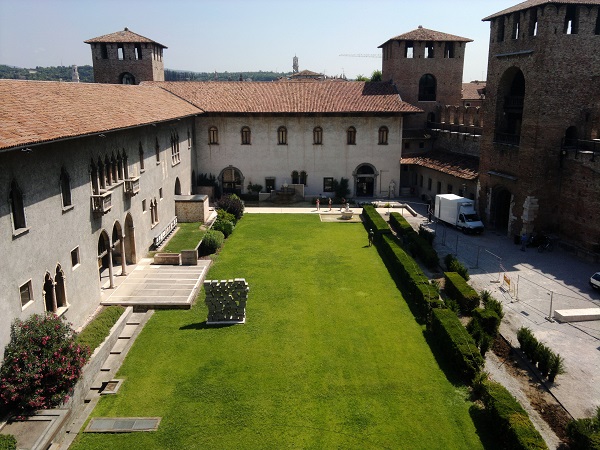 An interesting aspect of the castle is that provision was made for an escape route across the family's private bridge, the Ponte Scaligero, and north into Austria in the case of a local uprising against the brutal tyrant.
The Scaliger family was not the most trusting and with good reason, they spent a lot of their time killing, or being killed, by neighbours and other family members.However they played a huge part in the Veneto's history and their castles are to be found all over the region. The one in Sirmione is another favorite of mine.

In fact Cangrande, nicknamed Cangrande "Rabid Dog" della Scala, was killed by his brother and eventually the family did have to flee north across the bridge – settling in Germany. Actually their lives were a little like an ancient mafia movie - only more violent.
Nowadays the castle houses a fabulous museum of sculpture, art, weapons and jewelry from the 12th century onwards. You can wander around the castle grounds but to get up onto the walls, into the towers and explore the museum you'll need to pay six Euros to go in.

Some of the art work is amazing yet I like the weapons room and the 14th century statues by the Sant'Anastasia group best. The statues and their arrangement in the display room is somehow strangely moving and yet ever so slightly creepy.
One other important aspect is the work done by Carlo Scarpa in restoring the castle and designing the museum.
Carlo Scarpa is one of the most important architects of the last century and the museum is testament to his incredible vision. Many people reckon the museum to be the masterpiece of his illustrious career. To be honest I am a bit clueless and had never heard of him but now I'm impressed - great guy!

Looking for more castles in Venice, Verona or anywhere else in Italy? Maybe even a haunted house or two? Why not try the search engine below.
Please Book with Us... Maria here, if you enjoy my site I'd love your support.
Simply book your next trip anywhere (not only to Italy) via the link below or with any of the hotel links on the website.
You'll get the best deal available and the income I receive helps me to remain independent and to keep bringing you more of beautiful Italy.