6 Things You Must Do in Venice
+ 5 NEVER to do (scroll down for those)
Visiting Venice, Italy? Then six of the greatest sights and experiences on earth await you. You'll not want to miss out on a single one.
All these experiences and everything you need to know about the best way to see them can be found on our page about the top attractions and the things you absolutely must do in Venice. Here is our guide to the Essentials of Venice.
So watch our video, then book your hotel in Venice and find a flight to Italy. 

Four more things you must do in Venice...
Murano and Burano Islands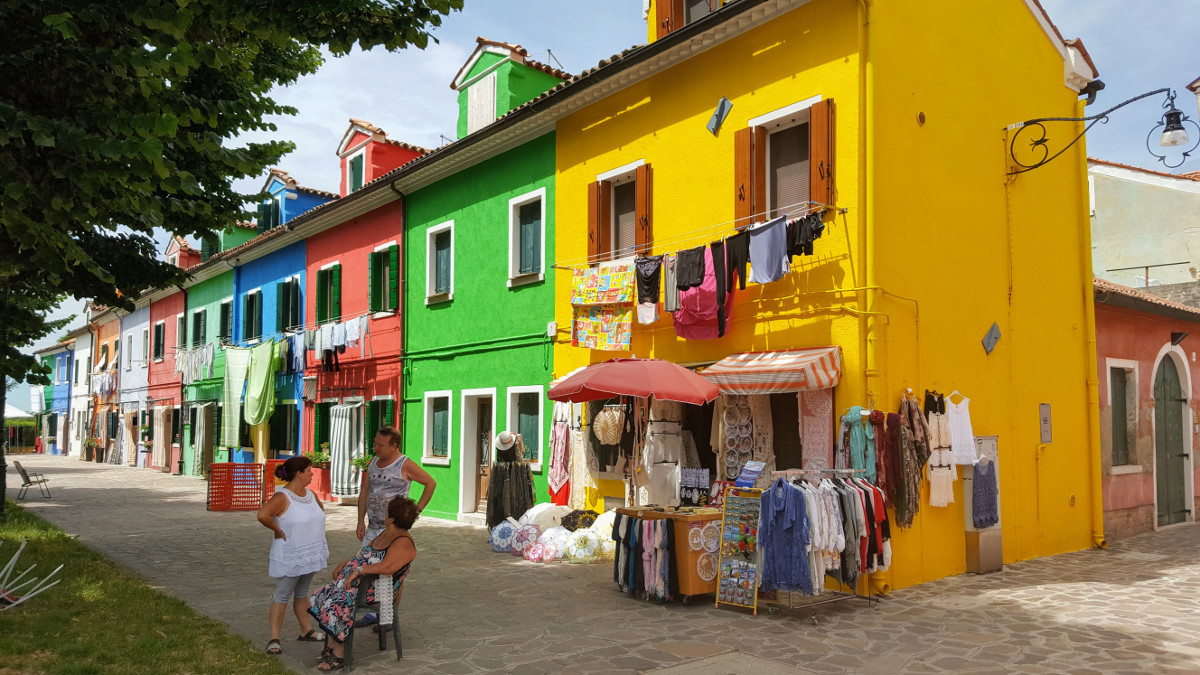 Escape the crowds of Venice and venture to the neighboring islands of Murano and Burano. Murano is renowned for its centuries-old tradition of glassmaking, and you can witness skilled artisans crafting intricate glass sculptures.
On Burano, you'll love the vibrant hues of the houses that line the canals. Famous for its lace-making heritage, Burano offers a picturesque setting that feels like stepping into a fairytale. Here's our guide to the magic that is Burano.
Venetian Cuisine and Cicchetti
No trip to Venice is complete without indulging in the city's culinary delights. Savor traditional Venetian dishes such as sarde in saor (marinated sardines), fegato alla veneziana (Venetian-style liver), and risotto al nero di seppia (squid ink risotto).

Where will you find such dishes, though, in a city that has become overwhelmed with restaurants serving cliched dishes like spaghetti bolognese, pasta alfredo, and other dishes that aren't even Italian and feature on our list of things never to order in Italy. Well, we've found some really good restaurants over the years, and you'll find our list in our free Guide to Good Restaurants in Venice Italy.
For a more casual dining experience, seek out bacari, local wine bars that serve cicchetti, bite-sized snacks that pair perfectly with a glass of regional wine. Allow yourself to get lost in the labyrinthine streets, stumbling upon hidden bacari where you can mingle with locals and immerse yourself in the convivial atmosphere. 
Peggy Guggenheim Collection
Art enthusiasts should not miss the Peggy Guggenheim Collection, located in the Palazzo Venier dei Leoni on the Grand Canal. This museum houses an impressive collection of modern art, featuring works by renowned artists such as Picasso, Pollock, and Dalí. Wander through the beautiful gardens and immerse yourself in the world of contemporary art as you explore the masterpieces within.
La Fenice Opera House
For lovers of music and theater, a visit to the renowned Teatro La Fenice is a must. This historic opera house has witnessed some of the world's most legendary performances. Take a guided tour to discover its opulent interiors and learn about its rich history. If timing allows, immerse yourself in the magic of a live opera or ballet performance, allowing the magnificent acoustics and grandeur of the theater to transport you to another world.

Bonus: 5 Things NEVER to do in Venice
No, you cannot swim in Venice's canals. Swimming in the canals is illegal and dangerous due to the strong currents, boat traffic, and potential exposure to pollutants. It is also disrespectful to the city's heritage and the locals.
Venice is a beautiful and environmentally sensitive city, and littering is strictly prohibited. Always dispose of your trash properly in designated bins to help keep the city clean and preserve its natural beauty. Venice now has a campaign to encourage tourists to drink from the water fountains instead of bringing plastic water bottles with them, as water bottles are the biggest contributor to Venice's plastic pollution problem. You can read the full story and find a map of the fountains here.
While it might be tempting to interact with the numerous pigeons in St. Mark's Square, feeding them is prohibited. Feeding pigeons can lead to overpopulation, health hazards, and damage to historical buildings and statues.
Some areas in Venice, particularly inside museums, churches, and certain landmarks, may have restrictions on photography. Always look for and obey the "No Photography" signs to respect the privacy of others and preserve the integrity of the artwork and artifacts.
Venice has some of the most beautiful churches in Italy Dressing appropriately when visiting them is of utmost importance in Venice.  Here's why dressing appropriately is essential:

When entering churches, it's crucial to dress modestly out of respect for the sacred space and the local customs. Both men and women should avoid wearing clothing that exposes shoulders, midriffs, or thighs.
To be on the safe side, it's best to wear clothing that covers your knees and shoulders when visiting churches. For example, wearing pants or skirts that fall below the knee and tops with sleeves is a respectful choice.

By dressing appropriately, you show respect for the religious traditions and the sanctity of the churches in Venice. It also ensures that you won't face any issues when attempting to enter these places of worship.
Please Book with Us... Maria here, if you enjoy my site I'd love your support.
Simply book your next trip anywhere (not only to Italy) via the link below or with any of the hotel links on the website.
You'll get the best deal available and the income I receive helps me to remain independent and to keep bringing you more of beautiful Italy.