Typically Italian - The List
Even when I am far away from Italy there are 15 things which are so typically Italian, reminding me of Italy whenever I encounter them.

They invariably make me long to return as soon as I possibly can and some of them even have the power to reduce me to tears. 
Here then is the list...

1] Cypress trees and sunflowers.
2) The smell of fresh basil and of pesto sauce.
3) Little fiat cars, particularly those tiny old Fiat 500's know as the cinquecento. So cute and so typically Italian.
4) Motorini/scooters and in particular that classic - the Vespa.
5) Italian music, Andrea Bocelli's song called "il mare calmo della sera" is one I adore. It always has me in tears as soon as I hear it.
6) Pasta and of course pizza.
7) Pedallos and gelato (ice cream) at the seaside.
8) A morning filled with the aromas of freshly brewed coffee and pastries.
9) The colors of the Italian flag, as soon as I see the colors together memories of Italy come flooding back.
10) Sunday Mass in a Catholic Church, the Presepio at Christmas time and that great Italian Christmas cake the panettone.
11) The photos and recipes in the book Autumn in Piemonte: Food and Travels in Italy's Northwest , they remind so very much of the many happy years we spent in Piedmont before we moved to the Veneto.
12) Ferrari cars, not only for the car itself but because the Ferrari is absolutely adored by all Italians both young and old.
It seems to epitomize the passion and vigor for life of the Italian people. Italians don't follow a favorite driver in Formula 1, as the rest of the world does, they follow a car. One car only... the Ferrari!
13) Shuttered windows - I always dream of opening them and finding Italy lying beyond.

14) Shade dappled and often crumbling walls, the flower boxes filled with herbs and lavender. The photo of my son below should give you an idea of what I mean.
15) The sound of church bells on a Sunday morning.
P.S. Is there anything you can add to the list? I'd love it if you'd share it with me! You can do that by adding a comment a little further down the page.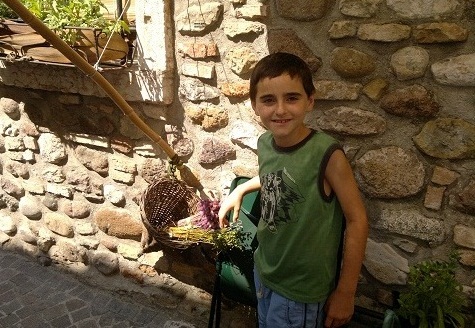 Please Book with Us... Maria here, if you enjoy my site I'd love your support.
Simply book your next trip anywhere (not only to Italy) via the link below or with any of the hotel links on the website.
You'll get the best deal available and the income I receive helps me to remain independent and to keep bringing you more of beautiful Italy.