Calabria Food - 8 Great Calabrian Treats
Calabria is the most unpretentious, passionate, vibrant, and in some ways beautiful corner of Italy. The cuisine of Calabria reflects that.
Answer: 

There is not one particular dish that Calabria is famous for. Many towns in Calabria have their own traditional dishes that are often unique to them.

However, the one food item that says "Calabria" more than any other is the nduja. We'll tell you about this key ingredient to many a Calabrian dish a little further down the page.

Overall, though, the dishes of Calabria are simple and traditional. The Calabresi like it that way, and so do I. Let them keep their fancy Michelin restaurants elsewhere.
These then are the 8 dishes to try when in Calabria...
1) Caciocavallo Silano Cheese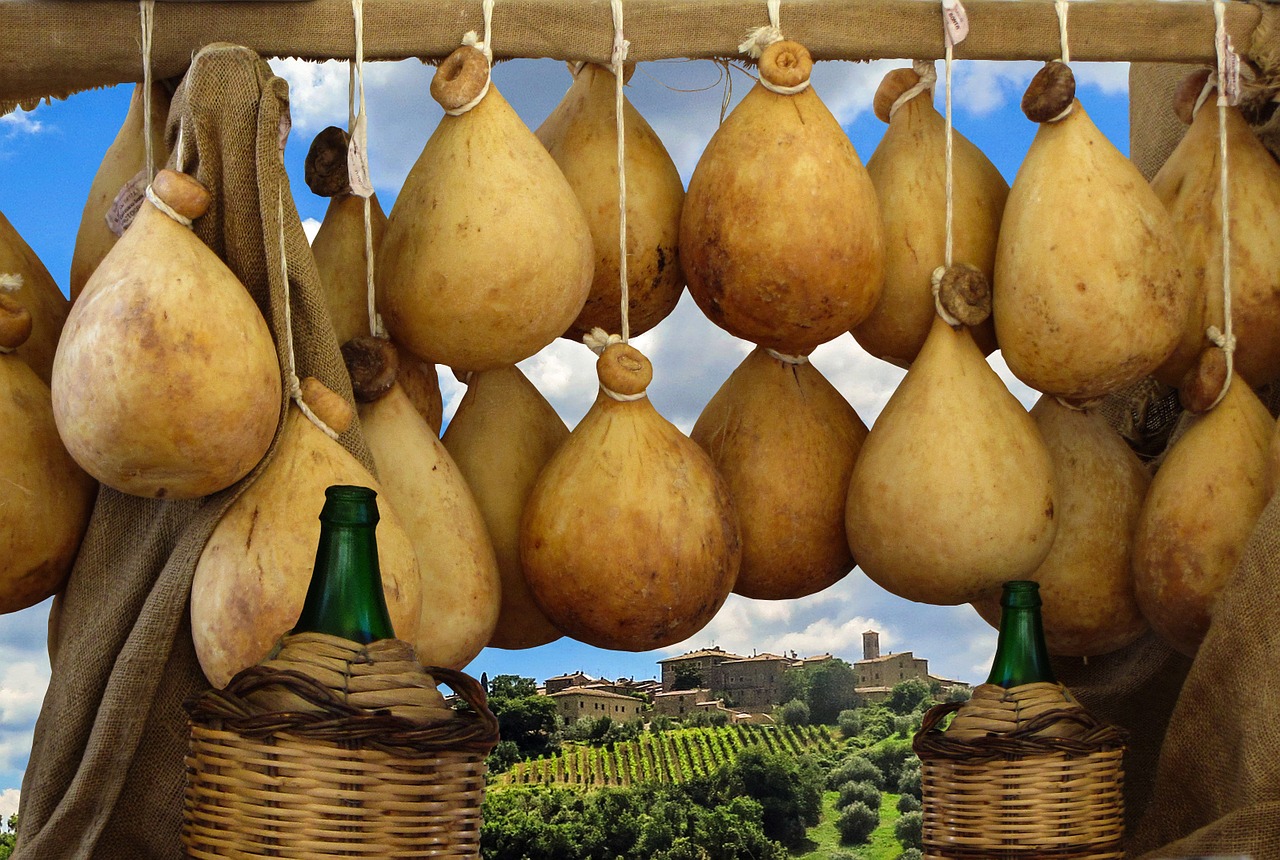 From the villages of Calabria's interior, a land dominated by the towering peaks of the Sila mountain, comes one of Italy's oldest and greatest cheeses: the Caciocavallo Silano.
For more than 2000 years, they've been making this cheese. Everyone, from ancient monks to great leaders of the past have sought after this delicacy. Today, Italians across the country, adore it— this is one of Italy's greatest cheeses. Try it on its own, on the grill, with pears, or in some of the traditional pasta dishes of Calabria. However you eat it, I bet you'll love it.
2) Nduja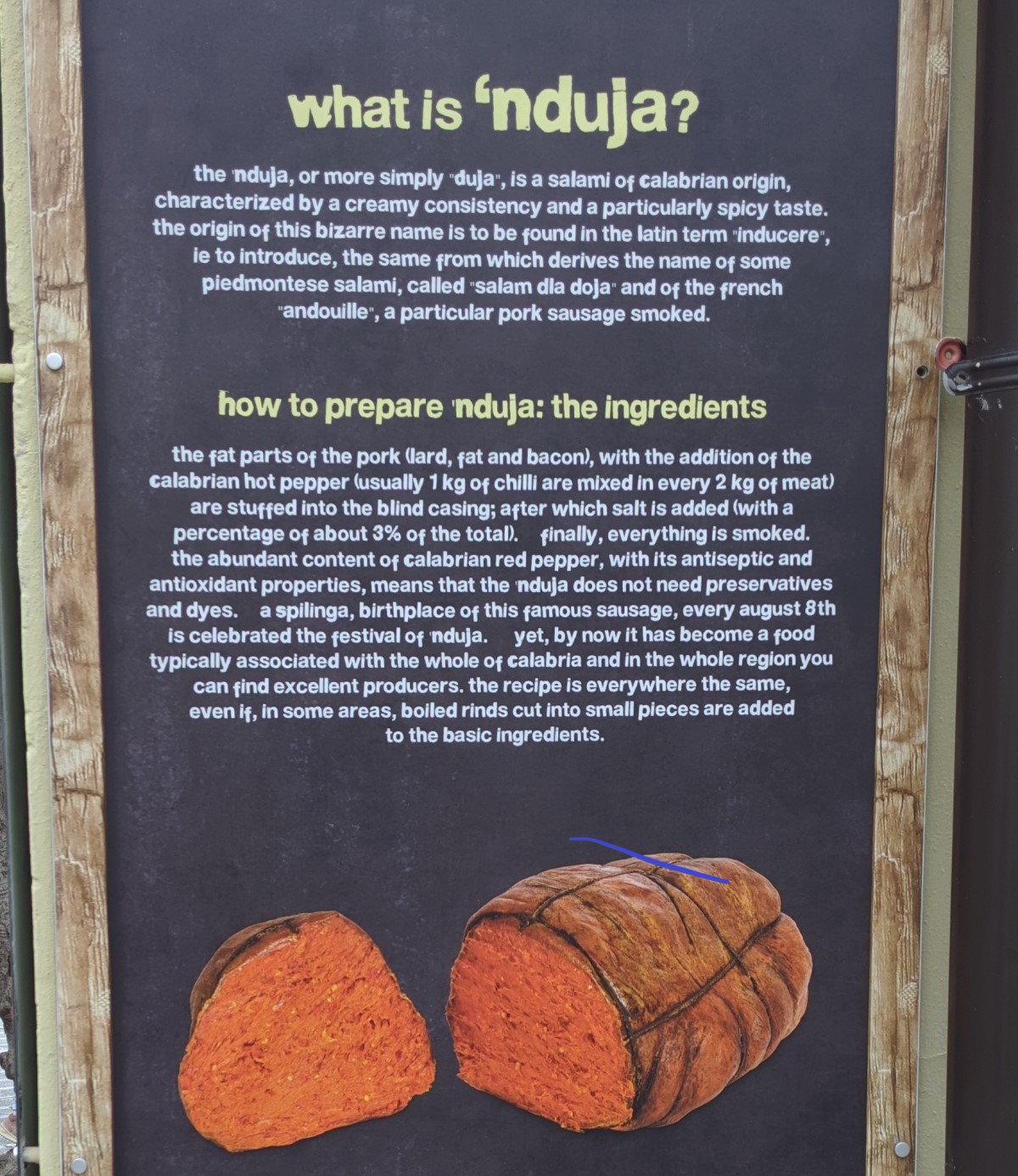 Calabria's favorite food, nduja, is eaten with everything. It originated in the town of Spilinga and is now produced throughout Calabria. This is the butter on their bread, their stock for stews, and the secret ingredient in that wonderful pasta sauce you ate while visiting Calabria.
What is Nduja?
Well, it is sort of like a soft and spreadable salami made from pork and chili peppers. It isn't like any other salami you've ever tasted, though. You have to try it.
3) Tartufo (Truffle in English)
The most famous gelato in all of Calabria is now popular throughout Italy and the world. Wherever you eat it, it never tastes as good as it does in Pizzo, Calabria, the town where it was invented.
So what is a tartufo?
A ball of the finest gelato, sprinkled with pure cacao, surrounds a liquid chocolate center. That description doesn't come close to describing the heavenly experience awaiting you. My advice is to try it!
4) Red Onions of Tropea
"What's the big deal about red onions? We grow them where I live, too," you say. If you are saying that, then you have never tried a Tropea red onion.
After you've sunk your teeth into a Tropea red onion, no other red onion will ever do.
The Tropea Red Onion is the absolute king of red onions; no other red onion is so sweet, so juicy, so wonderful, so... well, try one for yourself when you visit Tropea (recently voted the most beautiful small town in all of Italy).
5) panicelli and chinole
Panicelli are sweet traditional Christmas treats made from figs and walnuts, wrapped in vine leaves, sprinkled with cinnamon, orange zest, and candied citron,and then baked in the oven. 
Chinole, another Christmas treat of pastry filled with baked chestnuts, cinnamon, chocolate, coffee, honey, orange peel, cloves, muscat wine, and a type of liqueur known as witches brew (in Italian it is called Liquore Strega).
6) Peperoncini
The ingredient found in nearly ever dish in Calabria - either added directly or indirectly via the ubiquitous nduja. There is even a festival dedicated to the peperoncino, it's held annually in September in the Calabrian town of Diamante and is an absolute must for those who love fiery food.
7) Fileja Pasta  
Fileja is a type of pasta that originated in the Calabrian province of Vibo Valentia. If you can't find fileja in your local store then a good alternative to use is fusilli.
This recipe serves 2:
Cook 300 grams/10.5 ounces of fileja in salted boiling water as you would with any type of pasta.
For the sauce: 
300gr/

10.5 ounces of  tomato puree/passata di pomodoro

3 tablespoons of nduja

1 Tropea red onion (in the absence of a Tropea onion use your local ones)

1 clove of garlic

4 tablespoons of olive oil
Instructions:
Heat the oil, 
Add the onions, cook until brown,
Add the garlic and nduja - cook a few more minutes,
Pour in the tomato and let simmer for ten minutes.
Add the sauce to the drained pasta. Serve with grated pecorino cheese and basil leaves.
8) Swordfish Panino
A seasonal favorite, particularly in the town of Chianalea. The sandwiches are absolutely fabulous. Our Chianalea page has more about the tradition behind this dish and the details on how to visit the place that invented the swordfish panino and still makes the best swordfish panino I've ever tasted.
Please Book with Us... Maria here, if you enjoy my site I'd love your support.
Simply book your next trip anywhere (not only to Italy) via the link below or with any of the hotel links on the website.
You'll get the best deal available and the income I receive helps me to remain independent and to keep bringing you more of beautiful Italy.