9 Secrets of Southern Italy
We've all heard of Naples, the Isle of Capri and the Amalfi Coast . There are nine other wonders in Southern Italy though.
Few have ever heard of them. Fewer still have visited.
So grab your bucket list and prepare to add these remarkable places....
UNESCO World Heritage site and European Capital of Culture; there's so much that makes Matera unlike any other town you'll ever visit. The roads are on top of the houses, the houses look like part of the towering cliffs and the caves are homes. Here's more.
Cottages of peach and lemony shades, a little port filled with colorful fishing boats and friendly people who treat you like long lost family. From the moment you arrive you'll love this island near Naples and you'll regret leaving for the rest of your days. This is Procida - read our guide here.
Suspended between heaven and earth is the village of Castelmezzano. Enjoying dinner outside, on a balmy summer's evening, you'll feel that you are closer to the angels above than a part of earth. If you've got more courage than me you can complete the angel thing...with a trip on the Flight of Angels. I explain what I mean over on my Castelmezzano guide.
San Rocco is a tiny Medieval hamlet, it lies on the periphery of  the town of Savoca where much of the Godfather movie was filmed. Once you enter this perfectly restored hamlet (now a hotel) it's as if you've stepped back in time to another world, another age. It's kind of hard to explain - you need to see for yourself. You can do that here.
A little coastal town that you can't help but love. You've narrow streets, lively squares and the deep blue seas off the Puglia coast. There are amazing caves here too -  one of them, in the sea-cliffs, is a superb restaurant. You dine in the softly lit lamplight with the sea crashing on the rocks below - here are the details.
Island of Ponza
The island where Caesar Nero was exiled in Roman times. Nowadays a long period of exile here is something I would happily accept. It is unbelievably beautiful and locals call it the "Island of Love." Click to find out more.
Tropea
Sadly, Tropea is a destination that is just too addictive. One visit is never enough. From friendly Calabrese locals, to spectacular scenery, to food you just can't stop eating... you'll love it! Here's more on this destination.
Castellabate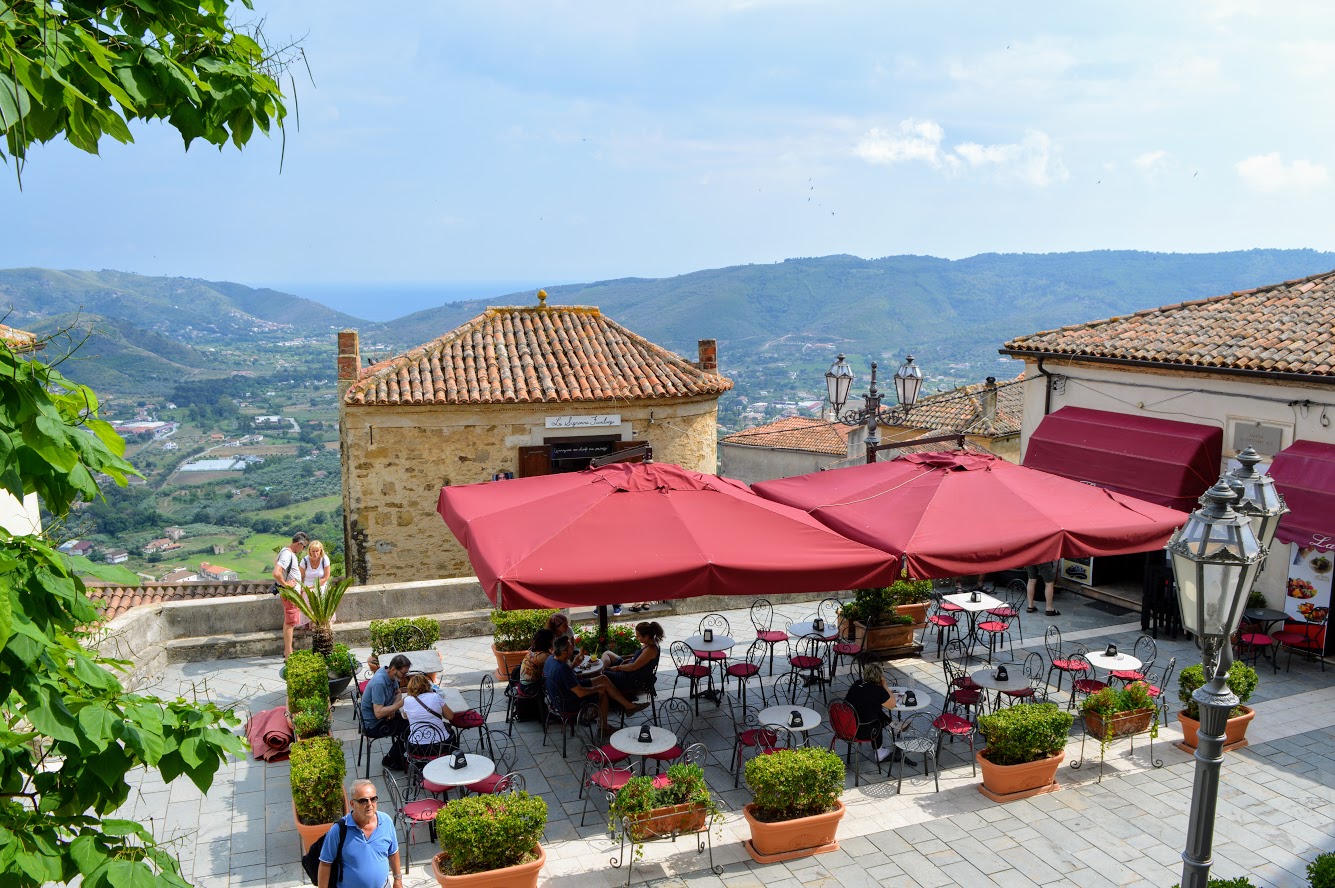 The old hill town of Castellabate is where I go to find complete peace and tranquility. There are few international tourists here and yet you have so much that is wonderful. Think cottages of golden stone, green rolling hills where lemons and olives grow, tiny village squares and seas of crystal clear Italian blue. Click to be tempted further.
San Vito lo Capo
Of all the beaches in Sicily this one is arguably the most beautiful. The sea is crystal clear, the sands cream colored and the scenery spectacular. Not only that but it lies on the edge of the most pristine coastline in all of Sicily - the Riserva dello Zingaro. For photos and info visit the Sicilian Beach Guide.
As an Amazon Associate I earn from qualifying purchases

Please Book with Us...
Maria here, if you enjoy my site I'd love your support.
Simply book your next trip anywhere (not only to Italy) with the search box below or with any of the hotel links on the website.

I promise you'll get the best deal on accommodation available and the income we receive from HotelsCombined helps us to:
Stay independent and to keep bringing you the best of Italy.

Never have to accept money from hotels directly; that way we can share only those we genuinely love.