Where is the Best Beach in Italy?
It's a secret. Well, no, not for you and me, it isn't. It is for everyone else who isn't a supporter.
The reason is that I only want to share this beach with a few people. I have seen too many beautiful beaches in Italy ruined by overtourism - for example, one pink beach in Sardinia lost much of its pink color because of tourists taking home the sand.
When to Visit
May, June, or September are best. In July and August, the beaches nearby, which you need to visit first to hire a pedallo, are very busy, and pedallos are often booked up days in advance by guests staying at the hotels nearby.
Getting to the Beach
The beach is a little difficult to reach. The first step is to get to the beach called Spiaggia del Tono, Here's how you get there: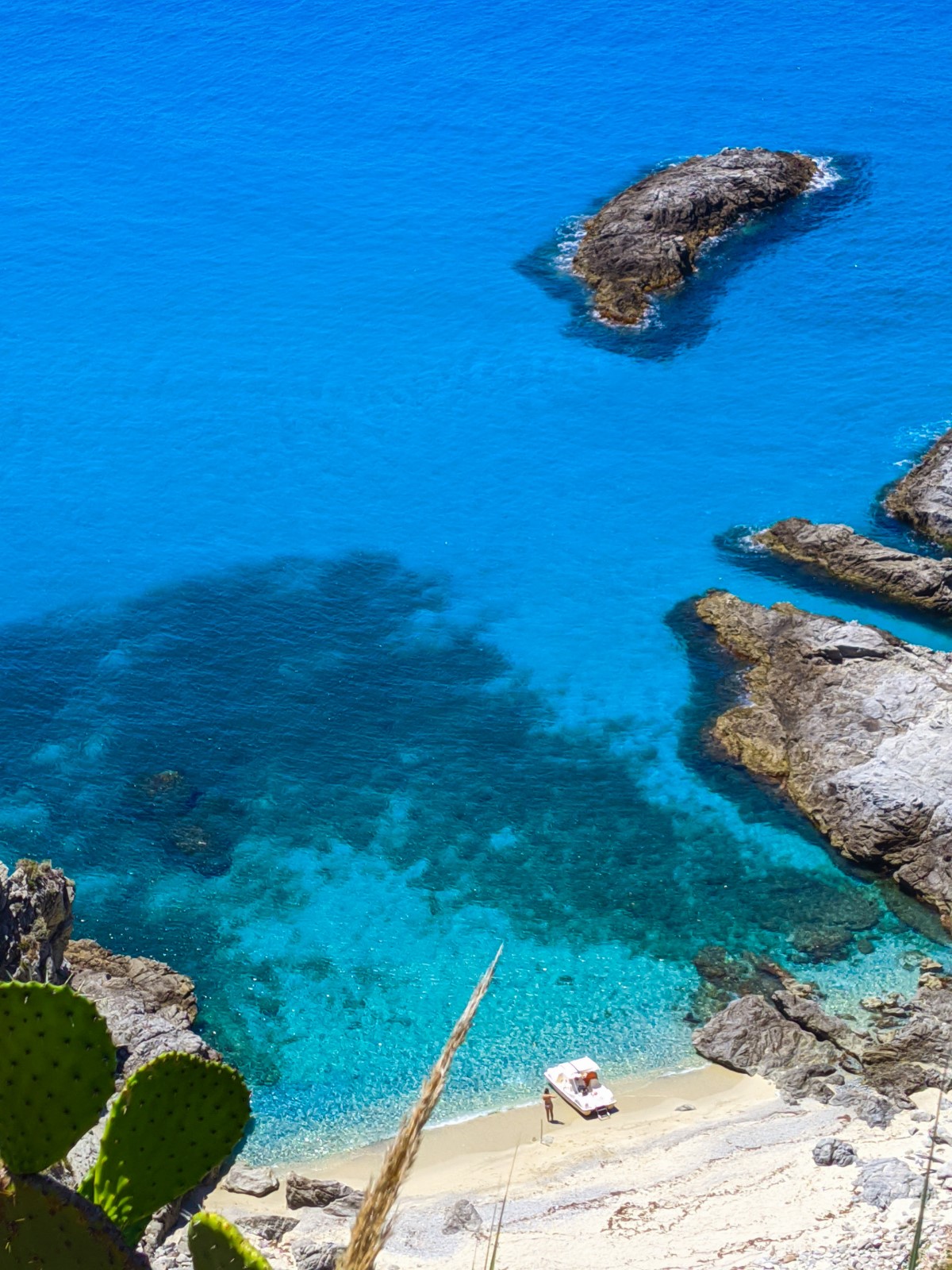 By Train
Staying in nearby Tropea? Then take the earliest train you can get to Ricadi Station. You'll usually find locals, offering you lifts to the beaches, waiting at the station; negotiate with them and you'll get a better price, as they normally start with ridiculously high quotes at first. Tell them you want to go to Spiaggia del Tono with a short stop at Belvedere on the way.
Prefer to walk from the station? Then I recommend walking to the Belvedere View Point first; this will give you a stunning "overview" of the beach you will be visiting. The walk to Belverdere is 2.3 km (around 1.5 miles), and it is then about the same distance, mostly downhill, to the Spiaggia del Tono. The walk isn't bad, but coming back after a long day on the beach, it does feel very steep.
By Car
There is parking near the beach and costs around 12 Euros for the day. Here's a link to the Google map of the parking area: https://goo.gl/maps/ssFpi6FxyWAvSgty7

Get there early, as there are not many parking bays and most are gone by 9 a.m. If you aren't staying in the area, then allow time for an early morning visit to the Belvedere View Point before your visit to the beach.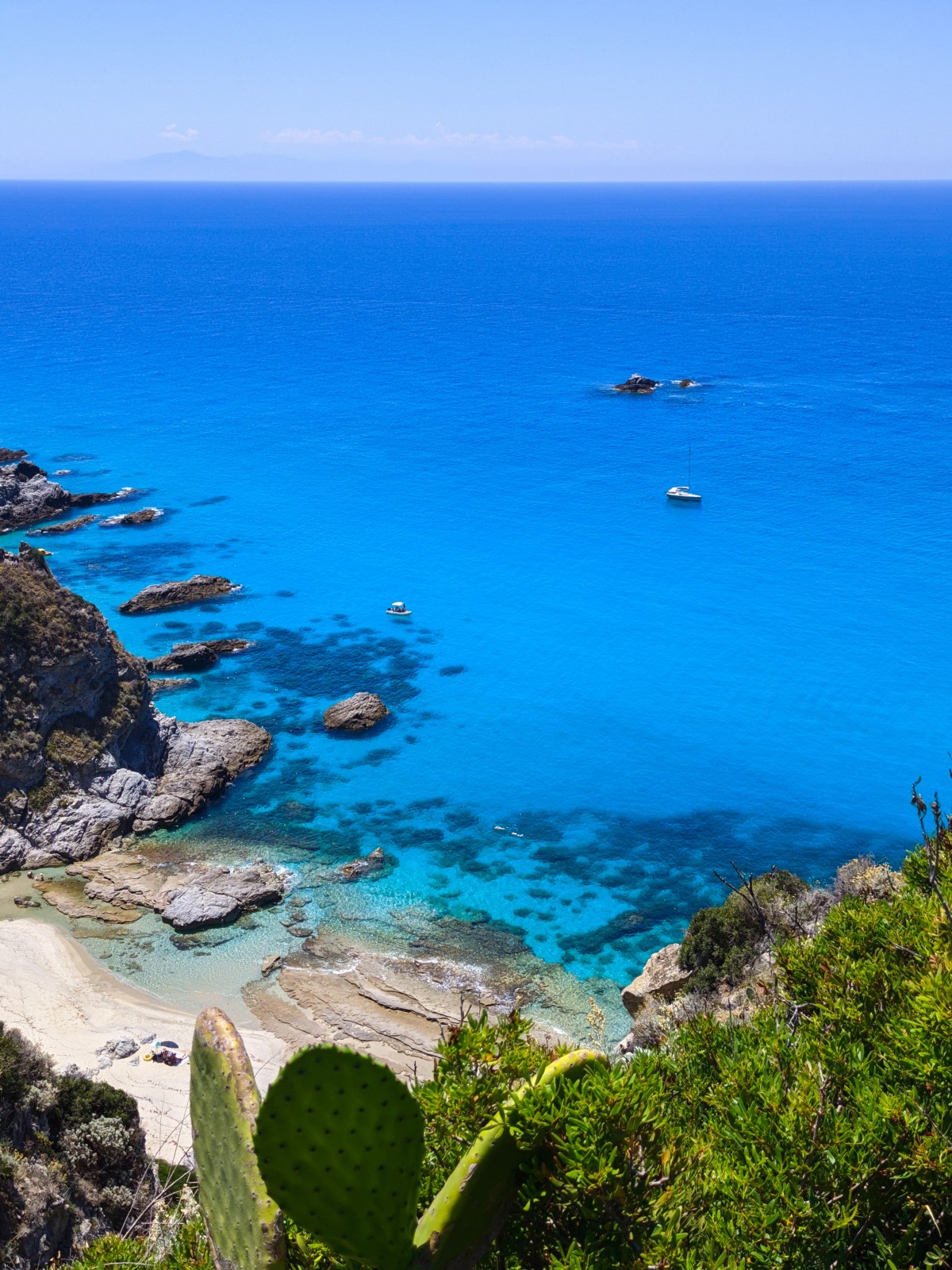 Getting From Spiaggia del Tono to The Best Beach
Once you've reached Spiaggia del Tono, you simply need to look around for a pedallo; most of the private beaches have them, as does the Villaggio Camping La Scogliera at the southern end of the beach. Rates vary; you can rent by the hour or pay a slightly lower rate overall if you hire one for the day.
Secured a pedallo? Excellent! Now set off around the headland on the south side of the beach. The first beach, Spiaggia di Ele e Ispis, is the one you want.
The beach is never crowded because it can only be reached by pedalo or via a very difficult and not recommended path down the cliffs. The day trip boat tours cannot get close because of the rocks below the surface; a pedalo, though, simply sails over them.
About the Beach
With its pristine shores, crystal-clear waters, and stunning natural surroundings, this beach is a true paradise for beach lovers and nature enthusiasts alike.
Snorkeling enthusiasts will love the vibrant underwater world, teeming with colorful marine life and fascinating rock formations. Exploring the depths of the sea here is like embarking on a captivating adventure where you will encounter a diverse kaleidoscope of colorful marine life beneath the shimmering waters.
The region's coastal waters are home to various fish species, making snorkeling a thrilling and fascinating experience.
Some of the fish commonly spotted while snorkeling here include:
Mediterranean Rainbow Wrasse (Coris julis): This vibrant and colorful fish is a common sight, with males displaying striking hues of blue, green, and orange.
Sargo (Diplodus sargus): Sargo is a popular fish found in the Mediterranean Sea, characterized by its silver body and black stripes. They often swim in small groups near rocky areas.
Saddled Bream (Oblada melanura): These small, silver-colored fish are known for their distinctive dark spot on their back. They can be seen swimming near rocky shores and seagrass beds.
Annular Seabream (Diplodus annularis): Recognized by their yellowish body and prominent black spot on their sides, annular seabreams are commonly found in Calabrian waters.
Two-banded Seabream (Diplodus vulgaris): This species features two dark bands along its body, giving it its name. They are frequently encountered near rocky reefs and seagrass meadows.
Salema Porgy (Sarpa salpa): These fish have a unique shape and are known for their yellowish body and distinctively protruding mouth. They often gather in large schools near rocky areas.
Gilt-head Bream (Sparus aurata): Known locally as "Orata," gilt-head bream is a highly prized fish with a distinctive gold-colored head. They inhabit coastal waters and are frequently encountered by snorkelers.
What sets Spiaggia di Ele e Ispis apart is its idyllic natural surroundings.
Towering cliffs adorned with lush Mediterranean vegetation frame the beach, creating a breathtaking backdrop. This unique combination of rugged cliffs, shimmering sea, and verdant greenery adds to the beach's allure, making it a photographer's dream and an enchanting setting for nature lovers. This is definitely one of the most Exquisite Coasts in all of Italy
Our Tips
Plenty of sunscreen is required as there isn't much shade at midday.
Pack a picnic and take water with you. There are no trash cans so you'll need to take your picnic wrappings and plastic bottles back with you when you leave.
Bring your snorkeling equipment, the sea here is crystal clear and offers great snorkeling opportunities.
Visit the other nearby beaches: Praia I Focu and Ficaro - both are a short peddle to the south and are stunning.

Staying in the Area
The beaches here are so lovely that spending a few days on Spiaggia del Tono is always a good idea. Best accommodation options are the Case Vacanze Pietragrande or the Villagio Tramonto.
Return to A Secret Italy Index