9 Reasons You Must Visit San Nicola Arcella
Calabria has an undiscovered jewel, destined to become one of Calabria's top attractions in the not-too-distant future.
Here are nine reasons you must visit as soon as you can, before the world discovers San Nicola Arcella.
1) Stroll the enchanting old town, the narrow lanes are a delight to explore. All lit up in the evening, it is like something from a children's fable.
If you'd like the town to yourself, explore on a hot summer's day in mid-afternoon. The heat is intense, and everything seems to shimmer. Silence.
Where is everybody?
You see children's toys left outside and a tablecloth still on a table. Signs that people lived here not long ago. Not a soul is to be seen.
The cats have taken over. Their hour has come.
They look at me and say, "Who is this crazy person?" They seem confused, surprised, and sometimes angry. I've had dirty looks galore and been hissed at once. "Go have a nap; go home," they seem to say.
Instead, I go on.
Enjoying my own little world, the last person left on earth?
2) Enjoy the animated scenes of the dolce vita being lived out before your very eyes in the town's little piazza, while enjoying a gelato from Cold Passion or an aperitivo at one of the pavement cafes.
3) Visit one of the most stunning beaches in all of Italy - the beach of Arco Magno is renowned as one of the best beaches in Italy and often hailed as the crown jewel of Calabria. Arco Magno's allure lies not only in its crystal-clear azure waters but also in the incredible arch of rock that provides a gateway to the sea, giving the beach its name, which translates to "Great Arch." You'll find some important advice on visiting the beach here. 
The main beach of San Nicola Arcella is lovely too - much of it is private, but there are some free sections to enjoy.
4) Take in the breathtaking view of the coastline, stretching away below you seemingly for forever. The viewpoint you need to head to is the Belvedere di San Nicola in the old town.
5) Stay at the superb Villa San Petra or the Villa Crawford. You'll wake up to one of the most beautiful views in all of Italy, and the sunsets are absolutely incredible. The Crawford name is historically significant too as the American author, Francis Marion Crawford, spent a lot of time in San Nicola Arcella, living in an 15th century tower that now takes his name. Inspired by the beauty, the silence, and the peace, he wrote some of his best horror stories here. I'm not quite sure how that works—how one can write horror stories in this heavenly place is beyond me.
6) Treat your tastebuds to delicious Calabrian food: great seafood, tomatoes that actually taste like tomatoes - not the bland things you find in most of the world and so much more. Our guide to the great dishes of Calabria is a must-read before you go.
Experience it all at the San Giorgio Restaurant; their seafood is spectacular, anything fresher is still swimming.
San Giorgio's is a short drive out of town; the best way to get there is by car, book yours before you arrive in Italy and then collect it at the airport, these are some good deals.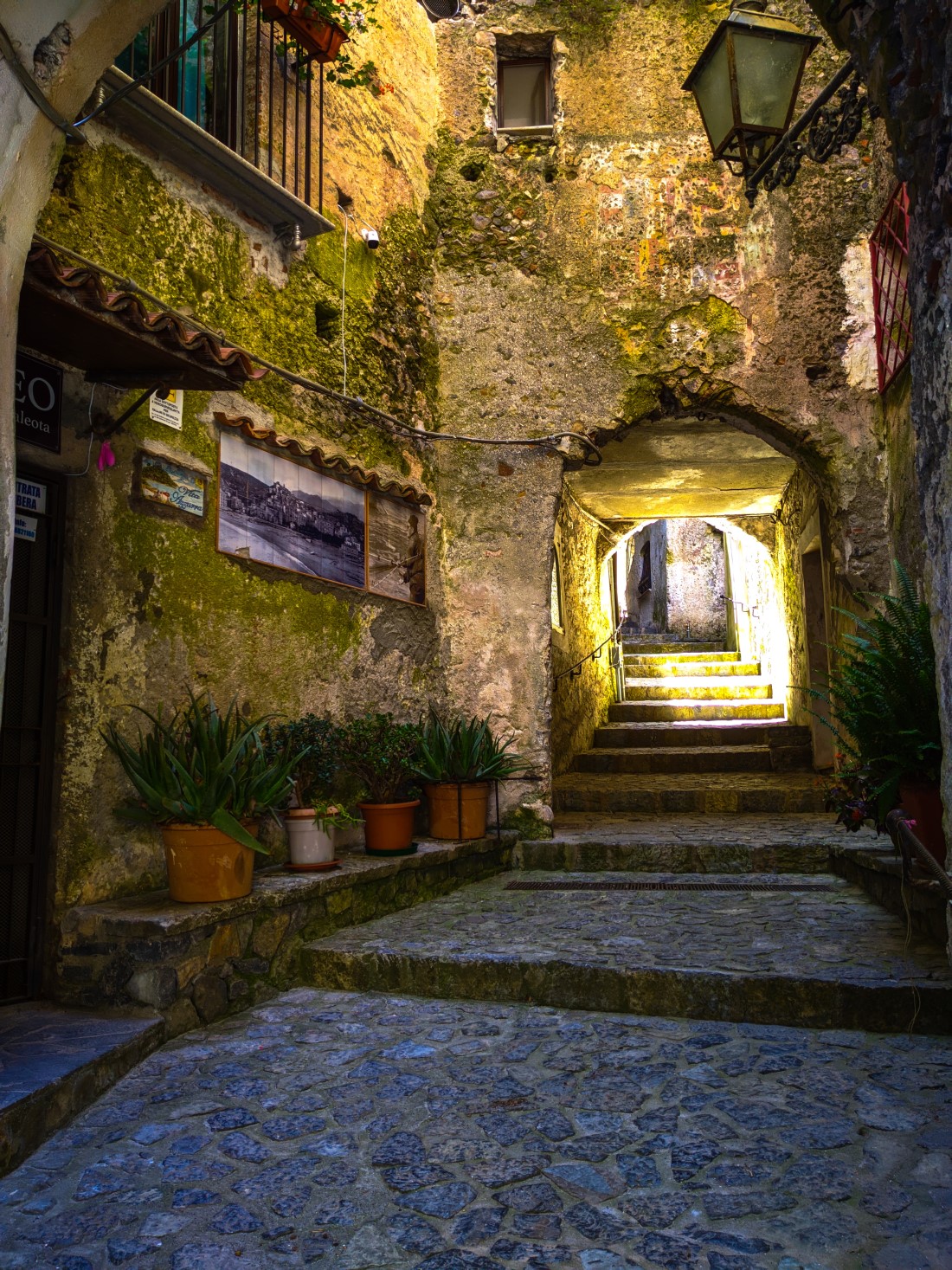 Scalea old town
7) Explore the old town of Scalea, this well-preserved old town is one of the oldest towns on the coast and one of the only ones to have survived the many centuries of pirate raids from North Africa and Turkey looking to plunder, loot, and capture slaves. It's a great place to spend a morning and then enjoy lunch at one of the many restaurants in and around the area. Here's more about Scalea.
8) Drive to nearby Praia a Mare and hire a pedallo boat at one of the private beach area or take an organized boat trip out to Dino Island - click the link to see why this island is so unique. 
9) Ever thought about moving to Italy? San Nicola Arcella is an option well worth considering: the climate is perfect, the scenery is as good as it gets, and the people are friendly. Add to that great local cuisine and affordable real estate prices, and you might just have found your new home in Italy. You won't find 1 Euro houses here, though, anyway; that is often close to being a scam, as my article about 1 Euro houses in Italy confirms. However, you can still pick up a real estate bargain in San Nicola Arcella and the buying procedure is really easy too..
Return to a Secret Italy Index