Amalfi Coast: Where to Stay
Thinking of visiting the Amalfi Coast? Wondering where to stay?
Well, I've somewhere that is pretty much as close to heaven on earth as I have ever experienced. Ideal if your vacation on the Amalfi Coast is for a special occasion: maybe an anniversary or a honeymoon.
For anything romantic there is no better choice. 
Ideally, if you are on a budget and the Amalfi Coast is part of an itinerary, you could do 3 days on the Amalfi Coast and then elsewhere in Italy.
Italy is full of wonderful options, destinations where prices are a lot less expensive than the Amalfi Coast, but few of them can beat the Amalfi Coast when it comes to romance, atmosphere and scenery. I guess that is why the prices here are so high.
3 Days in Amalfi
I recommend you combine a minimum of 3 days (five days would be better) for your Amalfi Coast itinerary (here are some must-see places you will not want to miss) with at least  ten days elsewhere.  I've some really affordable options, throughout all of Italy, in my Italian itinerary guide.  You can adapt the guide according to how long you have in Italy and which part of Italy you would prefer to visit.

That Dreamy Hotel
Okay, enough delaying. Where is this wonderful hotel in Amalfi I am talking about? It is in the delightful little town of Amalfi itself and is called the Hotel Santa Caterina.  You can read more about it in our feature on the hotels of the Amalfi Coast here. 

I can't really put into words how lovely it is. I think the video will explain it better than I ever could. Like I say, it isn't a bargain, but the memories you will make here are priceless.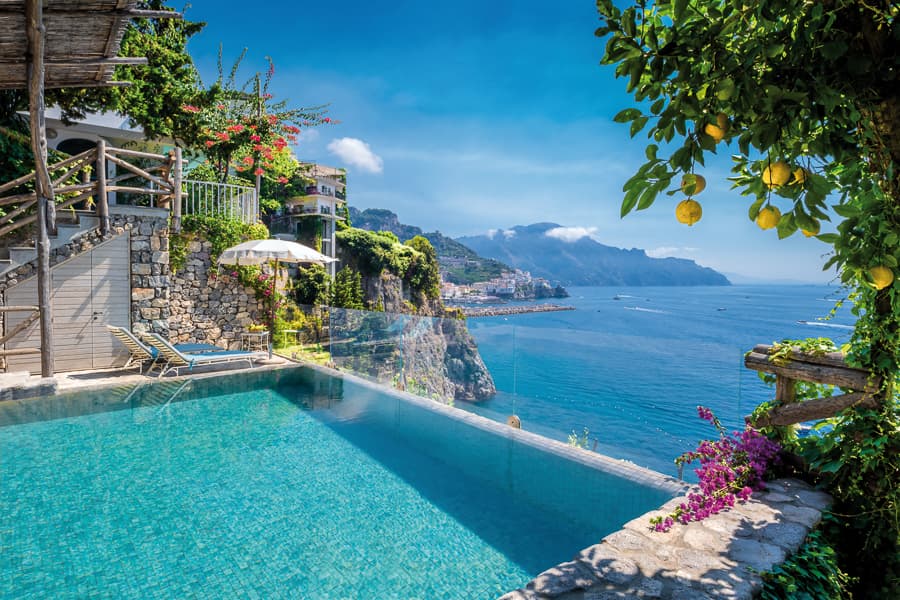 Looking for More Videos?
Please Book with Us...
Maria here, if you enjoy my site and Facebook page I'd love your support.
Simply book your next trip anywhere (not only to Italy) with the search box below or with any of the hotel links on the website.

I promise you'll get the best deal on accommodation available and the income we receive from HotelsCombined helps us to:
Stay independent and to keep bringing you the best of Italy.
Never have to accept money from hotels directly; that way we can share only those we genuinely love.