Art and Architecture Abound
by Charlene Kowalski
(Flint, Michigan, USA)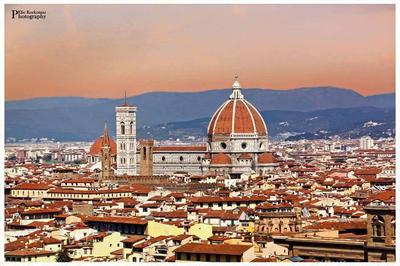 Florence by P. Elie Korkomaz
The reason I love Italy is simple- it has the art and architecture that my soul yearns for! The first time I went to Italy I was 19 years old.

I fell in love with the Victor Emmanuelle Monument in Rome, the atmosphere of the Pantheon, the little shops with their wares.

I thought it was all I needed until I visited Florence.

Walking the same streets as Michelangelo and DaVinci, feeling the incredible history and passion in the Ufizzi gallery, finding wonderful leather goods in marketplaces,and standing in awe in front of the Duomo!

I never wanted to leave. When I was in my twenties, I backpacked through Europe with a college roommate and I was able to share this wonderful country - my passion for Italy has never died. I was lucky enough to live the dream twice.

When I retire, I am going back and spending a good month (or two!) travelling through all the places I didn't get to visit-the Amalfi coast, with its incredible views, the wonderful cone shaped homes of Puglia and Sicily,where I can view the Greek temples. Of course, I will be returning to my beautiful Florence. I may live and work in Flint, Michigan, but my heart belongs to Italy!

Maria's Reply

Thank you for sharing your love of Italy with us. It sounds as if you are as passionate about this beautiful country as I am Charlene:-)

I've attached a few photos of your beloved Florence and I'd like to share with you a few other of my favourite spots. You might want to add them to your retirement list:

1) Seven Secrets of Southern Italy.
2) Most Beautiful Towns in Italy.
3)Eight Unforgettable Italian Destinations.