Walking the streets of Venice
by Ross Ann
(Westchester, New York, USA )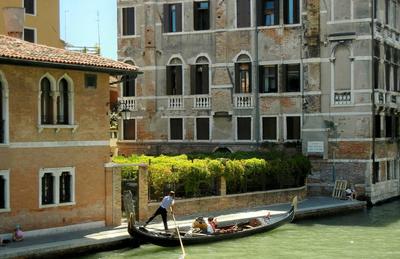 We traveled to Venice with friends, getting off at the train station is when our wonderful journey began. We wondered through the streets making our way to the Rialto Bridge and then to St. Mark's Square.

Maria's reply: Thank you very much Ross Ann for the lovely photos. i really like the one of the gondolas against that old and crumbly wall. It really is very special.

Join in and write your own page! It's easy to do. How? Simply click here to return to Captured Your Vacation Magic?.
Burano or Murano
by Traci
((River Forest il) )
It's Traci again... A little info on Burano.

My husband and I were there 2 years ago in the summertime. Our initial plan was to take the boat to Burano, and visit there, and then stop in Murano on the way back to Venice.

The hordes of people were a bit intimidating that we saw when passing Murano on the way to Burano. And glass shop after glass shop. Not exactly our cup of tea.

We got off the boat at Burano and spent a lovely afternoon. We wandered around and took pictures. Around 2:00 we stopped at a cafe somewhat off the beaten path and enjoyed the sites. You can walk the whole village, and by all means stray off the main streets to really get a feel for the neighborhood.

If you are into shopping for glass, by all means stop in Murano. If you are interested in seeing a small village off the water with brightly colored homes go to Burano.

It's a place unlike anything you will see in the world. They truly depend on the tourists for a living as well. I can't imagine what Burano is like in the off season. Most of the homes had fabric hanging from the doorways, with a striped pattern instead of a traditional door.

Air conditioning is not existent in most of the homes there. Unlike Venice, this is a true fishing villages without all the opulence that one finds in Venice.

Maria's reply: Thank you Traci for another great review. It is always a pleasure to hear from you.
Join in and write your own page! It's easy to do. How? Simply click here to return to Captured Your Vacation Magic?.
Summer in Venice
by M. Zaal
(The Netherlands)
Venice
I had a lovely time in a (very hot) Venice this summer!

Maria's reply:

It has really been very very hot this summer and sometimes July and even August in Venice can be almost tropical, with overwhelming humidity. It always makes me want to head on down to the beach but thankfully, if you are in Venice and if you have the time, the sunny beaches and cool blue seas of the Venice Lido are never very far away.

Thank you so much for the lovely photos. They are very much appreciated. I really do like that one of the bridge in particular, it just seems to capture that special something that you can only find in Venice.

If you have any more photos please don't hesitate to send them to me...I can never get enough of Venice and I am sure other visitors to the site would love to see them as well!!
Please Book with Us... Maria here, if you enjoy my site I'd love your support.
Simply book your next trip anywhere (not only to Italy) via the link below or with any of the hotel links on the website.
You'll get the best deal available and the income I receive helps me to remain independent and to keep bringing you more of beautiful Italy.