Southern Italy represents what Italy is all about. Rome is truly the Eternal City
by Leonora Lamorte
(Chicago, Il.)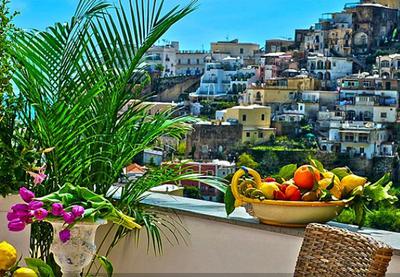 Italy has everything. The Vatican, the Sistine Chapel, Rome, the Coliseum, Venice, the Pieta, David, the Trevi Fountain, the oceans, rivers, canals and above all The Amalfi Coast.

The unspoiled beauty of places like Basilicata and Matera with hotels and restaurants in caves. The food, yes the food. And the people.

The people who are busy, busy, busy. Italy is alive with people who argue and don't mean it, gorgeous women dressed to the nines on Vespas and handsome men in silk suits.

Flowers, flowers everywhere, outdoor dining, olive oil, olive trees, lemon trees and Vino - ah Salute.

It is so wonderful to walk among the ruins and be a part of history. The coliseum, Pompeii, the Spanish steps. Gelato, did I say Gelato. Ah Gelato. And Sicily, oh the great memories of Sicily with its meat, fish and myriad mountains of fresh vegetables.

If I have to reincarnate, I hope it is to Italy as much as I do love my own country which is truly the greatest country in the world and like all wonderful things was discovered by an Italian.

Italians have probably given more to the world than any other country. Music, Singers, Food (Pizza) above all, Leather goods and I could go on and on. Like Anthony Bourdain once said, lucky are those people who are born to Italian parents. Loved to death, fed to bursting, spanked when needed, and God fearing.

Maria's reply: Wow! I so loved reading that. You put it so wonderfully. I always try, with my websites and Facebook page, to help people dream, laugh and smile and you managed it exactly. Thank you for that and thank you for being part of our community here and on Facebook.

I also enjoyed the bit about Italian's having given more to the world than anyone - I showed that to my non-Italian husband :-) He, despite loving Italy so very much, always insists that the English have given more, invented more and influenced the world more than anyone else. All the ammo I can get in that argument is useful!

Lastly, to bring back a few memories, I've added a photo of Positano taken from the Liparlati Hotel and one of the Cinque Terre in Liguria and one of the cave hotel in Matera, I hope you enjoy them.