Italy Captured My Heart
by Judith Carole Rio
(Poplar Grove, Illinois, USA)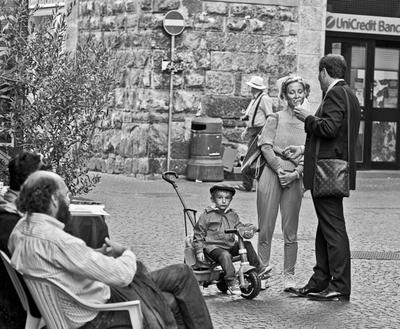 First and foremost it is my ancestral home. I traveled to Italy June of 2013 for a Pasquesi Family Reunion. First I would take an 11 day tour from Rome to Milan by way of Orvieto, Pisa, Florence, Monticatini Terme, Venice, Lake Garda, Lago Maggiore and Milan. Oh yes, somewhere in that lineup was Ravenna.

Along with meeting some of the nicest people on our coach I met and fell in love with the people, the language, the sights and the history of my bella Italia. The smells while walking the cobblestone streets (which seem to be the only kind we ever walked on), the craftsmen, the food, the negotiating the purchase of a lace umbrella and fan in Venice. The people were, for the most part, kind and giving and helpful.

However, in Rome we encountered rude people both male and female who didn't seem to care who they were shoving and pushing and subjecting to their rudeness. Unfortunately much of this occurred as we were at St Peters Square during Pope Frances' Sunday sermon and blessing. It also was prevalent at the Colosseum. After my eleven day tour finished at Milan I picked up my car at Malpensa. I drove to Pievepelago and Cadognolo, my ancestral home where my grandparents were born and lived until they emigrated to America in 1912.

Here, I suppose my personal involvement endears me to Pievepelago and it's people. I truly loved it and it's way of life. Live for now, enjoy today and who your with, take time to enjoy a meal with those you care about...don't rush. Be sure to enjoy a nice glass of wine and for dessert a glass of Vin Santo with cantucci, almond cookie dipped in the wine.

The mountains of Emilia Romagna are outstanding and beautiful especially the view from San Pellegrino.

Choosing my favorite is so difficult because Pieve is my natural choice but Rome and Venice are battling for first place in my psyche. I could not close without speaking of our reunion where 319 Pasquesi family members came together at Monticello, our family church for a wonderful outdoor feast. Of those 319, 65 were from the United States.

After the reunion about 40 of us took a tour of Tuscany on a motor coach. We traveled to Maremma and even attended a rodeo of sorts presented by the Butteri. I had a cousin who was a Buttero and fought in the war to unite Italy. He was presented with a gold medal by the king for his heroism. I have a copy of his decree and of his picture.

I mention that my husband could not come with me because of mobility problems and you cannot go to Italy without walking, walking, walking. So I made the trip alone and frankly I'm pretty proud of myself. Everyone told me I was crazy but I looked at it as a journey not just a trip.

Our family history of the Pasquesi and Morandi family so far has been traced back to the year 1232. Hoping to trace back farther in time to see what we can find but at 72 years old it's pretty unlikely.

Bella Italia, she's beautiful and full of promise and many surprises and history beyond one's imagination.

I dream every day of returning to Italy with my husband whose father was from Naples and his mother from Sicily.

Maria's reply: What a beautiful story, thank you so much for sharing it with us Judith. I've attached a couple of photos by Susan Papazian of Orvieto that hopefully will bring back some memories.