My heart belongs to Italy!
by Suzanne Kelley
(Tewksbury, MA)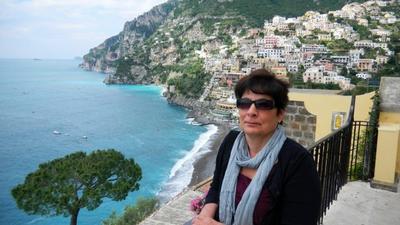 Positano
My first trip to Italy was In 1972 with my grandmother to her hometown of Satriano in the province of Calabria. I went back to Italy in 2006 with my friends again

Back to Satriano and then went with my mothers cousin to the volcanic islands off of the island of Capri.

Visited the Amalfi coast in 2007 and 2010. The people were so friendly and the food and scenery were amazing!

I never saw such amazing views and never felt as safe as I did in Positano. Also visited towns of Amalfi, and Ravello which were beautiful!

Took my husband there in 2010 and he fell in love as I did. While we were in Ravello we took a cooking class at Mama Agatas cooking school and had a wonderful time! The food was so amazing and as the wine. I would buy a home there if I could.

Cannot wait to go back. My heart really belongs to Italy!❤️

Maria's reply: Thank you ever so much for your gorgeous photos and lovely article.

I know just what you mean about the beauty of Amalfi and I can definitely understand how you fell so head-over-heels in love with this coastline.

It really does sound as if you will just have to buy a home there one day :-)

For your next vacation to Italy you'll be pleased to know that there are a number of other places that can have a similar effect on one as the Amalfi Coast.

When you begin your planning to come over again please just let me know and I'll share a few of my favorites - some of them are completely undiscovered by foreign tourist and even Italian tourists.

I don't know the Mamma Agata cooking course but doing courses like these is really a fantastic idea while you are in Italy. I have a few good ones on my other website.

Another great idea is to do a language course, you get to experience the real Italy, get a taste of what it would be like to live in Italy and at the same time learn Italian. I used to be a language teacher in Torino myself and there are a number of great schools I can recommend in Torino and elsewhere. Here is the list.

Lastly, I have one favor to ask you Suzanne and anyone else who might be planning a vacation. I would really appreciate it if you could find your hotel with us and Booking.com - simply click here for details. It won't cost you a cent more and helps us to keep going.
Join in and write your own page! It's easy to do. How? Simply click here to return to Invitation to Amalfi.
Please Book with Us...
Maria here, if you enjoy my site I'd love your support.
Simply book your next trip anywhere (not only to Italy) with the search box below or with any of the hotel links on the website.

I promise you'll get the best deal on accommodation available and the income we receive helps us to remain independent and to keep bringing you the best of Italy.